Prioritising higher education: Why research is all that matters
N. Davids

Stellenbosch University

Y. Waghid

Stellenbosch University
Abstract
Birthdays are joyfully relative events, which, at times, become more about reflection, and at times, regret, with each passing year. As Stellenbosch University embarks on its 100th year, celebrations and commemorations have adopted tentative nuances and burdens of heavily-laden legacies of wrongs and ills, which stand to be corrected. Much has been said, and rightly so, of assuming responsibility for questionable roles in highly divisive and harmful practices. In turn, much is envisaged for future actions of remedy and redress – particularly in relation to social responsibility and community interaction. In considering the role and responsibility of a university, many would agree that if the core of higher education is its epistemological contribution, then its impact is determined by its social worth. In this sense, any teaching and learning should not only be cognisant of its social context, but teaching and learning should always be both responsible and responsive to the world which it encounters. Yet, a university's responsibilities can, and should never be at the expense, or risk of research. As will be discussed in this article, prioritising higher education means prefacing, and giving precedence to research. Prioritising higher education through research creates the spaces necessary for a philosophy of dialogue. Moreover, research is indispensable to meaningful teaching and learning. Put differently, it is with research that a university sustains and advances its intellectual, social and ethical project into the realm of the public. And, this implies a renewed look at the university with an ecological parlance of inquiry that accounts for the university on the basis of assemblages, engagements, reflections and sightings – whether smooth and or striated.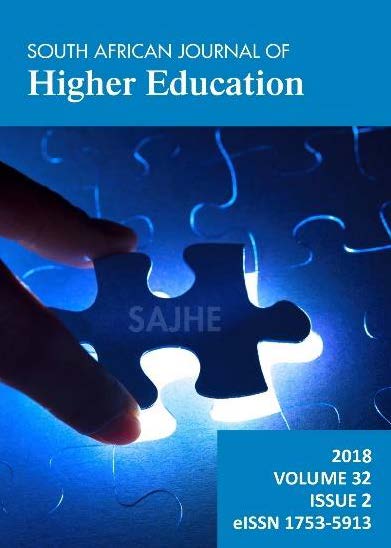 How to Cite
Davids, N., and Y. Waghid. 2018. "Prioritising Higher Education: Why Research Is All That Matters". South African Journal of Higher Education 32 (2), 1-7. https://doi.org/10.20853/32-2-2865.
Copyright (c) 2018 Y. Waghid, N. Davids
This work is licensed under a Creative Commons Attribution-NonCommercial-NoDerivatives 4.0 International License.
This journal is an open access journal, and the authors and journal should be properly acknowledged, when works are cited.
Authors, copyright holders, may use the publishers version for teaching purposes, in books, theses, dissertations, conferences and conference papers.
A copy of the authors' publishers version may also be hosted on the following websites:
Non-commercial personal homepage or blog.
Institutional webpage.
Authors Institutional Repository.
The following notice should accompany such a posting on the website: This is an electronic version of an article published in SAJHE, Volume XXX, number XXX, pages XXX "XXX", DOI. Authors should also supply a hyperlink to the original paper or indicate where the original paper (http://www.journals.ac.za/index.php/SAJHE) may be found.
Authors publishers version, affiliated with the Stellenbosch University will be automatically deposited in the University Institutional Repository SUNScholar.
Articles as a whole, may not be re-published with another journal.
The following license applies:
Attribution CC BY-NC-ND 4.0