A university without ruins: Some reflections on possibilities and particularities of an African university
Y. Waghid

Stellenbosch University
Abstract
Ron Barnett's (2016) Understanding the university announces that 'the university is a task without end … [and] since the university is always on the move, always moving in its spaces – economic, social, political, cultural, institutional and so on – its possibilities will always be moving on' (Barnett 2016, 9). I concur with Barnett's cogent analytical take on the contemporary university, and draws on his three-pronged analysis, namely that a university is an institution and an idea; it is an institution in the present with future possibilities; and that it embodies a set of particulars and universals. The particulars and universals want to offer, firstly, a defence of a university as a democratic institution.  Secondly, in line with Jacques Derrida's (2004) novel thoughts on a contemporary university, I make a case for a university as a responsible institution-in-becoming within an African context, thereby bringing into contestation the notion that a university can ever be 'in ruins'.
References
Barnett, R. 2013. Imagining the university. New York, NY: Routledge.
Barnett, R. 2016. Understanding the university: Institution, idea, possibilities. New York, NY: Routledge.
Derrida, J. 2004. Eyes of the university. Stanford, CA: Stanford University Press.
Giroux, H.A. 2007. The university in chains. Boulder, CO: Paradigm.
Readings, B. 1996. The university in ruins. Cambridge, MA: Harvard University Press.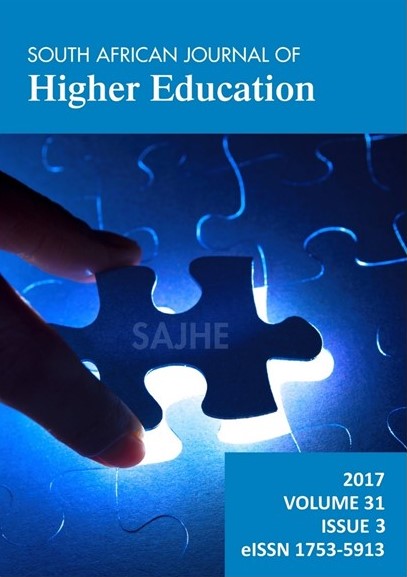 How to Cite
Waghid, Y. 2017. "A University Without Ruins: Some Reflections on Possibilities and Particularities of an African University". South African Journal of Higher Education 31 (3), 1-5. https://doi.org/10.20853/31-3-1337.
Copyright (c) 2017 Yusef Waghid
This work is licensed under a Creative Commons Attribution 4.0 International License.
This journal is an open access journal, and the authors and journal should be properly acknowledged, when works are cited.
Authors, copyright holders, may use the publishers version for teaching purposes, in books, theses, dissertations, conferences and conference papers.
A copy of the authors' publishers version may also be hosted on the following websites:
Non-commercial personal homepage or blog.
Institutional webpage.
Authors Institutional Repository.
The following notice should accompany such a posting on the website: This is an electronic version of an article published in SAJHE, Volume XXX, number XXX, pages XXX "XXX", DOI. Authors should also supply a hyperlink to the original paper or indicate where the original paper (http://www.journals.ac.za/index.php/SAJHE) may be found.
Authors publishers version, affiliated with the Stellenbosch University will be automatically deposited in the University Institutional Repository SUNScholar.
Articles as a whole, may not be re-published with another journal.
The following license applies:
Attribution CC BY-NC-ND 4.0