Irrigation of Agricultural Crops with Municipal Wastewater - A Review
K. Hoogendijk

ARC Infruitec-Nietvoorbij

P.A. Myburgh

ARC Infruitec-Nietvoorbij

C.L. Howell

ARC Infruitec-Nietvoorbij

J.E. Hoffman

Stellenbosch University
Abstract
Sustainable viticulture is important for socio-economic prosperity in the Western and Northern Cape provinces of South Africa. Limited natural water resources, as well as periodic droughts in these regions necessitate the need to find alternative sources of irrigation water to sustain yield and quality. The large volumes of treated municipal wastewater generated annually holds promise as an alternative water source. Despite various treatment procedures, municipal wastewater may contain high levels of Na+, B3+, Cl- and SO42-, as well as trace elements and heavy metals. However, it often contains essential plant nutrients, e.g. N, P and K+. If treated properly, municipal wastewater may be beneficial when reused for irrigating agricultural crops. Possible benefits include recycling of nutrients, fertiliser savings, the addition of organic material, a reduced pressure on fresh water sources and reduced environmental contamination. However, high salt loads, in particular Na+, can have detrimental effects on soil physical and chemical properties, as well as crop sustainability. Therefore, it is essential to implement measures that will limit damage caused by salinity and/or sodicity. The attenuation and accumulation of toxic substances should also be managed to a minimum. Most of the information regarding treated municipal wastewater has been generated through laboratory studies using simulated wastewater, or in some cases actual wastewater. No studies have yet investigated the impact of irrigation with treated municipal wastewater under the conditions that prevail in South African grape growing regions.
Downloads
Download data is not yet available.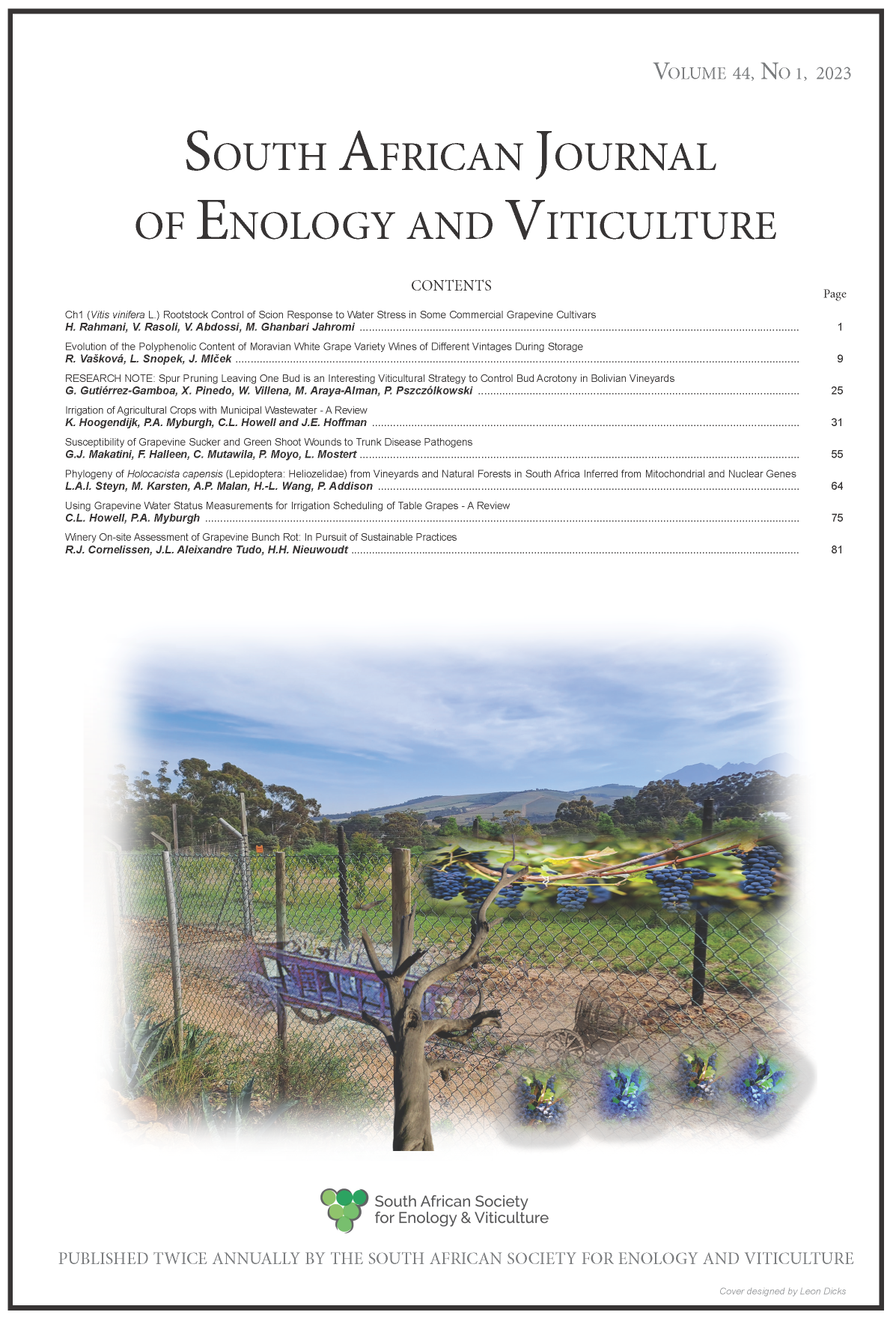 Copyright (c) 2023 South African Journal of Enology and Viticulture
This work is licensed under a Creative Commons Attribution-NonCommercial-NoDerivatives 4.0 International License.
A copyright form will be e-mailed to the corresponding author when the manuscript has been accepted for publication.
In principle, the Author agrees to the following when he/she signes the copyright agreement:
I hereby assign to the SOUTH AFRICAN SOCIETY FOR ENOLOGY AND VITICULTURE (SASEV) the copyright of the text, tables, figures, supplementary material, illustrations and other information (the Material) submitted with the manuscript to be published in SOUTH AFRICAN JOURNAL OF ENOLOGY AND VITICULTURE (SAJEV) (the "Article"). The copyright becomes effective from the date the Article has been accepted for publication in SAJEV.
This is an open access journal, and the authors and journal should be properly acknowledged, when works are cited.
Author's may use the publishers version for teaching purposes, in books, theses, dissertations, conferences and conference papers.
A copy of the authors' publishers version may also be hosted on the following websites:
Non-commercial personal webpage or blog.
Institutional webpage.
Authors Institutional Repository.
The following notice should accompany such a posting on the website: This is an electronic version of an article published in SAJEV, Volume XXX, number XXX, pages XXX - XXX, DOI. Authors should also supply a hyperlink to the original paper or indicate where the original paper (www.journals.ac.za/index.php/sajev/) may be found.
Authors publishers version, affiliated with the Stellenbosch University will be automatically deposited in the University's Institutional Repository SUNScholar.
Articles as a whole, may not be re-published with another journal.
The following license applies:
Attribution CC BY-NC-ND 4.0