Using Grapevine Water Status Measurements for Irrigation Scheduling of Table Grapes - A Review
C.L. Howell

ARC Infruitec-Nietvoorbij

P.A. Myburgh

ARC Infruitec-Nietvoorbij
Abstract
Water is becoming an increasingly scarce resource, so agriculture competes with urban and industrial needs for water. The production of table grapes with high export potential is the objective of South African producers. Growth, production, ripening aspects and quality parameters of table grapes can potentially be manipulated by means of irrigation. Consequently, it is an important management practice to help ensure economically viable table grape production. The objective for optimum irrigation scheduling should be to combine soil and plant water status measurements to calibrate grapevine water potential against reliable soil water monitoring instruments. Considering previously reported literature, poorer vegetative growth was related to lower levels of leaf water potential (YL). Given that berry size is a crucial aspect for yield as well as quality, it was evident that low levels of water potential can restrict berry development, thereby reducing berry size. Bunch mass was lower where there were lower levels of YL, pre-dawn leaf water potential (YPD) and total diurnal water potential (YTot). Poorer yield was generally related to lower levels of YL experienced throughout the season. However, lower levels of YL in the post-veraison period did not affect grapevine yield. The juice TSS did not respond to levels of YL but juice total titratable acidity (TTA) was related to lower levels of YL. Grape colour was affected where wet soil conditions induced higher levels of YL as well as where dry soil conditions induced lower levels of YL.
Downloads
Download data is not yet available.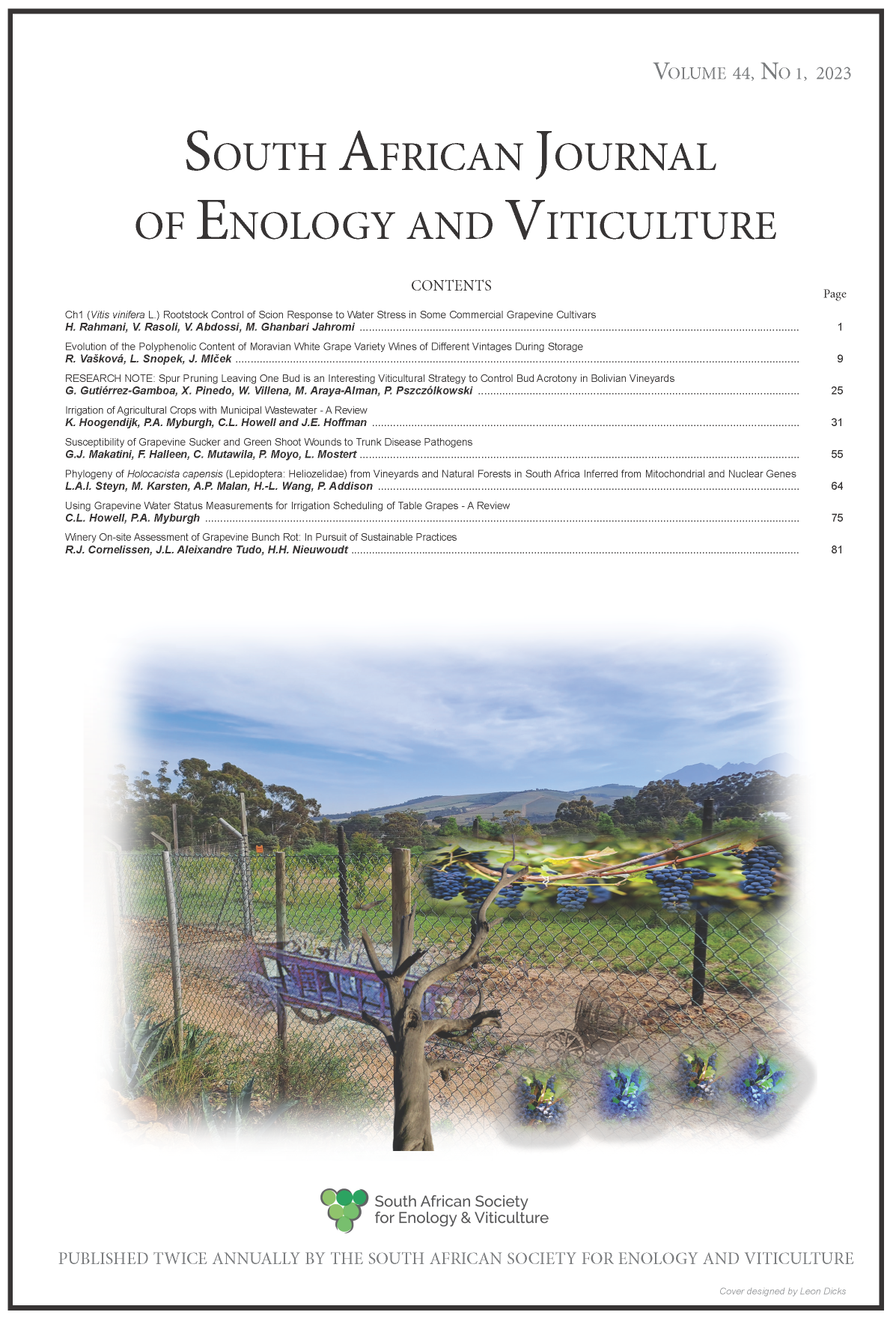 Copyright (c) 2023 South African Journal of Enology and Viticulture
This work is licensed under a Creative Commons Attribution-NonCommercial-NoDerivatives 4.0 International License.
A copyright form will be e-mailed to the corresponding author when the manuscript has been accepted for publication.
In principle, the Author agrees to the following when he/she signes the copyright agreement:
I hereby assign to the SOUTH AFRICAN SOCIETY FOR ENOLOGY AND VITICULTURE (SASEV) the copyright of the text, tables, figures, supplementary material, illustrations and other information (the Material) submitted with the manuscript to be published in SOUTH AFRICAN JOURNAL OF ENOLOGY AND VITICULTURE (SAJEV) (the "Article"). The copyright becomes effective from the date the Article has been accepted for publication in SAJEV.
This is an open access journal, and the authors and journal should be properly acknowledged, when works are cited.
Author's may use the publishers version for teaching purposes, in books, theses, dissertations, conferences and conference papers.
A copy of the authors' publishers version may also be hosted on the following websites:
Non-commercial personal webpage or blog.
Institutional webpage.
Authors Institutional Repository.
The following notice should accompany such a posting on the website: This is an electronic version of an article published in SAJEV, Volume XXX, number XXX, pages XXX - XXX, DOI. Authors should also supply a hyperlink to the original paper or indicate where the original paper (www.journals.ac.za/index.php/sajev/) may be found.
Authors publishers version, affiliated with the Stellenbosch University will be automatically deposited in the University's Institutional Repository SUNScholar.
Articles as a whole, may not be re-published with another journal.
The following license applies:
Attribution CC BY-NC-ND 4.0