Dry Matter Accumulation, Seasonal Uptake and Partitioning of Mineral Nutrients by Vitis vinifera L. cv. Sultanina Grapevines in the Lower Orange River Region of South Africa - A Preliminary Investigation
W.J. Conradie

Stellenbosch University

P.J. Raath

Stellenbosch University

A.R. Mulidzi

ARC Infruitec-Nietvoorbij

C.L. Howell

ARC Infruitec-Nietvoorbij
Abstract
Table grapes are harvested from November until early February in the Orange River Region of South
Africa, where a functional leaf canopy is present for up to six months of post-harvest. Seasonal uptake
and partitioning of mineral nutrients by 'Sultanina' grapevines in this long-season area were quantified
in a preliminary investigation. Entire grapevines growing on two different soil types were sampled during
the growing season. On sandy soil, further from the river, grapevine vigour was not excessive; however,
on the fertile alluvial soil vigour was higher with active post-harvest re-growth. At budbreak, reserve N
played an important role on the sandy soil, while it was less important on the alluvial one. During the postharvest
period, 34.3% of the annual N-requirement was absorbed by grapevines cultivated on sandy soil
at post-harvest, while only 17.0% was absorbed on the alluvial soil. Approximately 4.0 kg N was utilized
for the production of one ton of fresh grapes. A major fraction of the annual P-requirement (41.9%) was
absorbed post-harvest by grapevines on the sandy soil. Grapevines on alluvial soil absorbed more P at
pre-harvest; however, P was somehow lost post-harvest. Comparable amounts of K and Mg were absorbed
by both selections of grapevines. Sandy soil grapevines absorbed K and Mg at post-harvest, while a net
loss occurred for those of alluvial soil. Calcium utilized by sandy soil grapevines was less than half that
utilized by those of alluvial soil. The seasonal absorption pattern of Ca was comparable for both soils.
Results suggest that that seasonal uptake and partitioning of mineral nutrients are affected by soil type
and grapevine vigour.
Downloads
Download data is not yet available.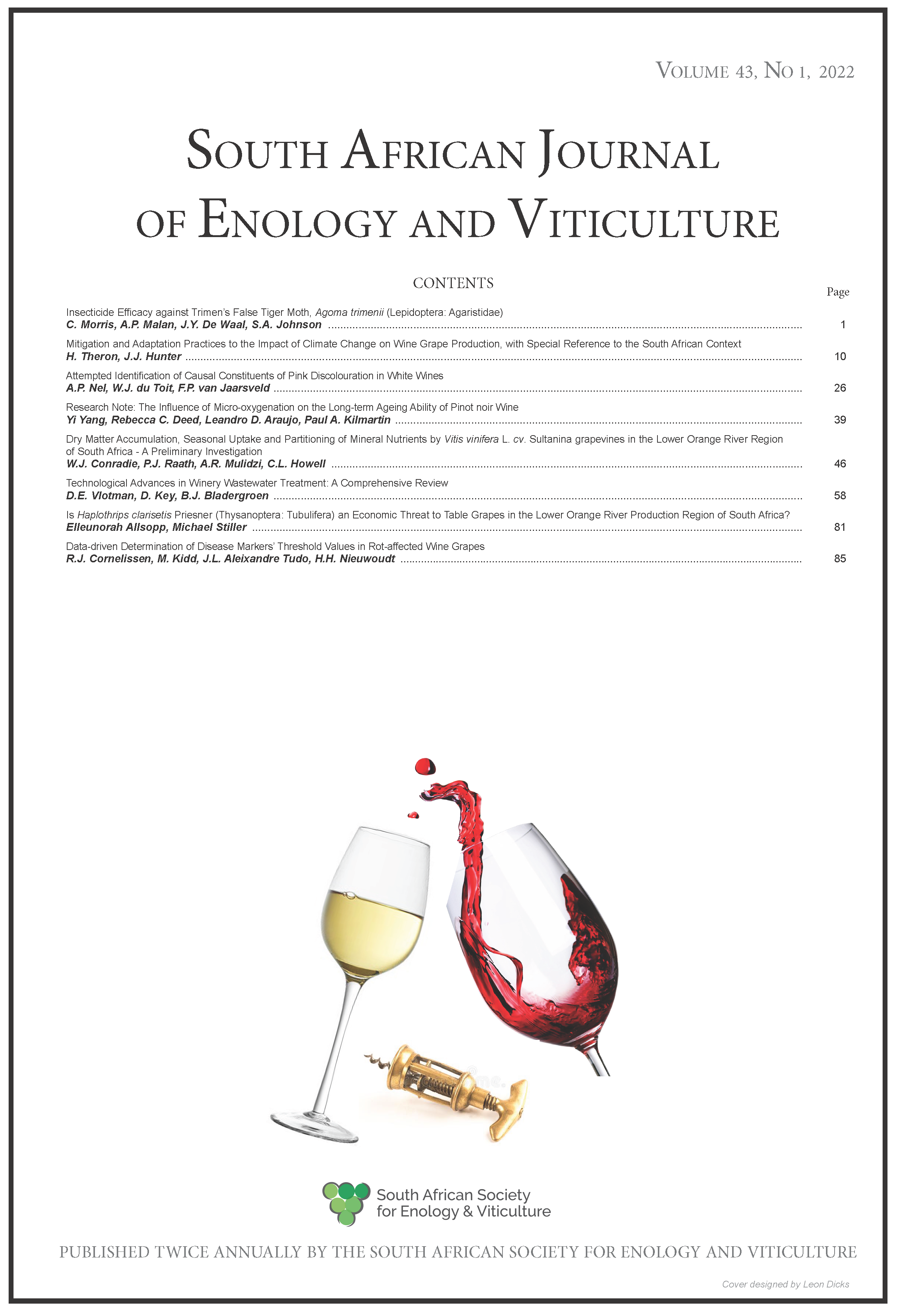 Copyright (c) 2022 South African Journal of Enology and Viticulture
This work is licensed under a Creative Commons Attribution-NonCommercial-NoDerivatives 4.0 International License.
A copyright form will be e-mailed to the corresponding author when the manuscript has been accepted for publication.
In principle, the Author agrees to the following when he/she signes the copyright agreement:
I hereby assign to the SOUTH AFRICAN SOCIETY FOR ENOLOGY AND VITICULTURE (SASEV) the copyright of the text, tables, figures, supplementary material, illustrations and other information (the Material) submitted with the manuscript to be published in SOUTH AFRICAN JOURNAL OF ENOLOGY AND VITICULTURE (SAJEV) (the "Article"). The copyright becomes effective from the date the Article has been accepted for publication in SAJEV.
This is an open access journal, and the authors and journal should be properly acknowledged, when works are cited.
Author's may use the publishers version for teaching purposes, in books, theses, dissertations, conferences and conference papers.
A copy of the authors' publishers version may also be hosted on the following websites:
Non-commercial personal webpage or blog.
Institutional webpage.
Authors Institutional Repository.
The following notice should accompany such a posting on the website: This is an electronic version of an article published in SAJEV, Volume XXX, number XXX, pages XXX - XXX, DOI. Authors should also supply a hyperlink to the original paper or indicate where the original paper (www.journals.ac.za/index.php/sajev/) may be found.
Authors publishers version, affiliated with the Stellenbosch University will be automatically deposited in the University's Institutional Repository SUNScholar.
Articles as a whole, may not be re-published with another journal.
The following license applies:
Attribution CC BY-NC-ND 4.0