Safety in student residences matters!
N. Gopal

University of Kwa-Zulu Natal

C. van Niekerk

University of Kwa-Zulu Natal
Abstract
Despite a national call for "The provision of accessible, decent, safe and academically conducive student accommodation (Nzimande, 2011) safety in student accommodation in South Africa remains a serious challenge. Against the backdrop of the provision of safe student accommodation, this study, through a qualitative research design, examined residence students' experiences of safety and security in student accommodation (residences). Through narrative enquiry the study-generated data from purposively sampled male and female residence students representing undergraduate and postgraduate students.  The data points to fears and anxieties of students living in residences enabled by a vulnerable (unsafe) residence environment.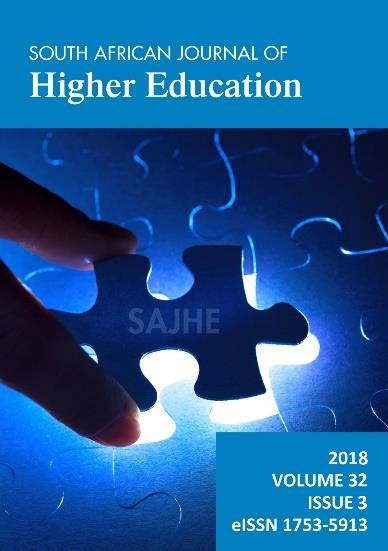 How to Cite
Gopal, N., and C. van Niekerk. 2018. "Safety in Student Residences Matters!". South African Journal of Higher Education 32 (3), 172-88. https://doi.org/10.20853/32-3-2524.
Copyright (c) 2018 Caitlin Jade Van Niekerk, Nirmala Gopal
This work is licensed under a Creative Commons Attribution-NonCommercial-NoDerivatives 4.0 International License.
This journal is an open access journal, and the authors and journal should be properly acknowledged, when works are cited.
Authors, copyright holders, may use the publishers version for teaching purposes, in books, theses, dissertations, conferences and conference papers.Â
A copy of the authors' publishers version may also be hosted on the following websites:
Non-commercial personal homepage or blog.
Institutional webpage.
Authors Institutional Repository.
The following notice should accompany such a posting on the website: This is an electronic version of an article published in SAJHE, Volume XXX, number XXX, pages XXX "XXX", DOI. Authors should also supply a hyperlink to the original paper or indicate where the original paper (http://www.journals.ac.za/index.php/SAJHE) may be found.
Authors publishers version, affiliated with the Stellenbosch University will be automatically deposited in the University Institutional Repository SUNScholar.
Articles as a whole, may not be re-published with another journal.
The following license applies:
Attribution CC BY-NC-ND 4.0