Students' narratives on gender and sexuality in the project of social justice and belonging in higher education
S. Ngabaza

UNIVERSITY OF THE WESTERN CAPE

T. Shefer

University of the Western Cape

L. Clowes

University of the Western Cape
Abstract
Student protests in South Africa flag the well-documented lack of progress in transforming universities which mirror deeply entrenched inequalities. The imperative to challenge a system of higher education that continues to rationalise and reproduce injustice is even more keenly felt. Efforts to understand the lived experiences of young people within diverse higher educational contexts are arguably especially important in this context. This paper draws on research with students at the University of the Western Cape (UWC) who engaged in a participatory photovoice research project in a feminist research methodology module. Students were asked to take photos on and around campus that represented un/safe spaces for them and to write short narratives on these. The paper unpacks key emerging themes that speak to how gender, intersecting with sexuality, informs experiences of belonging, while arguing the value of student voice in the project of social justice in higher education. 
References
References
Ahmed, S. 2004. The cultural politics of emotion. New York: Routledge
_______. 2012. On being included. Racism and Diversity in Institutional life. Durham: Duke University Press.
Badat, S. 2010. The challenges of transformation in higher education and training institutions in South Africa. Development Bank of Southern Africa 8:1-37.
______. 2016. Deciphering the Meanings, and Explaining the South African Higher Education Student Protests of 2015-2016. https://mellon.org/resources/shared-experiences-blog/south-africa-protests/ . Accessed 30/06/2016
Bennett, J. 2005. Research on the Implementation of Policies against sexual harassment in Southern Africa Higher Education, In Killing a Virus with Stones? Research on the Implementation of Policies against Sexual Harassment in Southern African Higher Education, ed. J. Bennett, Cape Town: African Gender Institute.
Bennett, J., A. Gouws, A. Kritzinger, M. Hames, and C. Tidimane. 2007. Gender is Over: Researching the Implementation of Sexual Harassment Policies in Southern African Higher Education Feminist Africa 8: 83–104.
Bhana, D. 2014. Race matters and the emergence of class: Views from selected South African university students. South African Journal of Higher Education 28(2): 355-367.
Bozalek, V. and R. Carolissen. 2012. The potential of critical feminist citizenship frameworks for citizenship and social justice in higher education. Perspectives in Education 30(4): 9–18.
Bradbury, J., P. Kiguwa, A. Khumalo, M. Matlala, H. Mchunu, D. Mogopudi. and Z. Ngubeni. 2012. Thinking Women's Worlds. Feminist Africa 17: 28-47.
Braun, V., and V. Clarke. 2006. Using thematic analysis in Psychology. Qualitative Research in Psychology 3: 77-101.
Carolissen, R. 2012. Belonging: as a theoretical framework for the study of psychology and globalisation. Journal of Social Issues 68: 630-642.
Cloete, N. 2015. The flawed ideology of "free higher education". University World News, No. 389, 6 November. http://www.universityworldnews.com/article.php?story=20151104111825416
Clowes, L., T. Shefer, E. Fouten, T. Vergnani. and J. Jacobs, 2009. Coercive sexual practices and gender- based violence on a university campus. Agenda 23(80): 22-32.
Collins, A. 2014. Faceless bureaucracy?: The challenges of gender-based violence and practices of care in higher education. In Care In Context: Transnational Gender Perspectives. eds. V.Reddy, S. Meyer, T. Shefer. and T. Meyiwa, 282-304. Cape Town: HSRC Press.
Constandius, E. and E. Bitzer, 2015. Engaging higher education curricula: A critical citizenship education perspective. Stellenbosch: SUN Press.
Connell, R. 1987. Gender and power. Sydney, Australia: Allen and Unwin.
_______ 1995. Masculinities. Cambridge, UK: Polity Press.
Davis, W. 1996. Educational intervention: A prescription for violence prevention at historically black colleges and universities. Journal of Negro Education 65(4):454-461.
Dosekun, S. 2007. 'We live in fear, we feel very unsafe': Imagining and fearing rape in South Africa. Agenda, 21(74): 89-99.
Glassmann, D. 2012. Queer(ing) spaces: A critical analysis of physical and virtual safe spaces for lesbian, gay and bisexual college students. Georgia: University of Central Arkansas
Gordon, S. and A. Collins. 2013. 'We face rape, we face all things': Understandings of gender-based violence amongst female students at a South African university. African Safety Promotion Journal 11(2): 93-106.
Gqola, P.D. 2015. Rape: a South African nightmare. Auckland Park: MFBooks/Jacana.
Hames, M. 2007. Sexual Identity and Transformation at a South African University. Social Dynamics, 33(1): 52-77.
______. 2009. 'Let us burn the house down!' Violence against women in the higher education environment. Agenda 23(80): 42-46.
______. 2012. Embodying the Learning Space: Is it okay if I bring my sexuality to class?. Feminist Africa 17: 62-81
Jagessar, V. and T. Msibi. 2015. It's not that bad: Homophobia in the residences of a university in KwaZulu-Natal, Durban, South Africa. Agenda 29(1): 63-73.
Keet, A. and R. Carolissen. 2010. Rethinking citizenship and social justice in higher education (editorial). Perspectives in Education 29(3): 147-149.
Kelly, B. T. and A. Torres. 2006. Campus safety: Perceptions and experiences of women students." Journal of College Student Development 47(1): 20-36.
Loots, S. and M. Walker. 2015. Shaping a gender equality policy in higher education: which human capabilities matter?. Gender and Education 27 (4): 361-375.
Mbembe, A. 2015a. Decolonizing Knowledge and the Question of the Archive. WiSER Wits Institute for Social and Economic Research, May 1, 2016.
http://wiser.wits.ac.za/system/files/Achille%20Mbembe%20-%20Decolonizing%20Knowledge%20and%20the%20Question%20of%20the%20Archive.pdf
Mbembe, A. 2015b. on The State of South African Political Life. http://africasacountry.com/2015/09/achille-mbembe-on-the-state-of-south-african-politics/
Morrell, R., R. Jewkes, and G. Lindegger. 2012. Hegemonic masculinity/masculinities in South Africa culture, power, and gender politics. Men and Masculinities 15:11–30.
Ngabaza, S., E. Bojarczuk, M.P. Masuku and R. Roelfse. 2015. Empowering young people in advocacy for transformation: A photovoice exploration of safe and unsafe spaces on a university campus. African Safety Promotion Journal 13(1): 30-48.
Ngabaza, S., D. Daniels, O. Frank and R. Maluleke 2013. Contestations of the meaning of love and gender in a university students' discussion. Agenda 96(27): 128–136.
Pattman, R. 2007a. Student identities and researching these in a newly racially merged university in South Africa. Race, Ethnicity and Education 10(4): 473-402.
Ratele, K. 2006. Ruling masculinity and sexuality. Feminist Africa 6: 48-64
Ratele, K., 2008. Analysing males in Africa: Certain useful elements in considering ruling masculinities. African and Asian Studies 7(4): 515-536.
Ratti, C. 2010. Students' perceptions of campus safety at the University of Mary Washington. Fredericksburg: University of Mary Washington.
Shefer, T., A. Strebel, S. Ngabaza, and L. Clowes, 2017. Student narratives on social identities and diversity at a South African university. South African Journal of Psychology.
Shefer, T., C. Clowes and T. Vergnani, 2012a. Narratives of transactional sex on a university campus. Culture, Health & Sexuality: An International Journal for Research, Intervention and Care 14(4):435-447.
Shefer, T., A. Strebel, and J.J. Jacobs. 2012b. "AIDS fatigue and students' talk about HIV risk". African Journal of AIDS Research 11(2): 113-121.
Shefer, T. 2009. Ethical leadership in and through gender and sexuality: Deconstructing heterosex in contemporary South African contexts. In Ethical leadership in and through a morally transformed society in the Western Cape, ed. G. Dames, 61-79. Stellenbosch: Sun Media.
Stevenson, C., J. Dixon, N. Hopkins, and R. Luyt. 2015. The social psychology of citizenship, participation and social exclusion: Introduction to the special thematic section. Journal of Social and Political Psychology 3(2): 1-19.
Tabensky, P. A., and S. Matthews. 2015. Being at home: Race, institutional culture and transformation at South African higher education institutions. Durban: UKZN Books.
Thomas, L. 2012. Building student engagement and belonging in higher education at a time of change: Final report from the what works project? Student Retention and Success Programme. Paul Hamlyn Foundation, Higher Education Funding Council for England, the Higher Education Academy and Action on Access. Retrieved from http://www.heacademy.ac.uk/resources/detail/what-works-student-retention/What_works_summary_report
Waghid, Y. 2010. Education, democracy and citizenship revisited: Pedagogical Encounters. Stellenbosch: SUN Media.
Walker, L. 2005. Men behaving differently: South African men since 1994. Culture, Health & Sexuality 7(3): 225-238.
Whitehead, K. 2012. Racial categories as resources and constraints in everyday interactions: Implications for racialism and non-racialism in post-apartheid South Africa. Ethnic and Racial Studies 35(7): 1248-1265.
Yuval-Davis, N. 2016. Power, intersectionality and the politics of belonging. In The Palgrave Handbook of Gender and Development, ed. W. Harcourt, 367-381.
Yuval-Davis, N. 2006. Belonging and the politics of belonging. Patterns of Prejudice, 40 (3):197-214.
Yuval-Davis, N. 2010. Theorizing identity: Beyond the 'us' and them dichotomy. Patterns of prejudice 44(3): 261-280.
Yuval-Davis, N. 2011. The politics of belonging. London: SAGE.
Zepke, N. 2015. Student engagement research: Thinking beyond the mainstream. Higher Education Research & Development 34 (6): 1311-1323.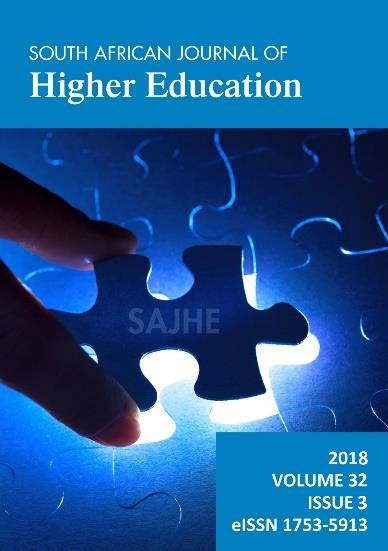 How to Cite
Ngabaza, S., T. Shefer, and L. Clowes. 2018. "Students' Narratives on Gender and Sexuality in the Project of Social Justice and Belonging in Higher Education". South African Journal of Higher Education 32 (3), 139-53. https://doi.org/10.20853/32-3-2489.
Copyright (c) 2018 SISA NGABAZA, Tamara Shefer, Lindsay Clowes
This work is licensed under a Creative Commons Attribution-NonCommercial-NoDerivatives 4.0 International License.
This journal is an open access journal, and the authors and journal should be properly acknowledged, when works are cited.
Authors, copyright holders, may use the publishers version for teaching purposes, in books, theses, dissertations, conferences and conference papers.Â
A copy of the authors' publishers version may also be hosted on the following websites:
Non-commercial personal homepage or blog.
Institutional webpage.
Authors Institutional Repository.
The following notice should accompany such a posting on the website: This is an electronic version of an article published in SAJHE, Volume XXX, number XXX, pages XXX "XXX", DOI. Authors should also supply a hyperlink to the original paper or indicate where the original paper (http://www.journals.ac.za/index.php/SAJHE) may be found.
Authors publishers version, affiliated with the Stellenbosch University will be automatically deposited in the University Institutional Repository SUNScholar.
Articles as a whole, may not be re-published with another journal.
The following license applies:
Attribution CC BY-NC-ND 4.0