Phylogeny of Holocacista capensis (Lepidoptera: Heliozelidae) from Vineyards and Natural Forests in South Africa Inferred from Mitochondrial and Nuclear Genes
L.A.I. Steyn

Stellenbosch University

M. Karsten

Stellenbosch University

A.P. Malan

Stellenbosch University

H.-L. Wang

Lund University

P. Addison

Experico (Fruit Technology Solutions)
Abstract
In South Africa, the family Heliozelidae in the order Lepidoptera is restricted to four known species.  The grapevine leaf miner, Holocacista capensis, feeds between the epidermal layers of a grapevine leaf,
predominantly along the leaf margin. A final instar larva will descend from the blotch mine/gallery to attach its cocoon casing (constructed from the epidermal layers of the mined gallery) to any object below
the infested leaf. Five monophyletic clades and a polyphyletic group have been identified within the Heliozelidae, using a mitochondrially encoded gene cytochrome c oxidase I (COI) and a nuclear gene,
histone 3 (H3). An exploratory study of the genetic diversity within H. capensis populations was conducted using these genes. The phylogenetic analyses of COI indicate that H. capensis that are currently being
collected from South Africa fall within three clades/haplotypes, of which one is well supported and contains only one species from Gauteng, and one has three specimens from two different areas in the Western Cape
province, while 80% belong to haplotype 1 (H1). The current study can be used as a starting point for future DNA-based studies aimed at gaining insight into possible patterns of diversity in H. capensis to
confirm switching from native to commercial grapevine hosts. However, more samples need to be collected from different areas in South Africa.
Downloads
Download data is not yet available.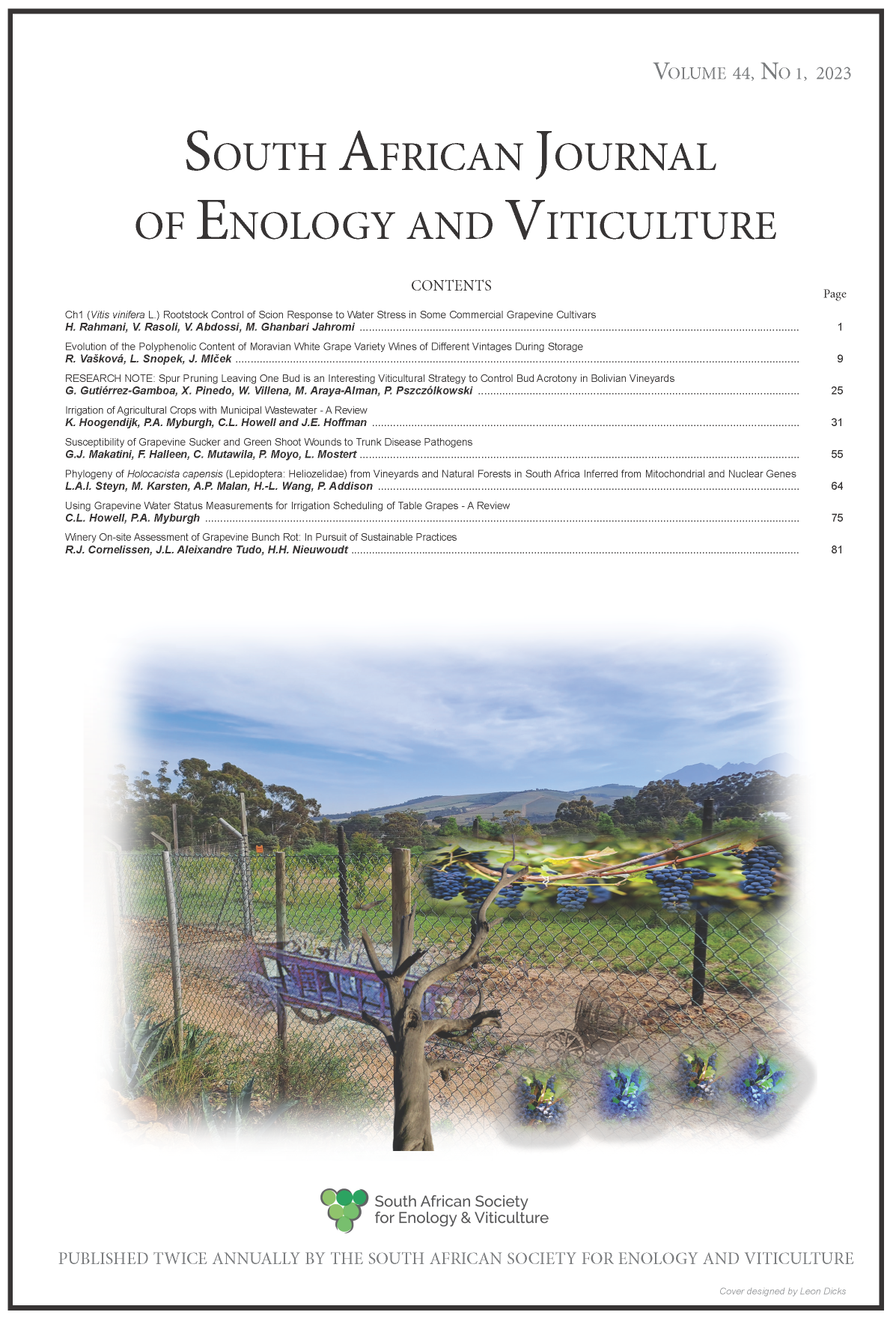 Copyright (c) 2023 South African Journal of Enology and Viticulture
This work is licensed under a Creative Commons Attribution-NonCommercial-NoDerivatives 4.0 International License.
A copyright form will be e-mailed to the corresponding author when the manuscript has been accepted for publication.
In principle, the Author agrees to the following when he/she signes the copyright agreement:
I hereby assign to the SOUTH AFRICAN SOCIETY FOR ENOLOGY AND VITICULTURE (SASEV) the copyright of the text, tables, figures, supplementary material, illustrations and other information (the Material) submitted with the manuscript to be published in SOUTH AFRICAN JOURNAL OF ENOLOGY AND VITICULTURE (SAJEV) (the "Article"). The copyright becomes effective from the date the Article has been accepted for publication in SAJEV.
This is an open access journal, and the authors and journal should be properly acknowledged, when works are cited.
Author's may use the publishers version for teaching purposes, in books, theses, dissertations, conferences and conference papers.
A copy of the authors' publishers version may also be hosted on the following websites:
Non-commercial personal webpage or blog.
Institutional webpage.
Authors Institutional Repository.
The following notice should accompany such a posting on the website: This is an electronic version of an article published in SAJEV, Volume XXX, number XXX, pages XXX - XXX, DOI. Authors should also supply a hyperlink to the original paper or indicate where the original paper (www.journals.ac.za/index.php/sajev/) may be found.
Authors publishers version, affiliated with the Stellenbosch University will be automatically deposited in the University's Institutional Repository SUNScholar.
Articles as a whole, may not be re-published with another journal.
The following license applies:
Attribution CC BY-NC-ND 4.0