Insecticide Efficacy Against Trimen's False Tiger Moth, Agoma trimenii (Lepidoptera: Agaristidae)
C. Morris

Stellenbosch University

A.P. Malan

Stellenbosch University

J.Y. De Waal

Corteva Agriscience

S.A. Johnson

Stellenbosch University
Abstract
Trimen's false tiger moth, Agoma trimenii (Lepidoptera: Agaristidae), has developed pest status in vineyards
in the Northern Cape and Groblersdal areas of South Africa, and an integrated pest management system is
required. The objective of this study was to test the susceptibility of A. trimenii larvae to three commercial
products (Delegate®WG, Steward®150 EC and three doses of DiPel® DF). Bioassay tests using all three
products, and semi-field trials to test the potential of DiPel® DF against A. trimenii larvae, applied at different
water volumes (50 g/1 000 L/ha and 50 g/1 430 L/ha) were performed. The residual activity of DiPel® DF,
when applied at different water volumes, was investigated daily. Delegate® WG, Steward®150 EC and the
recommended dose of DiPel® DF showed 100% larval mortality within seven days. Delegate® WG and the
recommended dose of DiPel® DF proved to be the fastest acting products. The product label recommended
dose of DiPel® DF (0.25 g/500 mL distilled water) proved the most effective dose (in comparison to halved
and doubled dosages) and showed 100% mortality five days after application. Increasing the water volume
per ha of a spray application of DiPel® DF for the same application area, showed no significant increase
in larval mortality. A reduction in insecticidal activity for DiPel® DF applied at both water volumes was
seen between leaves picked four days after spraying and leaves picked five days after spraying, and no
mortality was observed after day 6. To help improve efficacy, attention should be given to increasing spray
coverage and residual activity of DiPel® DF, as well as using all tested products within an integrated pest
management system.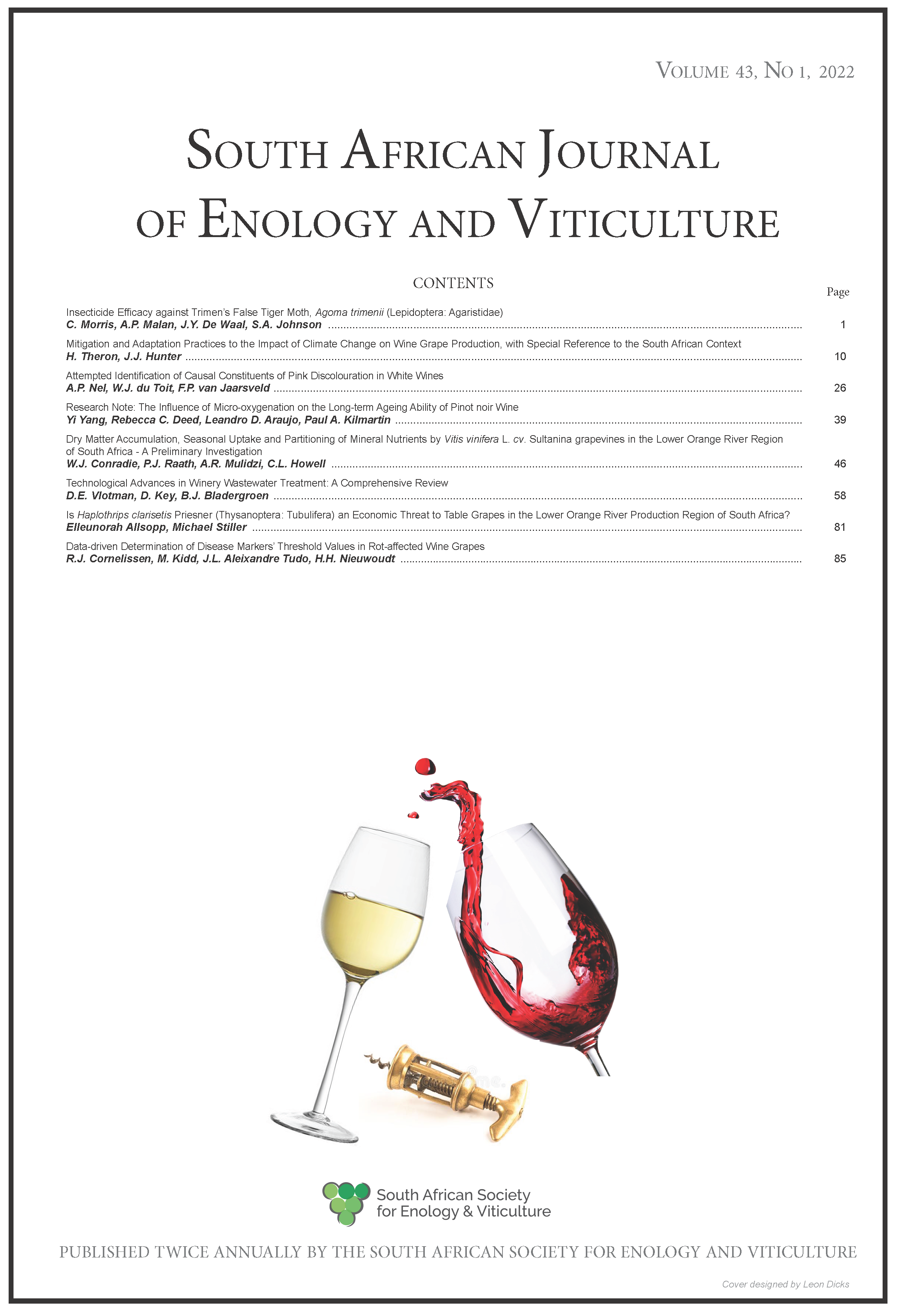 Copyright (c) 2022 South African Journal of Enology and Viticulture
This work is licensed under a Creative Commons Attribution-NonCommercial-NoDerivatives 4.0 International License.
A copyright form will be e-mailed to the corresponding author when the manuscript has been accepted for publication.
In principle, the Author agrees to the following when he/she signes the copyright agreement:
I hereby assign to the SOUTH AFRICAN SOCIETY FOR ENOLOGY AND VITICULTURE (SASEV) the copyright of the text, tables, figures, supplementary material, illustrations and other information (the Material) submitted with the manuscript to be published in SOUTH AFRICAN JOURNAL OF ENOLOGY AND VITICULTURE (SAJEV) (the "Article"). The copyright becomes effective from the date the Article has been accepted for publication in SAJEV.
This is an open access journal, and the authors and journal should be properly acknowledged, when works are cited.
Author's may use the publishers version for teaching purposes, in books, theses, dissertations, conferences and conference papers.
A copy of the authors' publishers version may also be hosted on the following websites:
Non-commercial personal webpage or blog.
Institutional webpage.
Authors Institutional Repository.
The following notice should accompany such a posting on the website: This is an electronic version of an article published in SAJEV, Volume XXX, number XXX, pages XXX - XXX, DOI. Authors should also supply a hyperlink to the original paper or indicate where the original paper (www.journals.ac.za/index.php/sajev/) may be found.
Authors publishers version, affiliated with the Stellenbosch University will be automatically deposited in the University's Institutional Repository SUNScholar.
Articles as a whole, may not be re-published with another journal.
The following license applies:
Attribution CC BY-NC-ND 4.0