Winery on-site assessment of grapevine bunch rot: In pursuit of sustainable practices
Winery On-site Assessment of Grapevine Bunch Rot
R.J. Cornelissen

Namaqua Wines

J.L. Aleixandre-Tudo

Stellenbosch University

H.H. Nieuwoudt

Stellenbosch University
Abstract
Producer wineries are responsible for the processing of 75% of South Africa's annual wine grape production. Characteristic to producer wineries is the processing of large volumes of wine grapes, thus incorporating enormous variability in grape quality, which include the presence of grapevine bunch rots. Grapevine bunch rots are detrimental to grape and wine quality. This review begins with the authors bringing background on the industrial situation at producer wineries. A section follows where the economic effect of rot infection on wine production is written about. Two principal reasons why rot infections are inevitably part of grape production are discussed. Challenges for producer wineries in terms of accurate rot assessment is set out. The last part of the review focusses on the quest for sustainable assessment of grapevine bunch rot infections under industrial conditions. Infrared spectroscopy (IR) could provide a sustainable option for objective assessment of rot infection on-site at producer wineries. However, even with the availability of plenty of spectroscopic methods, as well as demonstrated potential of IR spectroscopy for rapid assessment of grapevine bunch rot infections, these methods are yet to be applied routinely under industrial conditions.
Downloads
Download data is not yet available.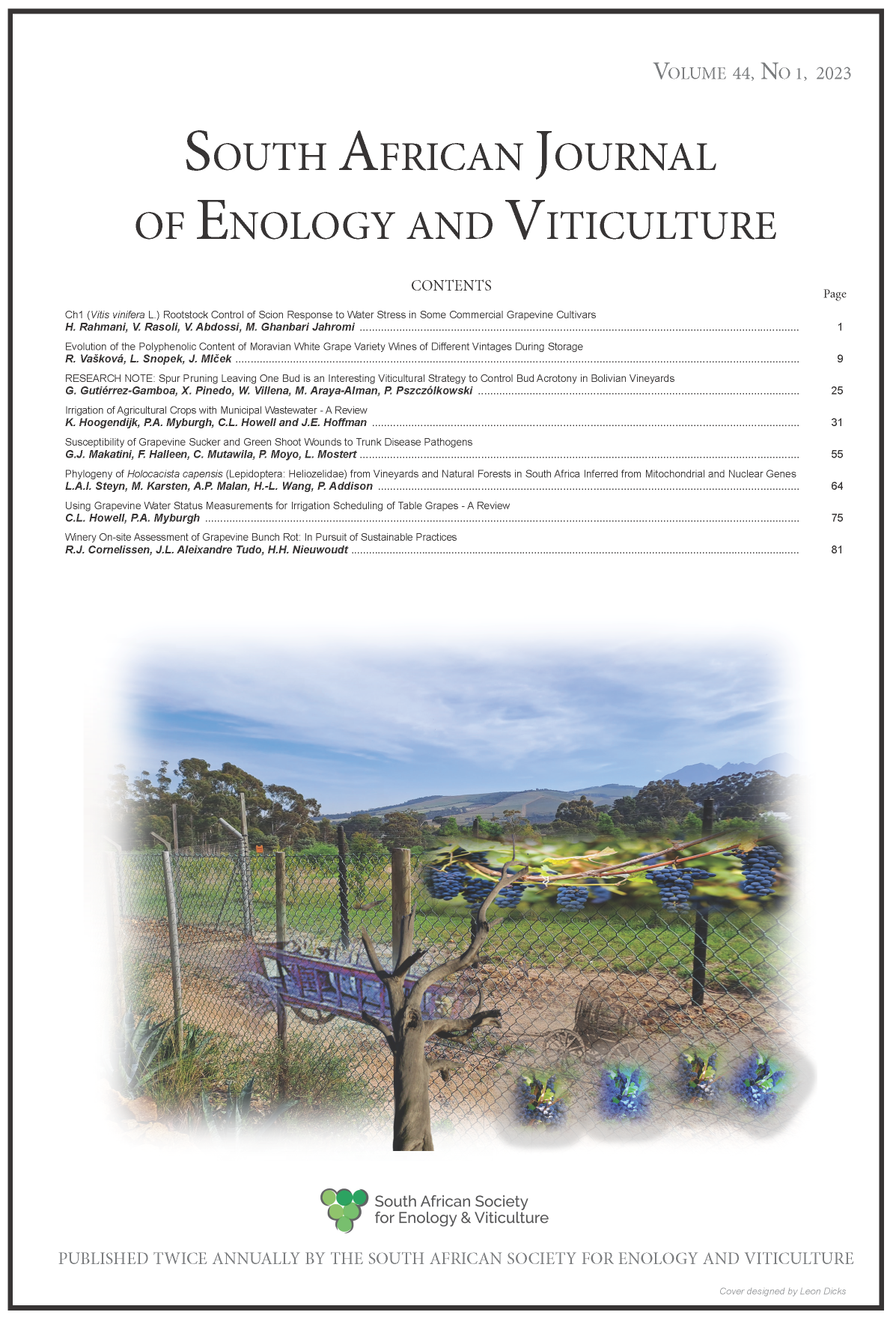 Copyright (c) 2023 South African Journal of Enology and Viticulture
This work is licensed under a Creative Commons Attribution-NonCommercial-NoDerivatives 4.0 International License.
A copyright form will be e-mailed to the corresponding author when the manuscript has been accepted for publication.
In principle, the Author agrees to the following when he/she signes the copyright agreement:
I hereby assign to the SOUTH AFRICAN SOCIETY FOR ENOLOGY AND VITICULTURE (SASEV) the copyright of the text, tables, figures, supplementary material, illustrations and other information (the Material) submitted with the manuscript to be published in SOUTH AFRICAN JOURNAL OF ENOLOGY AND VITICULTURE (SAJEV) (the "Article"). The copyright becomes effective from the date the Article has been accepted for publication in SAJEV.
This is an open access journal, and the authors and journal should be properly acknowledged, when works are cited.
Author's may use the publishers version for teaching purposes, in books, theses, dissertations, conferences and conference papers.
A copy of the authors' publishers version may also be hosted on the following websites:
Non-commercial personal webpage or blog.
Institutional webpage.
Authors Institutional Repository.
The following notice should accompany such a posting on the website: This is an electronic version of an article published in SAJEV, Volume XXX, number XXX, pages XXX - XXX, DOI. Authors should also supply a hyperlink to the original paper or indicate where the original paper (www.journals.ac.za/index.php/sajev/) may be found.
Authors publishers version, affiliated with the Stellenbosch University will be automatically deposited in the University's Institutional Repository SUNScholar.
Articles as a whole, may not be re-published with another journal.
The following license applies:
Attribution CC BY-NC-ND 4.0