Selection of Grass and Broadleaf Crops as Catch Crops where Winery Wastewater is Used for Irrigation: A Review
J.C. Fourie

C.L. Howell

South Africa

N. Masekwana
Abstract
Winery wastewater contains high levels of elements such as sodium, phosphorus, potassium, as well as
chemical oxygen demand, sodium adsorption ratio and pH. This may raise concerns regarding the pollution
of the surrounding environment. Environmentally friendly methods such as recycling, i.e. treatment and
re-use, where treated or partially treated and diluted wastewater is used for irrigation of agricultural crops,
are essential. Irrigation with winery wastewater, which is rich in nutrients, can be beneficial to overall soil
fertility as an alternative to conventional fertilizers. However, long-term applications of wastewater may
have a negative effect on soil physicochemical properties. A selection of crops with nutrient interception
abilities, preferably for salts, may be ideal for the removal of excess elements from the soil whilst reducing
leaching and excess run off. The use of perennial grasses, annual winter growing grains and winter growing
broadleaf nitrogen-fixing annuals as winter cover crops in the South African wine industry has been
extensively documented but their use as summer catch crops intercepting elements applied via wastewater
irrigation has not yet been well researched.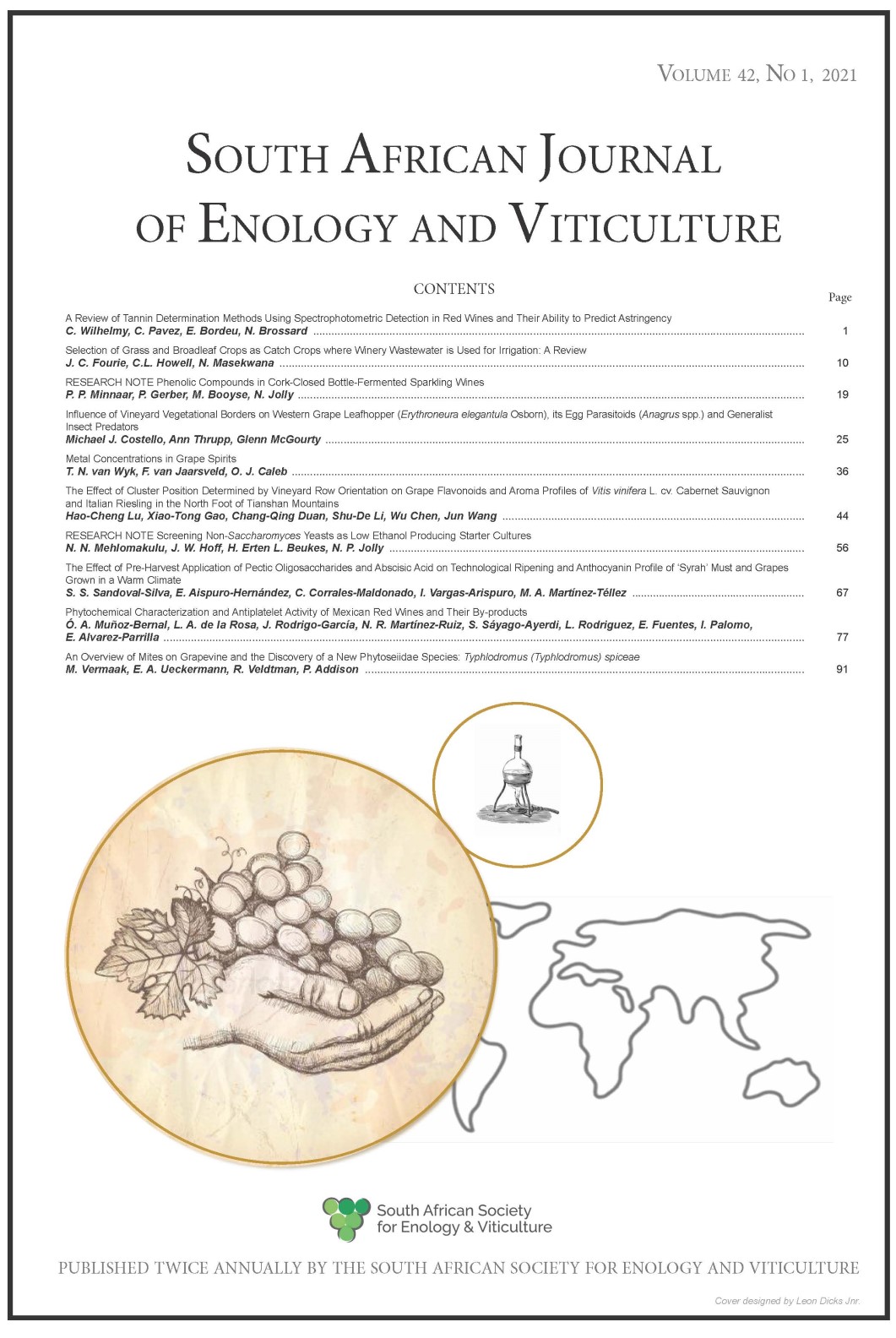 Copyright (c) 2021 South African Society for Enology and Viticulture
This work is licensed under a Creative Commons Attribution-NonCommercial-NoDerivatives 4.0 International License.
A copyright form will be e-mailed to the corresponding author when the manuscript has been accepted for publication.
In principle, the Author agrees to the following when he/she signes the copyright agreement:
I hereby assign to the SOUTH AFRICAN SOCIETY FOR ENOLOGY AND VITICULTURE (SASEV) the copyright of the text, tables, figures, supplementary material, illustrations and other information (the Material) submitted with the manuscript to be published in SOUTH AFRICAN JOURNAL OF ENOLOGY AND VITICULTURE (SAJEV) (the "Article"). The copyright becomes effective from the date the Article has been accepted for publication in SAJEV.
This is an open access journal, and the authors and journal should be properly acknowledged, when works are cited.
Author's may use the publishers version for teaching purposes, in books, theses, dissertations, conferences and conference papers.
A copy of the authors' publishers version may also be hosted on the following websites:
Non-commercial personal webpage or blog.
Institutional webpage.
Authors Institutional Repository.
The following notice should accompany such a posting on the website: This is an electronic version of an article published in SAJEV, Volume XXX, number XXX, pages XXX - XXX, DOI. Authors should also supply a hyperlink to the original paper or indicate where the original paper (www.journals.ac.za/index.php/sajev/) may be found.
Authors publishers version, affiliated with the Stellenbosch University will be automatically deposited in the University's Institutional Repository SUNScholar.
Articles as a whole, may not be re-published with another journal.
The following license applies:
Attribution CC BY-NC-ND 4.0