An effective pedagogical practise for integrating HIV and AIDS into tertiary education: An Interior Design case study
A. Gill

University of Johannesburg

G. Di Monte-Milner
Abstract
 This article discusses a pedagogical practise used to introduce HIV and AIDS content into an existing Interior Design curriculum from a creative praxis perspective.  Curriculum-integration is a key strategy of the Higher Education HIV/AIDS Programme (HEAIDS), which was established to develop and support HIV-mitigation programmes at South Africa's public Higher Education Institutions.  Students within the Faculty of Art, Design and Architecture at the University of Johannesburg engaged in a spatial intervention project that was structured around project-based learning strategies and constructivist teaching values.  Students' proposals were analysed against their ability to promote HIV and AIDS prevention and create appropriate meaning amongst the target group.  The paper suggests that the methodology proved effective because it did not require radical curriculum transformation; aligned with existing programme outcomes; and demonstrated potential to contribute to the 'new literacy of AIDS' required to counter 'AIDS fatigue'.  
References
Baelden D., L. Van Audenhove and T. Vergnani. 2012. Using new technologies for stimulating interpersonal communication on HIV and AIDS. Telematics and Informatics (29): 166—176.
Buck Institute for Learning. 2013. What is project based learning (PBL)?
http://bie.org/about/what_pbl (Accessed on 07 March 2013).
Campbell, A.D. 2008. Industrial Design Education and South African Imperatives. Image & Text: A Journal for Design 14: 89—99.
De Lange, N. 2014. The HIV and AIDS academic curriculum in higher education. South African Journal of Higher Education 28(2): 368—385
Francis, D. and N. Rimensberger. 2005. Selling HIV/AIDS prevention: A case of mixed
messages. Acta Academia 37(3): 86—105.
Gobind, J. and W. Ukpere. 2012. Accessing HIV awareness and prevention information:
South African challenges. African Journal of Business Management 6(50): 11999—12004.
–––. 2014. Evaluating HIV/AIDS Programme within South African Universities.
Mediterranean Journal of Social Sciences 5(3): 346—357.
Grierson, E. and L. Brearley. 2009. Ways of framing. In Grierson, E. and L. Brearley,
ed. 2009. Creative Arts Research: Narratives of Methodologies and Practices. Rotterdam: Sense Publishers.
HEAIDS see Higher Education HIV and AIDS Programme.
Higher Education HIV and AIDS Programme. 2012. Policy and Strategic Framework on HIV and AIDS for Higher Education. Pretoria: HEAIDS.
–––. 2014. Institutional capacity-building for the integration of HIV and AIDS into the curriculum of universities in the public education sector. Pretoria: HESA.
Martin, M. 2003. HIV/AIDS in South Africa: Can the Visual Arts Make a Difference? In
AIDS and South Africa: the Social Expression of a Pandemic, eds. K.D.
Kauffman and D.L Lindauer, 120—135. New York: Palgrave Macmillan.
Mitchell, C. and A. Smith. 2001. Changing the Picture: Youth gender and HIV/AIDS.
Canadian Woman Studies 21(2): 56—61.
–––. 2003. 'Sick of AIDS': Life, literacy and South African youth.
Culture, Health & Sexuality 5(6): 513—522.
Mitchell, C., J. Stuart, N. De Lange, R. Moletsane, T. Buthelezi, J. Larkin and S. Flicker.
What difference does this make? Studying youth as knowledge producers
within a new literacy of HIV and AIDS. In Critical Language and Literacy Studies: Language and HIV/AIDS, eds. C.
Higgins and B. Norton, 214—232. Clevedon: Multilingual Matters.
Murphy, E. 1997. Constructivism: From philosophy to practice.
files.eric.ed.gov/fulltext/ED444966.pdf (Accessed on 20 August 2013).
Museum Planner. 2011. Getting started in museums. http://museumplanner.org/getting- started-in-museums/ (Accessed on 12 October 2015).
Norman, D. and S. Klemmer. 2014. State of design: How design education must change. Available at: http://www.jnd.org/dn.mss/state_of_design_how.html
(Accessed on 15 February 2015).
Reis, J.H. 1999. From margin to center: The spaces of installation art. Cambridge: The
MIT Press.
Shefer, T., A. Strebel and J. Jacobs. 2012. AIDS fatigue and university students' talk
about HIV risk. African Journal of AIDS Research 11(2): 113—121.
Stuart, J. 2004. Media matters: Producing a culture of compassion in the age of AIDS.
English Quarterly 36(2): 3—5.
–––. 2006. 'From our frames': Exploring with teachers the pedagogic possibilities of
a visual arts based approach to HIV and AIDS. Journal of Education (38): 67—87.
Tapajos, R. 2003. HIV/AIDS in the visual arts: Applying discipline-based art education
(DBAE) to medical humanities. Medical Education (37): 563—570.
University of Johannesburg. 2014. Faculty of Art, Design & Architecture.
Annexure A. National skills funding application form. Johannesburg.
–––. 2015. Sustained excellence: Health and wellness. HIV/AIDS committee annual
report 2015. Johannesburg.
Volks, C. 2004. The Role of Tertiary Institutions in the HIV/AIDS Epidemic. In AIDS
And South Africa: The Social Expression of a Pandemic, eds. K.D. Kauffman
and D.L Lindauer, 161—175. Hampshire: Palgrave Macmillan.
Wood, L. 2011. Faculty views of HIV and AIDS education in the curriculum at tertiary level. South African Journal of Higher Education 25(4): 819—837.
Zisser, A. and D. Francis. 2009. Youth have a new attitude on AIDS, but are they talking
about it? African Journal of AIDS Research 5(2): 189—196.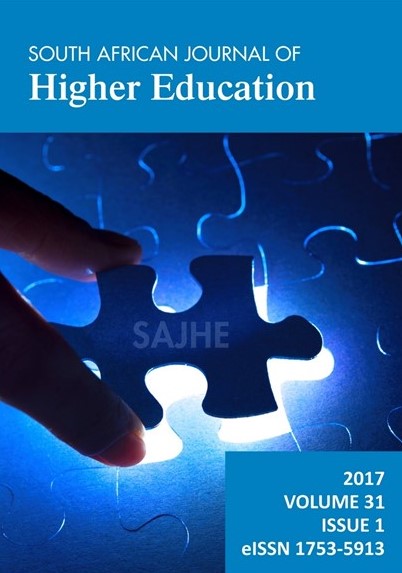 How to Cite
Gill, A., & Di Monte-Milner, G. (2017). An effective pedagogical practise for integrating HIV and AIDS into tertiary education: An Interior Design case study. South African Journal of Higher Education, 31(1), 66-80. https://doi.org/10.20853/31-1-924
Copyright (c) 2017 Andrew Gill, Giovanna Di Monte-Milner
This work is licensed under a Creative Commons Attribution 4.0 International License.
This journal is an open access journal, and the authors and journal should be properly acknowledged, when works are cited.
Authors, copyright holders, may use the publishers version for teaching purposes, in books, theses, dissertations, conferences and conference papers.Â
A copy of the authors' publishers version may also be hosted on the following websites:
Non-commercial personal homepage or blog.
Institutional webpage.
Authors Institutional Repository.
The following notice should accompany such a posting on the website: "This is an electronic version of an article published in SAJHE, Volume XXX, number XXX, pages XXX–XXX", DOI. Authors should also supply a hyperlink to the original paper or indicate where the original paper (http://www.journals.ac.za/index.php/SAJHE) may be found.
Authors publishers version, affiliated with the Stellenbosch University will be automatically deposited in the University Institutional Repository SUNScholar.
Articles as a whole, may not be re-published with another journal.
The following license applies:
Attribution CC BY-NC-ND 4.0