Constraints in the implementation of continuing professional teacher development policy in the Western Cape
L.A. Johns

Cape Peninsula University of Technology

Z.C. Sosibo

Cape Peninsula University of Technology
Abstract
Continuing teacher professional development (CPTD) is regarded as key to teachers gaining essential pedagogical-content knowledge needed for the 21st century. Despite the existence of formal structures for this system in South Africa, policy implementation continues to present challenges. This study investigated constraints in the implementation of CPTD policy. The research question was 'What factors inhibit the implementation of CPTD policy in Western Cape education districts? The design was a qualitative case study with purposely-selected sample of principals, teachers, and provincial and district officers. Data were collected through semi-structured interviews and triangulated through document analysis. Data analysis involved colour-coding, categorisation and emergent themes. Results revealed that CPTD implementation frustrated teachers, resulting in negative attitudes, low morale and demotivation. Teachers perceived the CPTD as a compliance activity rather than as a tool for growth and development. This conclusion could imply that policymakers need to rethink ways of improving CPTD implementation.
References
Caena, F. 2011. Literature review, quality in teachers' continuing professional development. Brussels: European Commission Directorate-General for Education and Culture. [Google Scholar]
Carrim, N. 2013. In The search for quality education in post-apartheid South Africa, eds. Y. Sayed, A. Kanjee and M. Nkomo. 39-60. Cape Town: HSRC Press.
Cerna, L. 2013. The nature of policy change and implementation: A review of different theoretical approaches. Geneva: OECD. [Google Scholar]
Coburn, C.E. 2016. What's policy got to do with it? How the structure-agency debate can illuminate policy implementation. American Journal of Education 122: 465- 475.
Diale, B.M. 2016. Life orientation teachers' career development needs in Gauteng: Are we missing the boat? South African Journal of Higher Education 30(3): 85-110.
Dolores, M and C. Tongco. 2007. Purposive sampling as a tool for informant selection. Ethnobotany Research & Applications 5: 147-158.
Du Toit-Brits, C. 2018. Towards a transformative and holistic continuing self-directed learning theory. South African Journal of Higher Education 32(4): 51-65.
Evans, L. 2014. Leadership for professional development and learning: enhancing our understanding of how teachers develop. Cambridge Journal of Education 44:179-198.
Fullan, M. 2006. Change theory: A force for school improvement. Seminar Paper Series No. 157. Jolimont, Victoria: Centre for Strategic Education (CSE).
Fullan, M. 2007. The new meaning of educational change. Fourth revised edition. New York: Teachers College Press.
Hardy, I. 2012. The politics of teacher professional development. New York: Routledge.
Johnson, B. and L. Christensen. 2010. Educational research: quantitative, qualitative and mixed approaches. New York: SAGE.
Koonin, M. 2014. Validity and reliability. In Research matters, eds. F. du Plooy Cilliers, C. Davis and R.M. Bezuidenhout. 252-261. Cape Town: Juta & Company.
Krippendorff, K. 2013. Content analysis: an introduction to its methodology. Third edition. Los Angeles: Sage Publications.
Lave, J. and E. Wenger. 1991. Situated learning: Legitimate peripheral participation. Cambridge: Cambridge University Press.
Leibowitz, B.L., J. Vorster, and C. Ndebele. 2016. Why a contextual approach to professional development? South African Journal of Higher Education 30(6): 1-7.
Murray, J. 2014. Teacher educators' constructions of professionalism: a case study. Asia-Pacific Journal of Teacher Education 42(1): 7-21.
Morrow, W. 2007. What is teachers' work? Journal of Education 41: 1-20.
McMillan, J.H. and S. Schumacher. 2010. Research in education: evidence-based inquiry. Seventh edition. New Jersey: Pearson Education Inc.
Mpahla, N.E. and C.I.O. Okeke. 2015. Junior secondary educators' views on the strategies for implementing continuing professional development programs in one rural education district. Student Tribals 13(1): 10-21.
Msomi, W.N., G.J. van der Westhuizen and K. Steenekamp. 2014. Teacher professional learning in the context of policy implementation. South African Journal for Higher Education 28(3): 798-815.
Organisation for Economic Co-operation and Development 2008. Reviews of National Policies for Education, South Africa. OECD, Paris.
Onwu, G.O.M. and C.T. Sehoole. 2015. Why teachers matter: policy issues in the professional development of teachers in South Africa. University of Pretoria: Pretoria Press.
Punch, K.F. and A. Qancea. 2014. Introduction to research methods in education. London: SAGE Publications.
Rule, P. and V. John. 2011. Your guide to case study research. Cape Town: Van Schaik.
Singh, S.K. 2011. The role of staff development in the professional development of teachers: Implications for in-service training. South African Journal of Higher Education 25(8): 1626-1638.
Steyn, G.M. 2011a. Continuing professional development in South African schools: Staff perceptions and the role of principals. Journal of Social Science 28(1): 43- 53.
Steyn, G.M. 2011b. Implementing continuing professional teacher development: policy and practice. Acta Academica 43(1): 210-232.
Strydom, A. and R.M. Bezuidenhout. 2014. Qualitative data collection. In Research matters, eds. F. du Plooy-Cilliers, C. Davis and R.M. Bezuidenhout. 173-194. Cape Town: Juta & Company.
Tooley, M. and K. Connally. 2016. No panacea: Diagnosing what ails teacher professional development before reaching for remedies. Washington, DC: New America.
Watson, A. 2013. Teacher professionalization and professionalism: A literature review. Commissioned by JET Education Services. Johannesburg: JET.
Whiteworth, A. and J.L. Chiu. 2015. Professional development and teacher change: The missing leadership link. Journal of Science Teacher Education 26(2): 121- 137.
Department of Basic Education. 2007. National Policy Framework for Teacher Education and Development. Pretoria: Government Printer.
Departments of Basic and Higher Education. 2011. The Integrated Strategic Planning Framework for Teacher Education and Development in South Africa. Pretoria: Departments of Basic and Higher Education.
Department of Basic Education. 2013. Organisation, Roles and Responsibilities of Education Districts. Pretoria: Government Printer.
South African Council for Educators. 2013. The CPTD management system handbook. Pretoria: SACE.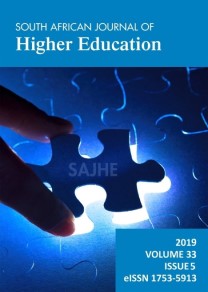 How to Cite
Johns, L.A., and Z.C. Sosibo. 2019. "Constraints in the Implementation of Continuing Professional Teacher Development Policy in the Western Cape". South African Journal of Higher Education 33 (5), 130-45. https://doi.org/10.20853/33-5-3589.
Section
Part 1 : Special Section
This journal is an open access journal, and the authors and journal should be properly acknowledged, when works are cited.
Authors, copyright holders, may use the publishers version for teaching purposes, in books, theses, dissertations, conferences and conference papers.Â
A copy of the authors' publishers version may also be hosted on the following websites:
Non-commercial personal homepage or blog.
Institutional webpage.
Authors Institutional Repository.
The following notice should accompany such a posting on the website: This is an electronic version of an article published in SAJHE, Volume XXX, number XXX, pages XXX "XXX", DOI. Authors should also supply a hyperlink to the original paper or indicate where the original paper (http://www.journals.ac.za/index.php/SAJHE) may be found.
Authors publishers version, affiliated with the Stellenbosch University will be automatically deposited in the University Institutional Repository SUNScholar.
Articles as a whole, may not be re-published with another journal.
The following license applies:
Attribution CC BY-NC-ND 4.0