The Effect of Cluster Position Determined by Vineyard Row Orientation on Grape Flavonoids and Aroma Profiles of Vitis vinifera L. cv. Cabernet Sauvignon and Italian Riesling in the North Foot of Tianshan Mountains
Hao-Cheng Lu

Xiao-Tong Gao

Chang-Qing Duan

Shu-De Li

Wu Chen

Jun Wang

China Agricultural University
Abstract
Vineyard row orientation plays a critical role in determining cluster microclimate. This study aimed to
figure out how cluster positions determined by vineyard row orientation affect grape flavonoids and aroma
profiles of Cabernet Sauvignon and Italian Riesling grapes. Three cluster positions (two canopy sides
and the inner canopy) of NS and EW oriented row Cabernet Sauvignon and NS oriented row Italian
Riesling were selected for the experiment. Microclimate data was monitored around clusters from both
canopy sides of different row orientations. The south canopy side had higher daytime temperatures
and PAR than the north canopy side in EW row orientation. Flavonoids of grape skins and seeds were
separated and determined by LC-MS, and aroma compounds of grape must were determined by GC-MS.
Results showed that flavanols were affected by orientations, and EW orientation had higher berries skin
flavanol concentration than NS orientation. EW-IN berries had fewer glucuronide form flavonols and
3'-hydroxylated flavonols than the other two positions in EW orientation. Inner canopy berries had lower
flavonol concentration than other positions in EW orientation of CS and NS orientation of IR. To aromas,
C6/C9 were the main compounds significantly affected by row orientations. EW orientation berries had
higher C6 alcohols concentration such as (E)-3-Hexen-1-ol, (E)-2-Hexen-1-ol and (Z)-3-Hexen-1-ol than
NS orientation, while NS orientation berries had higher C6 aldehyde concentrations such as Hexanal and
(E)-2-hexenal than EW orientation. EW-IN berries had more abundant C6/C9 compounds than the other
two positions. The study provided preliminary scientific evidence for vineyard viticulture practice and
harvest strategy.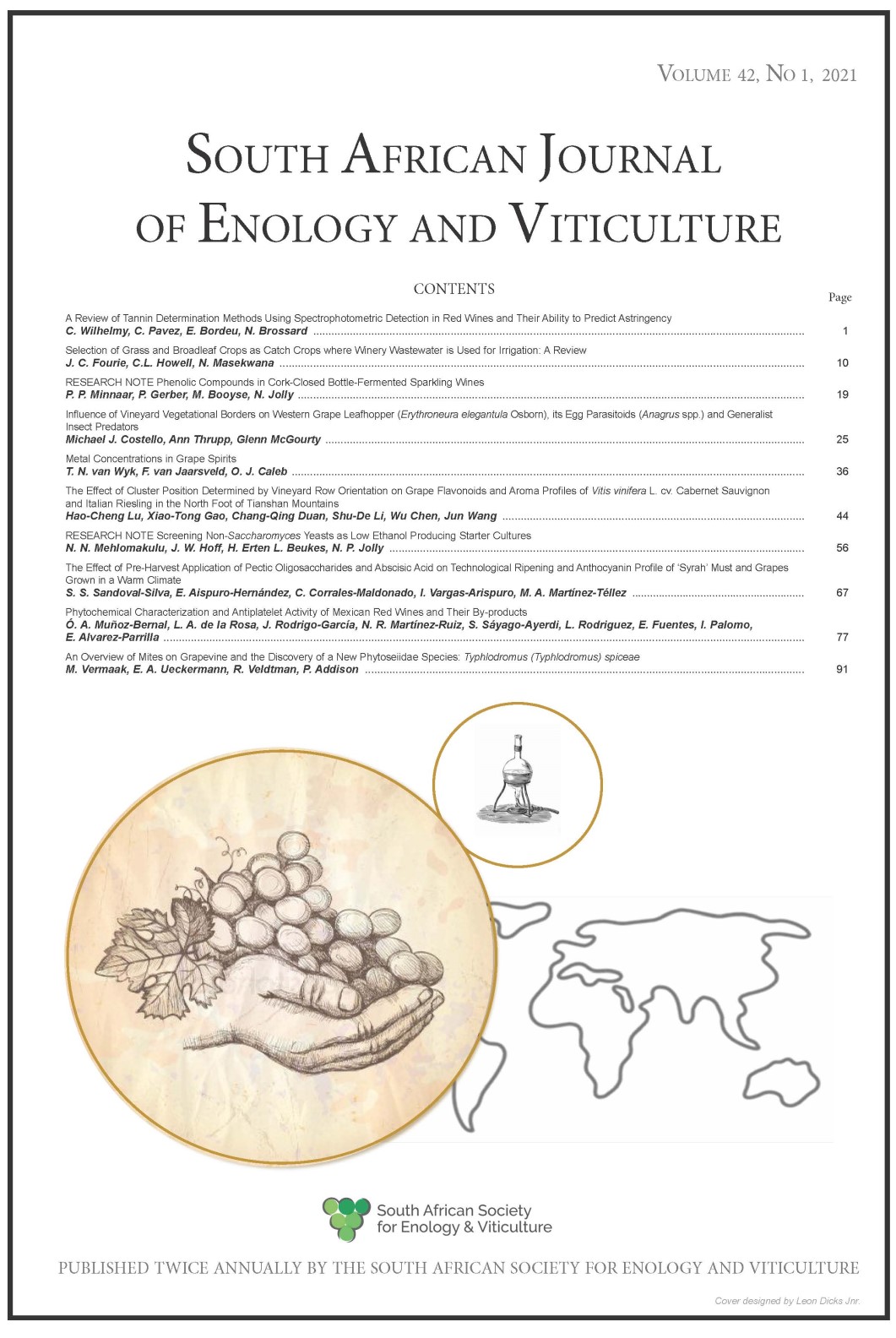 Copyright (c) 2021 South African Society for Enology and Viticulture
This work is licensed under a Creative Commons Attribution-NonCommercial-NoDerivatives 4.0 International License.
A copyright form will be e-mailed to the corresponding author when the manuscript has been accepted for publication.
In principle, the Author agrees to the following when he/she signes the copyright agreement:
I hereby assign to the SOUTH AFRICAN SOCIETY FOR ENOLOGY AND VITICULTURE (SASEV) the copyright of the text, tables, figures, supplementary material, illustrations and other information (the Material) submitted with the manuscript to be published in SOUTH AFRICAN JOURNAL OF ENOLOGY AND VITICULTURE (SAJEV) (the "Article"). The copyright becomes effective from the date the Article has been accepted for publication in SAJEV.
This is an open access journal, and the authors and journal should be properly acknowledged, when works are cited.
Author's may use the publishers version for teaching purposes, in books, theses, dissertations, conferences and conference papers.
A copy of the authors' publishers version may also be hosted on the following websites:
Non-commercial personal webpage or blog.
Institutional webpage.
Authors Institutional Repository.
The following notice should accompany such a posting on the website: This is an electronic version of an article published in SAJEV, Volume XXX, number XXX, pages XXX - XXX, DOI. Authors should also supply a hyperlink to the original paper or indicate where the original paper (www.journals.ac.za/index.php/sajev/) may be found.
Authors publishers version, affiliated with the Stellenbosch University will be automatically deposited in the University's Institutional Repository SUNScholar.
Articles as a whole, may not be re-published with another journal.
The following license applies:
Attribution CC BY-NC-ND 4.0