Spur Pruning Leaving One Bud is an Interesting Viticultural Strategy to Control Bud Acrotony in Bolivian Vineyards
G. Gutiérrez-Gamboa

Universidad Mayor

X. Pinedo

Bodegas y Viñedos La Concepción, Finca la Compañía Avilés

W. Villena

Universidad Autónoma Juan Misael Saracho

M. Araya-Alman

Universidad Católica del Maule

P. Pszczólkowski

Santiago
Abstract
Bolivian viticulture is mostly found in the Central Valley of Tarija, which is characterised by a subtropical
climate with high thermal oscillation in winter that results in low accumulation of chilling units. Such
climatic conditions accentuate acrotony in vines, which affect budburst uniformity and, consequently,
yield and bunch quality at harvest. The aim of this study was to evaluate the effect of different spur pruning
strategies on the percentage of budburst and fertility of buds located in different nodal positions in both
wine and table grape varieties growing in the Central Valley of Tarija. The results show that allocating
spurs with fewer buds improved the budding of most of the distal buds studied. This was noted in both
the wine and table grape cultivars, but mostly in the latter. Spur pruning leaving one bud improved the
percentage of budburst and the fertility of the distal buds in Cabernet Sauvignon, Cardinal and Ribier,
thereby preventing bud acrotony, compared to spur pruning leaving two buds. Spur pruning leaving two
buds improved the budburst of latent buds in Cabernet Sauvignon. Therefore, to avoid acrotony patterns,
viticulturists should perform pruning leaving one bud.
Downloads
Download data is not yet available.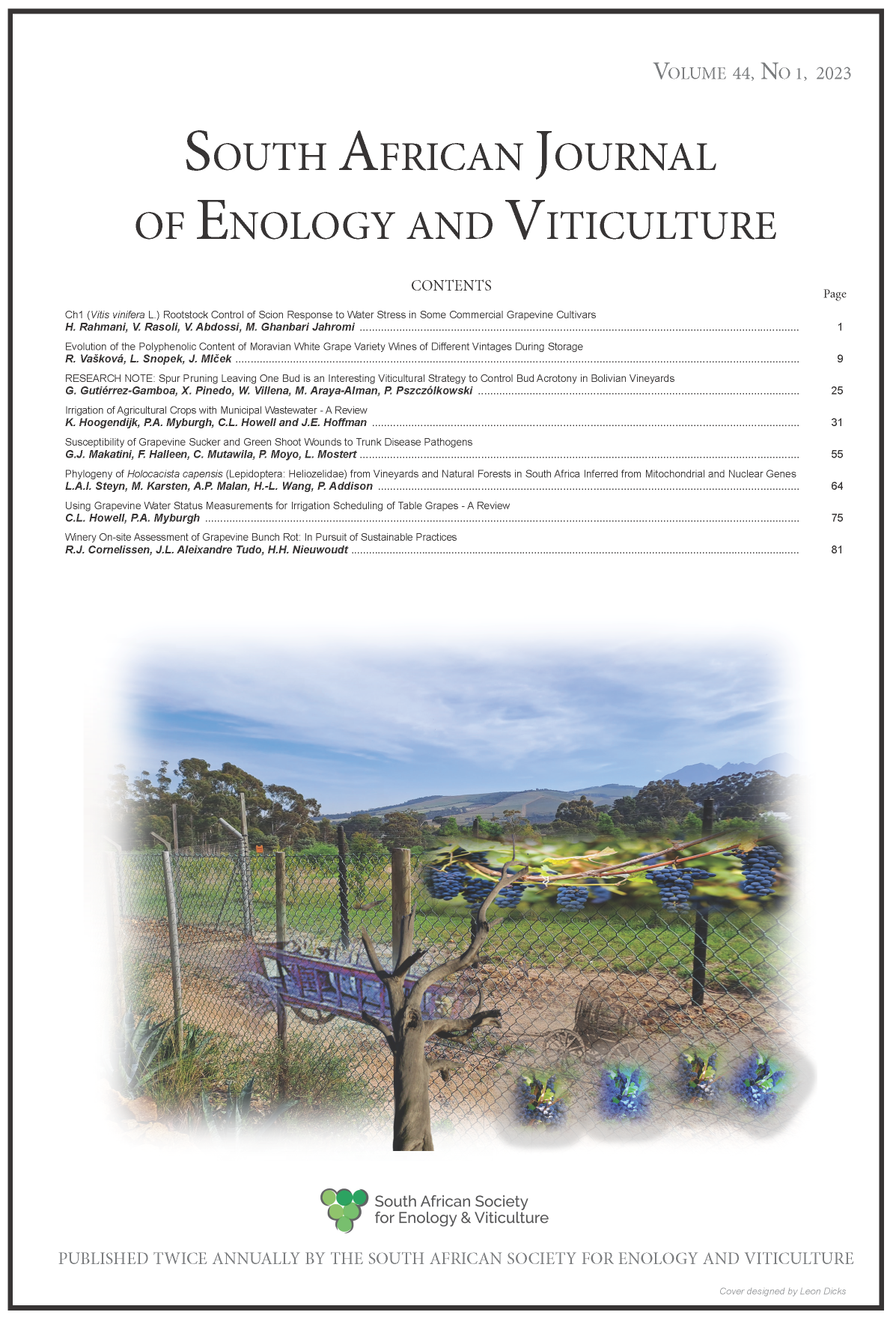 Copyright (c) 2023 South African Journal of Enology and Viticulture
This work is licensed under a Creative Commons Attribution-NonCommercial-NoDerivatives 4.0 International License.
A copyright form will be e-mailed to the corresponding author when the manuscript has been accepted for publication.
In principle, the Author agrees to the following when he/she signes the copyright agreement:
I hereby assign to the SOUTH AFRICAN SOCIETY FOR ENOLOGY AND VITICULTURE (SASEV) the copyright of the text, tables, figures, supplementary material, illustrations and other information (the Material) submitted with the manuscript to be published in SOUTH AFRICAN JOURNAL OF ENOLOGY AND VITICULTURE (SAJEV) (the "Article"). The copyright becomes effective from the date the Article has been accepted for publication in SAJEV.
This is an open access journal, and the authors and journal should be properly acknowledged, when works are cited.
Author's may use the publishers version for teaching purposes, in books, theses, dissertations, conferences and conference papers.
A copy of the authors' publishers version may also be hosted on the following websites:
Non-commercial personal webpage or blog.
Institutional webpage.
Authors Institutional Repository.
The following notice should accompany such a posting on the website: This is an electronic version of an article published in SAJEV, Volume XXX, number XXX, pages XXX - XXX, DOI. Authors should also supply a hyperlink to the original paper or indicate where the original paper (www.journals.ac.za/index.php/sajev/) may be found.
Authors publishers version, affiliated with the Stellenbosch University will be automatically deposited in the University's Institutional Repository SUNScholar.
Articles as a whole, may not be re-published with another journal.
The following license applies:
Attribution CC BY-NC-ND 4.0