Evolution of the Polyphenolic Content of Moravian White Grape Variety Wines of Different Vintages During Storage
R. Vašková

L. Snopek

Tomas Bata University

J. Mlček

Tomas Bata University
Abstract
Wine is known as a source of bioactive compounds and is one of the alcoholic beverages with the highest
phenolic content. There has been growing interest in the composition of wine due to its beneficial properties
for human health. This work focuses on biologically active and sensory attributes of white wine and presents
research on wine chemical profiles in relation to their geographical origin, varieties and storage. The aim
of this study was to investigate the phenolic compound evolution of 35 selected white wine varieties from
the Moravian region in the Czech Republic. To separate and identify individual phenolic compounds in the wines, the high-performance liquid chromatographic method was used. A spectrophotometric method
was applied for the determination of total polyphenol and total flavonoid content. This research presents
results for the total benzoic and cinnamic acid derivatives, flavonols, flavanols and stilbene content of
Moravian white grape varieties. Differences were found in the content of these compounds, and the results
show that the phenolic concentrations depend on grape variety and storage time.
Downloads
Download data is not yet available.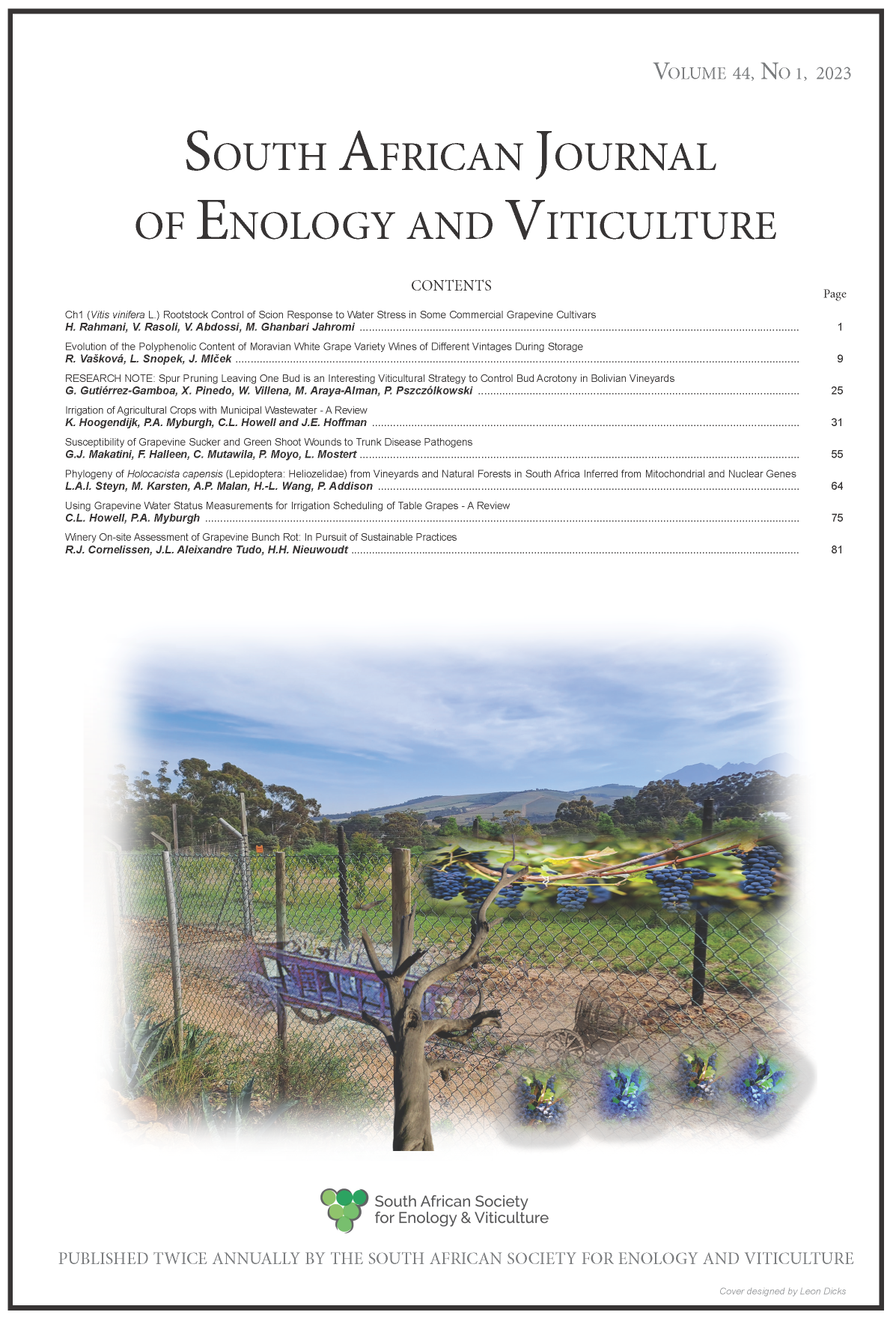 Copyright (c) 2023 South African Journal of Enology and Viticulture
This work is licensed under a Creative Commons Attribution-NonCommercial-NoDerivatives 4.0 International License.
A copyright form will be e-mailed to the corresponding author when the manuscript has been accepted for publication.
In principle, the Author agrees to the following when he/she signes the copyright agreement:
I hereby assign to the SOUTH AFRICAN SOCIETY FOR ENOLOGY AND VITICULTURE (SASEV) the copyright of the text, tables, figures, supplementary material, illustrations and other information (the Material) submitted with the manuscript to be published in SOUTH AFRICAN JOURNAL OF ENOLOGY AND VITICULTURE (SAJEV) (the "Article"). The copyright becomes effective from the date the Article has been accepted for publication in SAJEV.
This is an open access journal, and the authors and journal should be properly acknowledged, when works are cited.
Author's may use the publishers version for teaching purposes, in books, theses, dissertations, conferences and conference papers.
A copy of the authors' publishers version may also be hosted on the following websites:
Non-commercial personal webpage or blog.
Institutional webpage.
Authors Institutional Repository.
The following notice should accompany such a posting on the website: This is an electronic version of an article published in SAJEV, Volume XXX, number XXX, pages XXX - XXX, DOI. Authors should also supply a hyperlink to the original paper or indicate where the original paper (www.journals.ac.za/index.php/sajev/) may be found.
Authors publishers version, affiliated with the Stellenbosch University will be automatically deposited in the University's Institutional Repository SUNScholar.
Articles as a whole, may not be re-published with another journal.
The following license applies:
Attribution CC BY-NC-ND 4.0