Strangers "at home": Gay, lesbian and bisexual students' strategies for resisting heteronormativity in university residence life
C. Munyuki

Rhodes University

L. Vincent

Rhodes University
Abstract
Higher education in post-apartheid South Africa has been concerned with the establishment of non-discriminatory institutions. However, research continues to highlight various experiences of exclusionary practices across universities in South Africa. In this article, we demonstrate the various coping mechanisms that some students who self-identify as gay, lesbian or bisexual in the university residences adopt to deal with the exclusionary practices that the dominant heteronormative culture of the institution (re)produces which positions them as "sexual strangers" within the institutional "home". We adopt Vangelisti and Crumley's (1998) three categories of behaviour namely "acquiescence" which we term here as endeavours to "fit in", "invulnerability" which we identify as "keeping one's distance", "verbal active" as "voicing" and a fourth category we identify as "turning the tables on heteronormativity" in our discussion. We also highlight the various forms of responses that the institution adopts in its attempts to create a conducive environment for all.
References
Arndt, M. and G. de Bruin. 2006. Attitudes Toward Lesbians and Gay men: Relations with Gender, Race and Religion Among University Students. Psychology in Society 33: 16-30.
Bauman, Z. 1990. Modernity and Ambivalence. In Global Culture. Nationalism, globalization and modernity. A Theory, Culture & Society Special Issue, ed. M. Featherstone, 143-169. London: Sage Publications.
Beemyn, G. and S. Rankin. 2011. Introduction to the Special Issue on "LGBTQ Campus Experiences". Journal of Homosexuality, 58 (9): 1159-1164, DOI:10.1080/00918369.2011.605728.
Bowen, G.A. 2008. Naturalistic Inquiry and the Saturation Concept: A Research Note. Qualitative Research 8(1):137–152.
Cohen, K.M. and R.C. Savin-Williams. 1996. Developmental Perspectives on Coming Out to Self and Others. In The lives of Lesbians, Gays, and Bisexuals. Children to Adults, eds. R.C. Savin-Williams and K.M. Cohen. 113-151. Florida: Harcourt Brace & Company.
Cohen, S. and S.L. Syme. 1985. Issues in the study and Application of Social Support. In Social Support and Health, eds. S. Cohen and S.L. Syme. 3-22. San Francisco: Academic Press.
Department of Education White Paper 3. 1997. A Programme for the Transformation of Higher Education. Department of Education, Pretoria.
Dietz, T. J. and A. Dettlaff. 1997. The Impact of Membership in a Support Group for Gay, Lesbian, and Bisexual Students. Journal of College Student Psychotherapy 12: 57-72. DOI: 10.1300/J035v12n01_06
Donaldson, N. 2015. What about the Queers? The Institutional Culture of Heteronormativity and Its Implications for Queer Staff and Students. In 2015. Being At Home. Race, Institutional Culture and Transformation at South African Higher Education Institutions, eds. P. Tabensky and S. Matthews, S, 130-146. Pietermaritzburg: University of Kwa Zulu-Natal Press.
Do Marco Castro Varela, M. N. Dhawan and A. Engel. 2011.Hegemony and Heteronormativity: Revisiting 'The Political' in Queer Politics. In Hegemony and Heteronormativity: Revisiting 'The Political' in Queer Politics, eds. Do Marco Castro Varela, M. N. Dhawan and A. Engel. 1-24. Farnham: Ashgate Publishing Limited.
Evans, N.J. and A. D'Augelli. 1996. Lesbians, Gay Men and Bisexual People in College. In The Lives of Lesbians, Gays, and Bisexuals. Children to Adults, eds. Savin-Williams, R.C. and K.M. Cohen, K.M, 201-226. Florida: Harcourt Brace & Company.
Flowers, P. and K. Buston. 2001. ''I Was Terrified of Being Different'': Exploring Gay Men's Accounts of Growing-up in a Heterosexist Society. Journal of Adolescence 24: 51-65.
Goffman, E. 1963. Stigma: Notes on the Management of Spoiled Identity. New York: Prentice-Hall, Inc.
Guest, G., A. Bunce. and L. Johnson. 2006. How Many Interviews Are Enough? An Experiment with Data Saturation and Variability. Field Methods 18(1): 59–82.
Hames, M. 2007. Sexual Identity and Transformation at a South African University. Social Dynamics 33(1): 52-77.
Holland, L., T.L. Matthews. and M.R. Schott. 2013. "That's So Gay!" Exploring College Students' Attitudes Toward the LGBT Population. Journal of Homosexuality 60(4): 575-595. DOI: 10.1080/00918369.2013.760321
Kaplan, B. H., J.C. Cassel. and S. Gore. 1977. Social Support and Health. Medical Care 15(5): 47-58. Supplement: Issues in Promoting Health Committee Reports of the Medical Sociology Section of the American Sociological Association.
Kuper, A., L. Lingard. and W. Levinson. 2008. Critically Appraising Qualitative Research. The British Medical Journal 337: a1035.
Longerbeam, S.D., K. Kurotsuchi Inkelas. D.R. Johnson. and Z.S. Lee. 2007. Lesbian, Gay, and Bisexual College Student Experiences: An Exploratory Study. Journal of College Student Development 48(2): 215-230.
MacDonald, G. and M.R. Leary. 2005. Why Does Social Exclusion Hurt? The Relationship Between Social and Physical Pain. Psychological Bulletin 131 (2): 202-223.
Msibi, T. 2013. Queering the Transformation of Higher Education in South Africa. Perspectives in Education 31 (2): 65-73.
Murray, S. L., J.G. Holmes. G. MacDonald and P.C. Ellsworth. 1998. Through the Looking Glass Darkly? When Self-Doubts Turn Into Relationship Insecurities. Journal of Personality and Social Psychology 75(6): 1459-1480.
Negy, C. and R. Eisenman. 2005. A Comparison of African American and White College Students' Affective and Attitudinal Reactions to Lesbian, Gay, and Bisexual individuals: An Exploratory Study. The Journal of Sex Research 42 (4): 291-298, DOI:10.1080/00224490509552284
Obear, K. 1991. Homophobia. In Beyond Tolerance: Gays, Lesbians and Bisexuals on Campus, eds. Evans, N.J., and V.A. Wall, 39-66. American College Personnel Association.
Phelan, S. 2001. Sexual Strangers. Gays, Lesbians and Dilemmas of Citizenship. Philadelphia: Temple University Press.
Quinlivan, K. and S. Town. 1999. Queer Pedagogy, Educational Practice and Lesbian and Gay Youth. International Journal of Qualitative Studies in Education 12(5): 509-524, DOI: 10.1080/095183999235926.
Sandercock, L. 2000. When Strangers Become Neighbours: Managing Cities of Difference. Planning Theory & Practice 1(1): 13-30.
Schilt, K. and L. Westbrook. 2009. "Gender Normals," Transgender People, and the Social Maintenance of Heterosexuality. Gender & Society 23(4): 440-464.
Seidman, S. 2010. The Social Construction of Sexuality (2nd Edition). New York: W.W. Norton & Company.
Sibley, D. 1995. Geographies of Exclusion. Society and Difference in the West. London: Routledge.
Smith, S.G. 1994. The Essential Qualities of a Home. Journal of Environmental Psychology 14: 31-46.
Smith. N. G., and K.M. Ingram. 2004. Workplace Heterosexism and Adjustment Among Lesbian, Gay, and Bisexual Individuals: The Role of Unsupportive Social Interactions. Journal of Counselling Psychology 51(1): 57–67.
Soudien, C. 2008. "Final Report of the Ministerial Committee on Transformation and Social Cohesion and the Elimination of Discrimination in Public Higher Education Institutions." Department of Education. Republic of South Africa.
Vangelisti, A.L., and L.P. Crumley. 1998. Reactions to Messages that Hurt: The Influence of Relational Contexts. Communication Monographs 65 (3): 173-196.
Warner, M. 1991. Fear of a Queer Planet. Social Text 29: 3-17.
Wardhaugh, J. 1999. The Unaccommodated Woman: Home, Homelessness and Identity. Sociological Review 47(1): 91-109.
Woodford, M. R., A.R. Krentzman and M.N. Gattis. 2012. Alcohol and Drug use Among Sexual Minority College Students and Their Heterosexual Counterparts: The Effects of Experiencing and Witnessing Incivility and Hostility on Campus. Substance Abuse and Rehabilitation 3: 11–23, vhttp://socwork.wisc.edu/files/Alcohol-Drug-Use-Gattis.pdf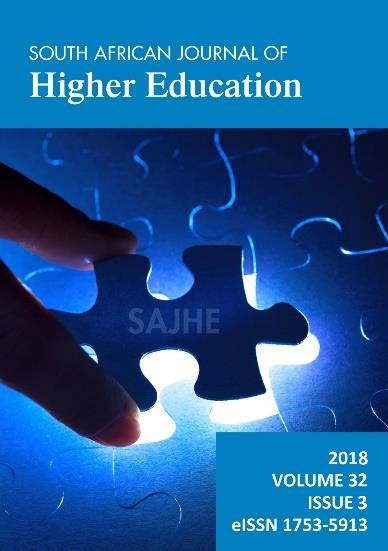 How to Cite
Munyuki, C., and L. Vincent. 2018. "Strangers 'at home': Gay, Lesbian and Bisexual students' Strategies for Resisting Heteronormativity in University Residence Life". South African Journal of Higher Education 32 (3), 64-80. https://doi.org/10.20853/32-3-2521.
Copyright (c) 2018 Chipo Lidia Munyuki, Louise Dorothy Vincent
This work is licensed under a Creative Commons Attribution 4.0 International License.
This journal is an open access journal, and the authors and journal should be properly acknowledged, when works are cited.
Authors, copyright holders, may use the publishers version for teaching purposes, in books, theses, dissertations, conferences and conference papers.Â
A copy of the authors' publishers version may also be hosted on the following websites:
Non-commercial personal homepage or blog.
Institutional webpage.
Authors Institutional Repository.
The following notice should accompany such a posting on the website: This is an electronic version of an article published in SAJHE, Volume XXX, number XXX, pages XXX "XXX", DOI. Authors should also supply a hyperlink to the original paper or indicate where the original paper (http://www.journals.ac.za/index.php/SAJHE) may be found.
Authors publishers version, affiliated with the Stellenbosch University will be automatically deposited in the University Institutional Repository SUNScholar.
Articles as a whole, may not be re-published with another journal.
The following license applies:
Attribution CC BY-NC-ND 4.0