A Shotgun Metagenomic Sequencing Exploration of Cabernet Sauvignon Grape Must Reveals Yeast Hydrolytic Enzymes
S. Ghosh

Department of Genetics, Faculty of Natural and Agricultural Sciences, University of the Free State, Bloemfontein

B. Divol

South African Grape and Wine Research Institute, Stellenbosch University, Stellenbosch

M.E. Setati

South African Grape and Wine Research Institute, Stellenbosch University, Stellenbosch
Abstract
Shotgun sequencing was employed to explore the community structure (phylotyping of rRNA genes) and
functional potential of Cabernet Sauvignon grape must microbiome. A metagenomic library, representing
92.6 Mb of genetic information, was generated from DNA obtained from Cabernet Sauvignon grape
must.. Fungi were identified as the dominant domain (59.5%) followed by Streptophyta (39%). Among
the 84 fungal species, 22 were yeasts of various genera. Additionally, grapevine endophytes such as
Davidiella sp., Botryotinia fuckeliana, Alternaria sp., and Cladosporium sp. were identified. An unusually
high prevalence of Mucor spp. was evidenced. Functional annotation revealed sequences of genes
involved in metabolism (35.6%), followed by poorly characterized categories (28.3%), cellular processes
and signalling (18.4%), and finally information storage (17.8%). Among the former, glycosidases were
abundant followed by glycogen debranching enzyme, 6-phosphofructokinase and trehalose-6-phosphate
synthase. Furthermore, the taxonomic analysis of the functional sequence data exhibited the eukaryotic
gene pool that predominantly contains sequences derived from Streptophyta (mainly Vitis vinifera) 60% >
Ascomycota (32%) > Basidiomycota (5%) > Bacteria (2.5%). Finally, sequences of a variety of hydrolytic
enzymes of potential oenological relevance were retrieved, thereby confirming that grape juice is a rich
reservoir for valuable biocatalysts that should be explored further.
Downloads
Download data is not yet available.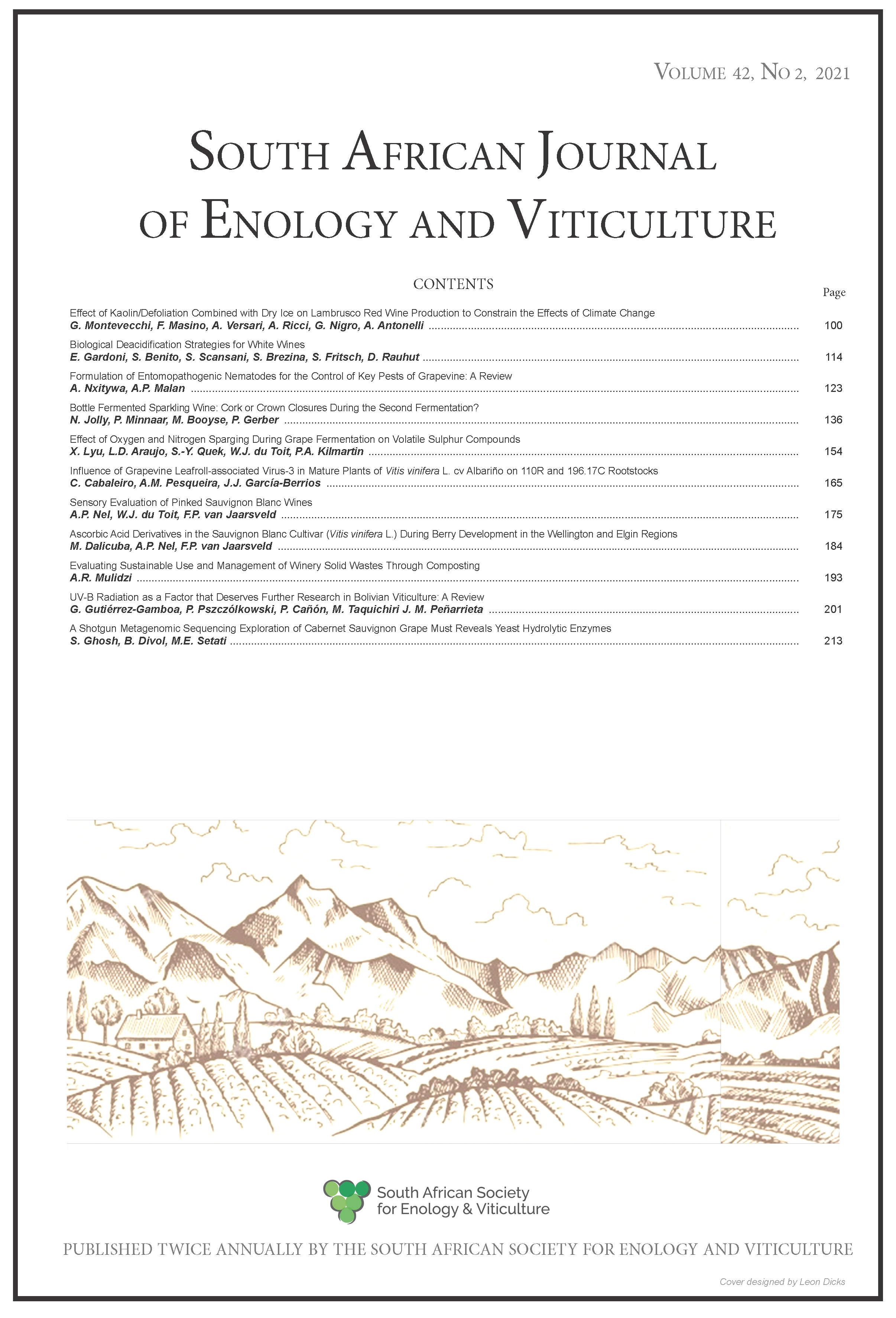 Copyright (c) 2021 South African Journal of Enology and Viticulture
This work is licensed under a Creative Commons Attribution-NonCommercial-NoDerivatives 4.0 International License.
A copyright form will be e-mailed to the corresponding author when the manuscript has been accepted for publication.
In principle, the Author agrees to the following when he/she signes the copyright agreement:
I hereby assign to the SOUTH AFRICAN SOCIETY FOR ENOLOGY AND VITICULTURE (SASEV) the copyright of the text, tables, figures, supplementary material, illustrations and other information (the Material) submitted with the manuscript to be published in SOUTH AFRICAN JOURNAL OF ENOLOGY AND VITICULTURE (SAJEV) (the "Article"). The copyright becomes effective from the date the Article has been accepted for publication in SAJEV.
This is an open access journal, and the authors and journal should be properly acknowledged, when works are cited.
Author's may use the publishers version for teaching purposes, in books, theses, dissertations, conferences and conference papers.
A copy of the authors' publishers version may also be hosted on the following websites:
Non-commercial personal webpage or blog.
Institutional webpage.
Authors Institutional Repository.
The following notice should accompany such a posting on the website: This is an electronic version of an article published in SAJEV, Volume XXX, number XXX, pages XXX - XXX, DOI. Authors should also supply a hyperlink to the original paper or indicate where the original paper (www.journals.ac.za/index.php/sajev/) may be found.
Authors publishers version, affiliated with the Stellenbosch University will be automatically deposited in the University's Institutional Repository SUNScholar.
Articles as a whole, may not be re-published with another journal.
The following license applies:
Attribution CC BY-NC-ND 4.0