Alteration Index Three Facilitates Interpretation of β-Glucosidase, Acid-phosphatase and Urease Activities in Soils Irrigated with Diluted Winery Wastewater
I. van Huyssteen

Soil and Water Science Division, ARC Infruitec-Nietvoorbij (The Fruit, Vine and Wine Institute of the Agricultural Research Council), Private Bag X5026, 7599, Stellenbosch,

A.R. Mulidzi

Soil and Water Science Division, ARC Infruitec-Nietvoorbij (The Fruit, Vine and Wine Institute of the Agricultural Research Council), Private Bag X5026, 7599, Stellenbosch

A.H. Meyer

Soil and Water Science Division, ARC Infruitec-Nietvoorbij (The Fruit, Vine and Wine Institute of the Agricultural Research Council), Private Bag X5026, 7599, Stellenbosch

J. Wooldridge

Soil and Water Science Division, ARC Infruitec-Nietvoorbij (The Fruit, Vine and Wine Institute of the Agricultural Research Council), Private Bag X5026, 7599, Stellenbosch
Abstract
Soil enzyme activity data from a lysimeter pot trial involving four dissimilar soils irrigated over two simulated seasons (SS) with winery wastewater (WW) and municipal water (MW), were converted to numerical scores using the alteration index three (AI3). Unlike the activities of individual enzymes which are substrate specific and do not reflect the overall status of the soil microbiome, AI3 enabled differences in treatment-induced alteration states between combinations of soil and water to be quantified and statistically assessed. The more negative AI3 scores corresponded to a more altered state in the WW than the MW treatments, after SS3 than after SS4 and in the 0-10 cm compared to the 10-20 cm soil depth interval. AI3 is therefore a potentially useful adjunct to soil enzyme activity assays in monitoring and management of biological activity in vineyard soils. These findings, however, require verification under commercial vineyard conditions.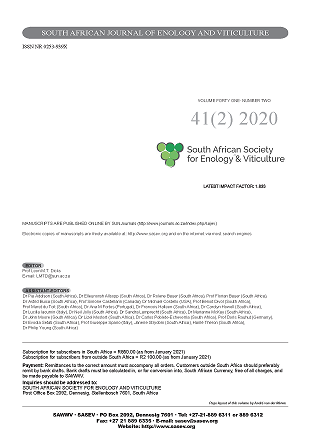 Copyright (c) 2020 South African Society for Enology and Viticulture
This work is licensed under a Creative Commons Attribution-NonCommercial-NoDerivatives 4.0 International License.
A copyright form will be e-mailed to the corresponding author when the manuscript has been accepted for publication.
In principle, the Author agrees to the following when he/she signes the copyright agreement:
I hereby assign to the SOUTH AFRICAN SOCIETY FOR ENOLOGY AND VITICULTURE (SASEV) the copyright of the text, tables, figures, supplementary material, illustrations and other information (the Material) submitted with the manuscript to be published in SOUTH AFRICAN JOURNAL OF ENOLOGY AND VITICULTURE (SAJEV) (the "Article"). The copyright becomes effective from the date the Article has been accepted for publication in SAJEV.
This is an open access journal, and the authors and journal should be properly acknowledged, when works are cited.
Author's may use the publishers version for teaching purposes, in books, theses, dissertations, conferences and conference papers.
A copy of the authors' publishers version may also be hosted on the following websites:
Non-commercial personal webpage or blog.
Institutional webpage.
Authors Institutional Repository.
The following notice should accompany such a posting on the website: This is an electronic version of an article published in SAJEV, Volume XXX, number XXX, pages XXX - XXX, DOI. Authors should also supply a hyperlink to the original paper or indicate where the original paper (www.journals.ac.za/index.php/sajev/) may be found.
Authors publishers version, affiliated with the Stellenbosch University will be automatically deposited in the University's Institutional Repository SUNScholar.
Articles as a whole, may not be re-published with another journal.
The following license applies:
Attribution CC BY-NC-ND 4.0