Direct and indirect effects of the COVID-19 pandemic on children with cardiovascular disease
Liesl Zühlke

Division of Paediatric Cardiology Department of Paediatrics Red Cross War Memorial Children's Hospital University of Cape Town Division of Cardiology Department of Medicine Faculty of Health Sciences University of Cape Town and Groote Schuur Hospital

Stephen Brown

Paediatric Cardiology University of the Free State

Antoinette Cilliers

Division of Paediatric Cardiology Department of Paediatrics and Child Health Chris Hani Baragwanath Academic Hospital University of the Witwatersrand

Ebrahim Hoosen

Paediatric Cardiology Inkosi Albert Luthuli Central Hospital Department of Paediatrics University of KwaZulu-Natal

John Lawrenson

Division of Paediatric Cardiology Department of Paediatrics Red Cross War Memorial Children's Hospital University of Cape Town Department of Paediatrics and Child Health Stellenbosch University and Tygerberg Hospital

Hopewell Ntsinjana

Department of Paediatrics and Child Health Division of Paediatric Cardiology Nelson Mandela Children's Hospital University of the Witwatersrand
Abstract
Coronavirus 2 (SARS-CoV-2) the causative agent of what we now know as "Coronavirus Disease 2019†(COVID-19), is the most serious global health crisis of our generation, with a significant and far-reaching impact upon health, economy, social cohesion and emotional and mental wellbeing. Although children do not bear the brunt of direct mortality, they are significantly affected in terms of morbidity and interruption to access, continuity and complexity of care, as well as the indirect social and financial effects impacting on their health outcomes. In this review we present some of the most recent data relevant to children with congenital and acquired heart disease, and consider some of the cardiac presentations noted. We discuss the necessary protections to staff in the echo and cardiac catherisation laboratories and present some general recommendations to general paediatricians and communities to ensure the continued health of our patients. Finally, we encourage ongoing registries and biorepositories and support clinical trials to ensure that children also receive new technologies and therapeutics as these become available.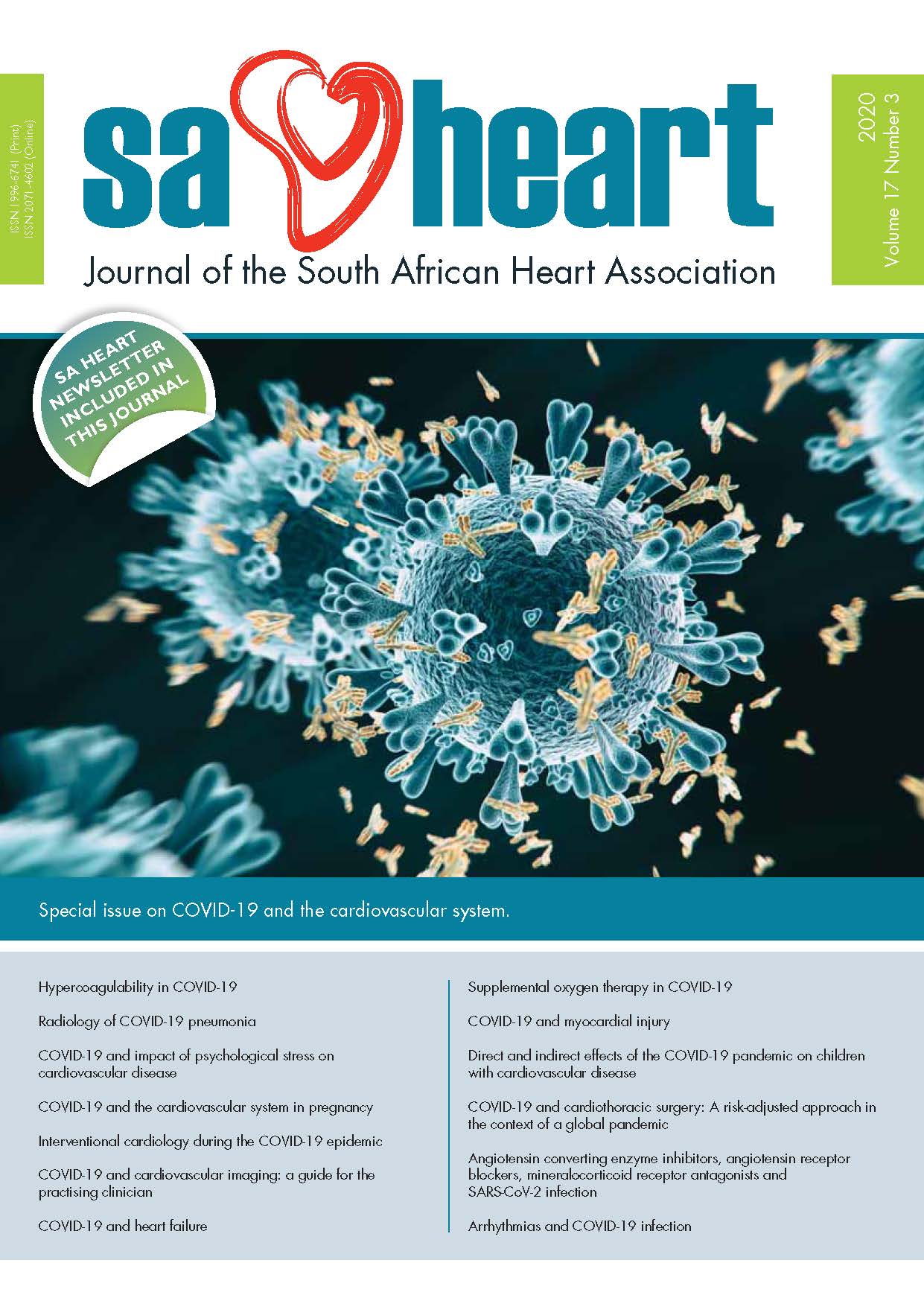 Copyright (c) 2020 SA Heart Journal
This work is licensed under a Creative Commons Attribution-NonCommercial-NoDerivatives 4.0 International License.
This journal is an open access journal, and the authors and journal should be properly acknowledged, when works are cited.
Authors may use the publishers version for teaching purposes, in books, theses, dissertations, conferences and conference papers.Â
A copy of the authors' publishers version may also be hosted on the following websites:
Non-commercial personal homepage or blog.
Institutional webpage.
Authors Institutional Repository.Â
The following notice should accompany such a posting on the website: "This is an electronic version of an article published in SAHJ, Volume XXX, number XXX, pages XXX–XXX", DOI. Authors should also supply a hyperlink to the original paper or indicate where the original paper (http://www.journals.ac.za/index.php/SAHJ) may be found.Â
Authors publishers version, affiliated with the Stellenbosch University will be automatically deposited in the University's' Institutional Repository SUNScholar.
Articles as a whole, may not be re-published with another journal.
Copyright Holder: SA Heart Journal
The following license applies:
Attribution CC BY-NC-ND 4.0