Prevention of infective endocarditis associated with dental interventions: South African Heart Association position statement, endorsed by the South African Dental Association
David Jankelow

Linksfield Clinic, Johannesburg

Blanche Cupido

Department of Cardiology, University of Cape Town and Groote Schuur Hospital

Liesl Zuhlke

Department of Cardiology, University of Cape Town and Groote Schuur Hospital

Karen Sliwa

Hatter Institute for Cardiovascular Research in Africa, Department of Medicine, Faculty of Health Sciences, University of Cape Town

Mpiko Ntsekhe

Department of Cardiology, University of Cape Town and Groote Schuur Hospital

Pravin Manga

Division of Cardiology, University of Witwatersrand, Johannesburg

Anton Doubell

Division of Cardiology, Stellenbosch University and Tygerberg Hospital

John Lawrenson

Paediatric Cardiac Service of the Western Cape, Department of Paediatrics and Child Health, Stellenbosch University

Mohammed Rafique Essop

Division of Cardiology, Baragwanath Hospital and University of the Witwatersrand, Johannesburg,
Abstract
Infective endocarditis (IE) is associated with significant morbidity and mortality. Prevention is therefore an important clinical entity. The maintenance of optimal oral health is likely to play the most important role in protecting those at risk for IE. Both patients and health care practitioners must be educated in this regard. Guidelines have recommended that antibiotic prophylaxis should be limited to individuals (undergoing certain high-risk dental procedures) with underlying cardiac conditions that are associated with the greatest risk of an adverse outcome from IE. These conditions include prosthetic valves, congenital heart disease and previous IE. In South Africa, and other developing countries, IE is often a disease of young patients with rheumatic heart disease (RHD) and carries a very poor prognosis. In contrast, IE in Europe/North America, where guidelines and indications for antibiotic prophylaxis have been reduced, has a different spectrum of factors. These patients are older with degenerative valve disease. IE may also occur as a result of invasive health care associated procedures or in the setting of prosthetic valves and implantable cardiac devices. Recently published international guidelines cannot be automatically applied to countries where RHD is common and oral hygiene is poor. We therefore recommend that patients with RHD should also receive antibiotic prophylaxis prior to the listed dental procedures. Antibiotic prophylaxis should be prescribed after stressing the role of good oral health and why the approach differs in South Africa. There should be close cooperation between the dental practitioner and clinician as to who should receive prophylaxis and who should not.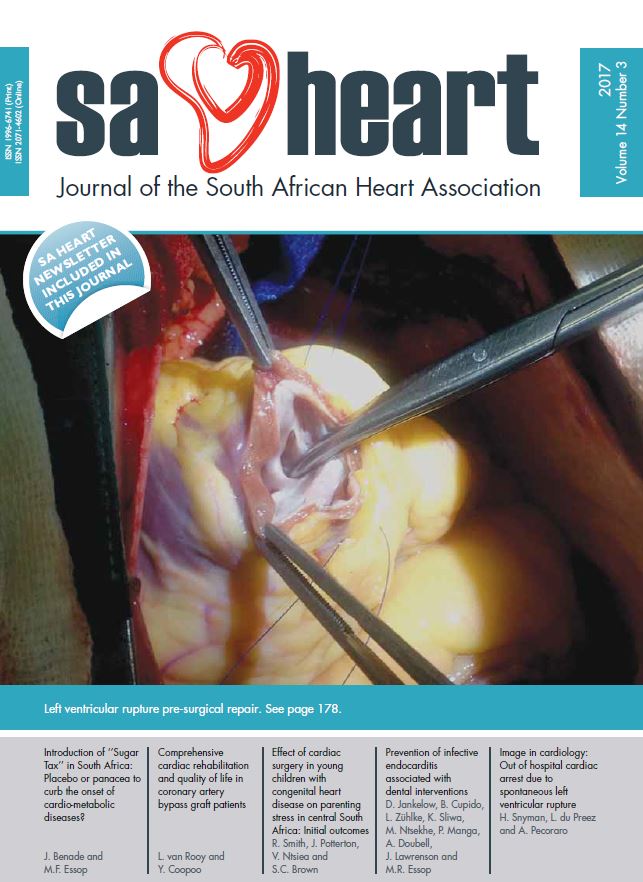 Copyright (c) 2017 SA Heart Journal
This work is licensed under a Creative Commons Attribution-NonCommercial-NoDerivatives 4.0 International License.
This journal is an open access journal, and the authors and journal should be properly acknowledged, when works are cited.
Authors may use the publishers version for teaching purposes, in books, theses, dissertations, conferences and conference papers.Â
A copy of the authors' publishers version may also be hosted on the following websites:
Non-commercial personal homepage or blog.
Institutional webpage.
Authors Institutional Repository.Â
The following notice should accompany such a posting on the website: "This is an electronic version of an article published in SAHJ, Volume XXX, number XXX, pages XXX–XXX", DOI. Authors should also supply a hyperlink to the original paper or indicate where the original paper (http://www.journals.ac.za/index.php/SAHJ) may be found.Â
Authors publishers version, affiliated with the Stellenbosch University will be automatically deposited in the University's' Institutional Repository SUNScholar.
Articles as a whole, may not be re-published with another journal.
Copyright Holder: SA Heart Journal
The following license applies:
Attribution CC BY-NC-ND 4.0