Data sharing: A new editorial initiative of the International Committee of Medical Journal Editors. Implications for the Editors´ Network
Fernando Alfonso

Department of Cardiology Hospital Universitario de La Princesa Instituto de Investigación sanitaria IIS-IP Universidad Autónoma de Madrid C/ Diego de León 62

Karlen Adamyan

Armenian Journal of Cardiology

Jean-Yves Artigou

rchives des maladies du coeur et des vaisseaux Pratique

Michael Aschermann

Cor et Vasa

Michael Boehm

Clinical Research in Cardiology

Alfonso Buendia

Archivos de Cardiologia de Mexico

Pao-Hsien Chu

Acta Cardiologica Sinica

Ariel Cohen

Archives of Cardiovascular Diseases

Livio Dei Cas

Journal of Cardiovascular Medicine

Mirza Dilic

Medicinski Zurnal

Anton Doubell

SA Heart Journal

Dario Echeverri

Revista Colombiana de Cardiologia

Nuray Enç

Kardiyovaskuler Hemsirelik Dergisi

Ignacio Ferreira-González

Revista Española de Cardiología

Krzysztof Filipiak

Kardiologia Polska

Andreas Flammer

Cardiovascular Medecine

Eckart Fleck

Cardio News

Plamen Gatzov

Bulgarian Journal of Cardiology

Carmen Ginghina

Romanian Journal of Cardiology

Lino Goncalves

Revista Portuguesa de Cardiologia

Habib Haouala

Cardiologie Tunisienne

Mahmoud Hassanein

The Egyptian Heart Journal

Gerd Heusch

Basic Research in Cardiology

Kurt Huber

Austrain Journal fo Cardiology

Ivan Hulín

Cardiology Letters

Mario Ivanusa

Cardiologia Croatica

Rungroj Krittayaphong

Thai Heart Journal

Chu-Pak Lau

Journal of the Hong Kong College of Cardiology

Germanas Marinskis

Seminars in Cardiovascular Medicine

François Mach

Cardiovascular Medecine

Luiz Felipe Moreira

Arquivos Brasileiros de Cardiologia

Tuomo Nieminen

Sydänääni (Heart Beat)

Latifa Oukerraj

La Revue Marocaine de Cardiologie

Stefan Perings

Der Kardiologie

Luc Pierard

Acta Cardiologica

Tatjana Potpara

Heart and Blood Vessels

Walter Reyes-Caorsi

Revista Uruguaya de Cardiologia

Se-Joong Rim

Korean Circulation Journal

Olaf Rødevand

Hjerteforum

Georges Saade

Heart News

Mikael Sander

Cardiologisk Forum

Evgeny Shlyakhto

Russian Journal of Cardiology

Bilgin Timuralp

Anatolian Journal of Cardiology

Dimitris Tousoulis

Hellenic Journal of Cardiology

Dilek Ural

Archives of the Turkish Society of Cardiology

J.J. Piek

Netherlands Heart Journal

Albert Varga

Cardiologia Hungarica

Thomas Lüscher

European Heart Journal
Abstract
The International Committee of Medical Journal Editors (ICMJE) provides recommendations to improve the editorial standards and scientific quality of biomedical journals. These recommendations range from uniform technical requirements to more complex and elusive editorial issues including ethical aspects of the scientific process. Recently, registration of clinical trials, conflicts of interest disclosure, and new criteria for authorship – emphasising the importance of responsibility and accountability – have been proposed. Last year, a new editorial initiative to foster sharing of clinical trial data was launched. This review discusses this novel initiative with the aim of increasing awareness among readers, investigators, authors and editors belonging to the Editors´ Network of the European Society of Cardiology.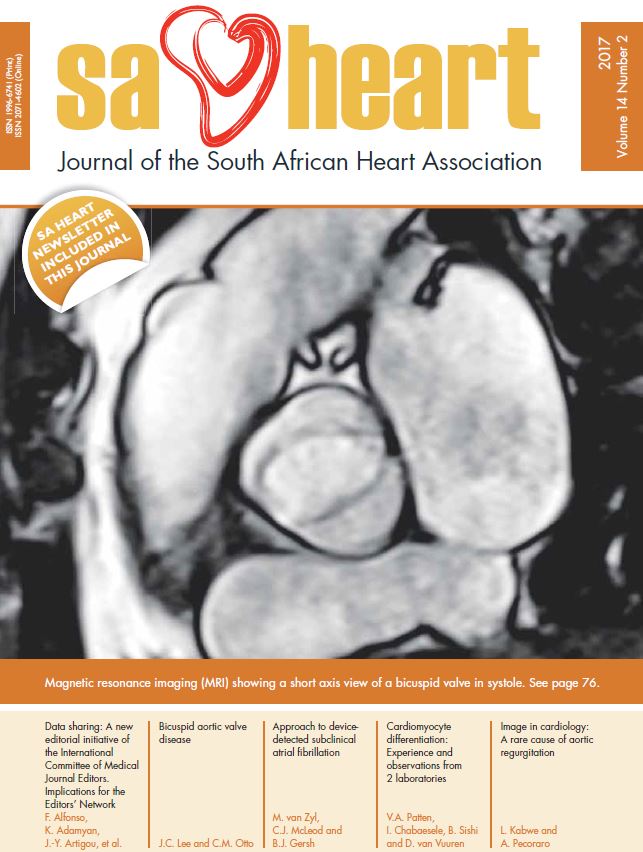 Copyright (c) 2017 SA Heart Journal
This work is licensed under a Creative Commons Attribution-NonCommercial-NoDerivatives 4.0 International License.
This journal is an open access journal, and the authors and journal should be properly acknowledged, when works are cited.
Authors may use the publishers version for teaching purposes, in books, theses, dissertations, conferences and conference papers.Â
A copy of the authors' publishers version may also be hosted on the following websites:
Non-commercial personal homepage or blog.
Institutional webpage.
Authors Institutional Repository.Â
The following notice should accompany such a posting on the website: "This is an electronic version of an article published in SAHJ, Volume XXX, number XXX, pages XXX–XXX", DOI. Authors should also supply a hyperlink to the original paper or indicate where the original paper (http://www.journals.ac.za/index.php/SAHJ) may be found.Â
Authors publishers version, affiliated with the Stellenbosch University will be automatically deposited in the University's' Institutional Repository SUNScholar.
Articles as a whole, may not be re-published with another journal.
Copyright Holder: SA Heart Journal
The following license applies:
Attribution CC BY-NC-ND 4.0