Safety and efficacy of percutaneous closure of perimembranous ventricular septal defects in children: Review of the results at Inkosi Albert Luthuli Central Hospital
Marelize Bosman

Paediatric Cardiology Inkosi Albert Luthuli Central Hospital Department of Paediatrics and Child Health University of Kwazulu-Natal

Ebrahim Hoosen

Paediatric Cardiology Inkosi Albert Luthuli Central Hospital Department of Paediatrics and Child Health University of Kwazulu-Natal

Joseph Degiovanni

Consultant Cardiologist Glenfield Hospita Emeritus consultant cardiologist Queen Elizabeth and Children's Hospital Birmingham Hospital
Abstract
Background/Hypothesis: Ventricular septal defect (VSD) is the most common congenital cardiac lesion. Surgical closure is the gold standard, but in an isolated perimembranous ventricular septal defect (PMVSD), percutaneous closure is an attractive alternative, particularly in a limited resource setting. Our experience suggests that percutaneous closure of a perimembranous VSD, in the appropriately selected patient, is safe and effective.
Materials and methods: We performed a retrospective chart review of all children that underwent percutaneous closure of a PMVSD at Inkosi Albert Luthuli Central Hospital, from October 2010 until December 2016. Patients that had percutaneous closure of any VSD other than PMVSD, including residual VSD postsurgical closure, were excluded.
Results: Fourty two patients were included in our retrospective analysis, 27 females and 15 males, with a mean age of 6 years 6 months (Range: 2 years 9 months – 15 years 9 months). Mean follow-up was 2 years 3 months. Successful device delivery was achieved in 97.6%. A total of 30 patients (71.4%) had complete closure of their defect. Eleven (26.2%) patients had a residual but haemodynamically insignificant defect. Two patients had mild aortic regurgitation post procedure. Significant early complications included 1 patient with moderate tricuspid regurgitation and 2 patients with device embolisation. In one of these patients, the embolised device was retrieved and replaced with a larger device. In the second patient, surgical retrieval and closure was required. No cases of heart block were recorded.
Conclusions: In our experience, percutaneous closure of a perimembranous ventricular septal defect in a child appears to be safe and effective.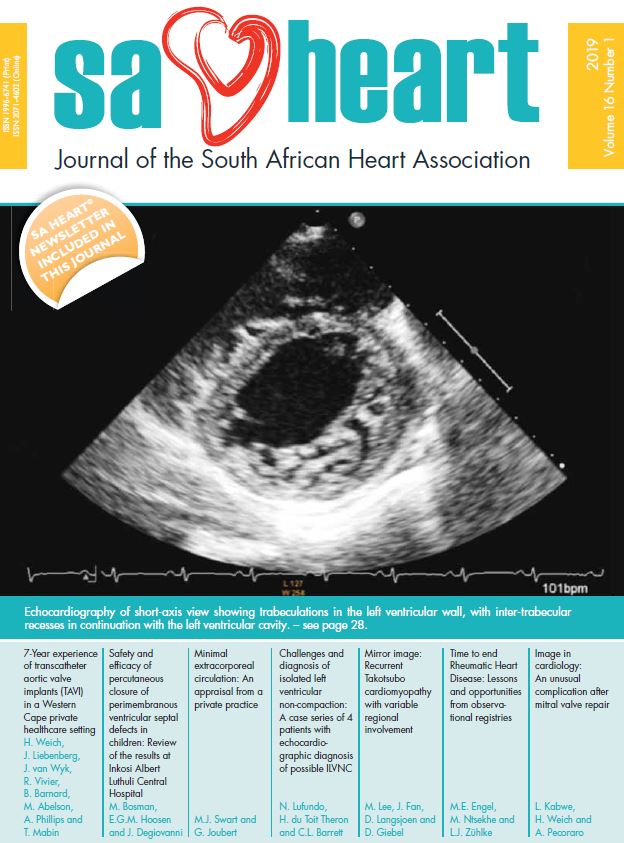 Copyright (c) 2019 SA Heart Journal
This work is licensed under a Creative Commons Attribution-NonCommercial-NoDerivatives 4.0 International License.
This journal is an open access journal, and the authors and journal should be properly acknowledged, when works are cited.
Authors may use the publishers version for teaching purposes, in books, theses, dissertations, conferences and conference papers.Â
A copy of the authors' publishers version may also be hosted on the following websites:
Non-commercial personal homepage or blog.
Institutional webpage.
Authors Institutional Repository.Â
The following notice should accompany such a posting on the website: "This is an electronic version of an article published in SAHJ, Volume XXX, number XXX, pages XXX–XXX", DOI. Authors should also supply a hyperlink to the original paper or indicate where the original paper (http://www.journals.ac.za/index.php/SAHJ) may be found.Â
Authors publishers version, affiliated with the Stellenbosch University will be automatically deposited in the University's' Institutional Repository SUNScholar.
Articles as a whole, may not be re-published with another journal.
Copyright Holder: SA Heart Journal
The following license applies:
Attribution CC BY-NC-ND 4.0