Tetralogy of Fallot with absent pulmonary valve syndrome: A 34-year African single centre experience
Vijay Mammen

Division of Paediatric Cardiology Department of Paediatrics Chris Hani Baragwanath Academic Hospital / University of the Witwatersrand

Paul Adams

Division of Paediatric Cardiology Department of Paediatrics Chris Hani Baragwanath Academic Hospital / University of the Witwatersrand

Hopewell Ntsinjana

Division of Paediatric Cardiology Department of Paediatrics Chris Hani Baragwanath Academic Hospital / University of the Witwatersrand

Antoinette Cilliers

Division of Paediatric Cardiology Department of Paediatrics Chris Hani Baragwanath Academic Hospital / University of the Witwatersrand
Abstract
Background: Absent pulmonary valve syndrome (APVS) is most commonly associated with Tetralogy of Fallot (TOF). TOF with APVS is characterised by features of TOF with either rudimentary ridges or complete absence of pulmonary valve tissue. This is often associated with varying degrees of pulmonary stenosis and severe pulmonary regurgitation with massive dilatation of the proximal branch pulmonary arteries, causing compression of the tracheobronchial tree. Hence, respiratory symptoms are a common presenting feature.
Methods: Cases of TOF with APVS were extracted from the paediatric cardiology database at Chris Hani Baragwanath Academic Hospital (CHBAH) for January 1981 - April 2016.
Results: A total of 15 patients with TOF and APVS were seen at CHBAH over the 34-year study period. TOF with APVS comprised 3% of all TOF patients. Ten (67%) patients presented before 1 year of age. The majority of patients (67%) had respiratory symptoms as their cause of presentation, of which 6 (40%) were infants. Fourteen (93%) patients were described to have the characteristic to-and-fro murmur at presentation. Five patients (33%) were suspected of having 22q11.2 deletion syndrome, but only 4 were tested and 2 were found to be positive. A third of patients underwent surgical intervention and 4 of the 15 patients (27%) were known to be alive at 10 years of age.
Conclusions: TOF with APVS compromised 3% of all TOF patients, correlating with the literature. It is associated with the 22q11.2 deletion syndrome and was suspected in 33% of patients. TOF with APVS should be strongly considered in a child less than 1 year presenting with respiratory symptoms and a characteristic to-andfro murmur.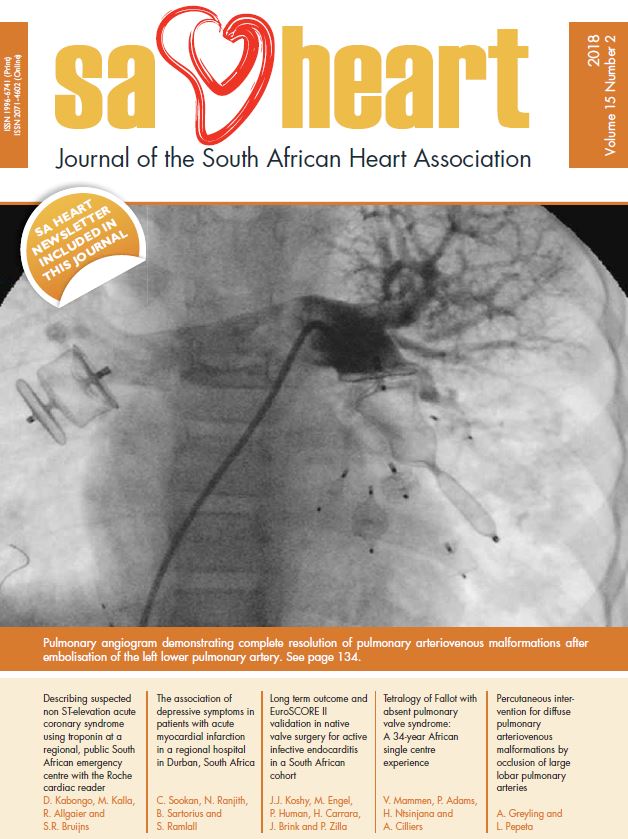 Copyright (c) 2018 SA Heart Journal
This work is licensed under a Creative Commons Attribution-NonCommercial-NoDerivatives 4.0 International License.
This journal is an open access journal, and the authors and journal should be properly acknowledged, when works are cited.
Authors may use the publishers version for teaching purposes, in books, theses, dissertations, conferences and conference papers.Â
A copy of the authors' publishers version may also be hosted on the following websites:
Non-commercial personal homepage or blog.
Institutional webpage.
Authors Institutional Repository.Â
The following notice should accompany such a posting on the website: "This is an electronic version of an article published in SAHJ, Volume XXX, number XXX, pages XXX–XXX", DOI. Authors should also supply a hyperlink to the original paper or indicate where the original paper (http://www.journals.ac.za/index.php/SAHJ) may be found.Â
Authors publishers version, affiliated with the Stellenbosch University will be automatically deposited in the University's' Institutional Repository SUNScholar.
Articles as a whole, may not be re-published with another journal.
Copyright Holder: SA Heart Journal
The following license applies:
Attribution CC BY-NC-ND 4.0