Time to end Rheumatic Heart Disease: Lessons and opportunities from observational registries
Mark Engel

Department of Medicine University of Cape Town and Groote Schuur Hospital

Mpiko Ntsekhe

Division of Cardiology University of Cape Town and Groote Schuur Hospital

Liesl Zühlke

Division of Cardiology Groote Schuur Hospital Division of Paediatric Cardiology Red Cross War Memorial Children's Hospital University of Cape Town
Abstract
The fight against Rheumatic Heart Disease (RHD) is at a critical juncture. Despite the adoption of a global resolution by the World Health Assembly against RHD in May 2018, practitioners working in countries where RHD is endemic continue to be faced with an overwhelming clinical burden, lack of surgical and interventional resources, and insufficient opportunities and funding for research. Recent years have seen the publication of several observational registries, most of which were investigator-initiated, not supported by larger research funders, and coordinated by small teams using paper-based infrastructure. This commentary reflects on the lessons and opportunities that these registries have afforded the field and suggests some areas for further investigation.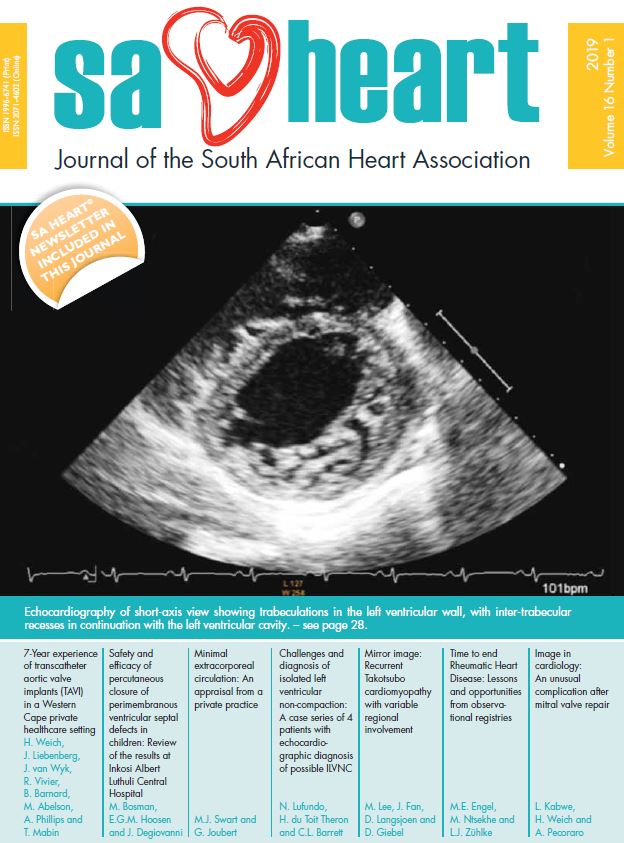 Copyright (c) 2019 SA Heart Journal
This work is licensed under a Creative Commons Attribution-NonCommercial-NoDerivatives 4.0 International License.
This journal is an open access journal, and the authors and journal should be properly acknowledged, when works are cited.
Authors may use the publishers version for teaching purposes, in books, theses, dissertations, conferences and conference papers.Â
A copy of the authors' publishers version may also be hosted on the following websites:
Non-commercial personal homepage or blog.
Institutional webpage.
Authors Institutional Repository.Â
The following notice should accompany such a posting on the website: "This is an electronic version of an article published in SAHJ, Volume XXX, number XXX, pages XXX–XXX", DOI. Authors should also supply a hyperlink to the original paper or indicate where the original paper (http://www.journals.ac.za/index.php/SAHJ) may be found.Â
Authors publishers version, affiliated with the Stellenbosch University will be automatically deposited in the University's' Institutional Repository SUNScholar.
Articles as a whole, may not be re-published with another journal.
Copyright Holder: SA Heart Journal
The following license applies:
Attribution CC BY-NC-ND 4.0