Organoleptic and Quality Characteristics of Malagousia Variety, Grapes Fermented with Selected Indigenous Yeast Strains
A. Karampatea

University of West Attica

Ur. Vrhovšek

Edmund Mach Foundation

A. Tsakiris

University of West Attica

M. Dimopoulou

University of West Attica

Y. Kourkoutas

Democritus University of Thrace

G. Skavdis

Democritus University of Thrace
Abstract
Commercial Malagousia varietal wines, which are produced in almost all Greek viticultural zones, represent
a relatively important part of Greek wine activity. This study presents the results of a profile compilation of
volatile aroma compounds of Malagousia musts fermented under identical conditions with selected yeast
strains. In total, 62 volatile aroma compounds were identified and separated into their chemical classes
(aldehydes, higher alcohols, volatile phenols, terpenes, C13-norisoprenoids, lactones, esters, fatty acids,
sulphur compounds, other compounds, and other alcohols). Alcohols and higher alcohols, such as cis-hexen-
1-ol and geraniol, terpenes like linalool, esters such as ethyl isovalerate, ketones such us betadamascenone,
beta-ionone and zingerone, and fatty acids such as geranic acid and phenylacetaldehyde, were found in
all the samples. Among them, linalool and phenylacetaldehyde had the strongest effect on the volatile
compound profile of Malagousia wines. The same wine samples were subjected to sensorial analysis by a
trained panel of 10 wine tasters, and a statistical analysis of both analyses presents similarities between
the two analysis approaches. It is hoped that the results will contribute to a better understanding of the
quality potential of the Malagousia variety so as to evaluate possible differences on the basis of the detected
aroma concentrations.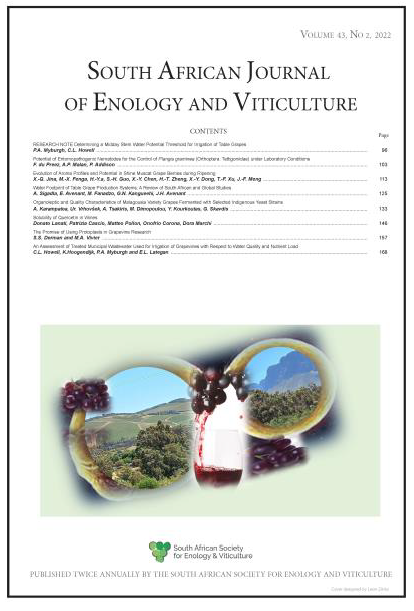 Copyright (c) 2022 South African Journal of Enology and Viticulture
This work is licensed under a Creative Commons Attribution-NonCommercial-NoDerivatives 4.0 International License.
A copyright form will be e-mailed to the corresponding author when the manuscript has been accepted for publication.
In principle, the Author agrees to the following when he/she signes the copyright agreement:
I hereby assign to the SOUTH AFRICAN SOCIETY FOR ENOLOGY AND VITICULTURE (SASEV) the copyright of the text, tables, figures, supplementary material, illustrations and other information (the Material) submitted with the manuscript to be published in SOUTH AFRICAN JOURNAL OF ENOLOGY AND VITICULTURE (SAJEV) (the "Article"). The copyright becomes effective from the date the Article has been accepted for publication in SAJEV.
This is an open access journal, and the authors and journal should be properly acknowledged, when works are cited.
Author's may use the publishers version for teaching purposes, in books, theses, dissertations, conferences and conference papers.
A copy of the authors' publishers version may also be hosted on the following websites:
Non-commercial personal webpage or blog.
Institutional webpage.
Authors Institutional Repository.
The following notice should accompany such a posting on the website: This is an electronic version of an article published in SAJEV, Volume XXX, number XXX, pages XXX - XXX, DOI. Authors should also supply a hyperlink to the original paper or indicate where the original paper (www.journals.ac.za/index.php/sajev/) may be found.
Authors publishers version, affiliated with the Stellenbosch University will be automatically deposited in the University's Institutional Repository SUNScholar.
Articles as a whole, may not be re-published with another journal.
The following license applies:
Attribution CC BY-NC-ND 4.0