Evolution of Aroma Profiles and Potential in Shine Muscat Grape Berry during Ripening
X-Q Jin

Northwest A&F University

M-X Feng

Northwest A&F University

H Yao

Northwest A&F University

S-H Guo

Northwest A&F University

X-Y Chen

Northwest A&F University

H-T Zheng

Shanxi Greatone Chateau Company Ltd

X-Y Dong

Shanxi Greatone Chateau Company Ltd

T-F Xu

Northwest A&F University

J-F Meng

Northwest A&F University
Abstract
Shine Muscat, with its excellent quality and unique Muscat aroma, is emerging as one of the most profitable
table grape cultivars in Asia. However, in-depth analysis of the cultivar's aroma profile before berries are
harvest-ready is lacking. The aroma components and their concentrations undergo substantial changes
during berry ripening, which provides an opportunity for producing some juice/wine products with special
flavour. In this study, the evolution of free and bound aroma compounds in Shine Muscat grapes was
analysed from EL-35 to EL-38. The main aroma attributes of harvest-ready berries were: 'green', 'sweet',
'floral' and 'fruity'. The headspace SPME-GC-MS analysis revealed that alcohols were the most abundant
free and bound compounds in Shine Muscat. Furthermore, the free forms of hexanal, β-damascenone,
and (E, Z)-2,6-nonadienal determined the aroma characteristics of the grapes directly, while the bound
forms of β-damascenone, (E, Z)-2,6-nonadienal, and 2-hexanol determined the aroma of Shine Muscat that
cannot to be smelled directly. Taking all indicators together, we believe that picking Shine Muscat grapes
at EL-37 (when a minimum TSS of 17% has been reached) maintains its fine aroma characteristics. These
results lay the foundation for the further development, utilisation and study of the aroma characteristics
of Shine Muscat grapes.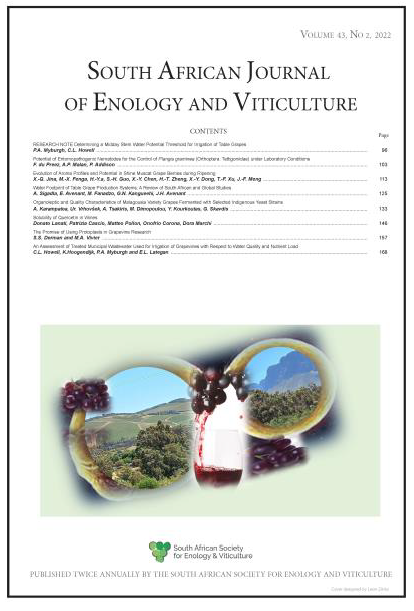 Copyright (c) 2022 South African Journal of Enology and Viticulture
This work is licensed under a Creative Commons Attribution-NonCommercial-NoDerivatives 4.0 International License.
A copyright form will be e-mailed to the corresponding author when the manuscript has been accepted for publication.
In principle, the Author agrees to the following when he/she signes the copyright agreement:
I hereby assign to the SOUTH AFRICAN SOCIETY FOR ENOLOGY AND VITICULTURE (SASEV) the copyright of the text, tables, figures, supplementary material, illustrations and other information (the Material) submitted with the manuscript to be published in SOUTH AFRICAN JOURNAL OF ENOLOGY AND VITICULTURE (SAJEV) (the "Article"). The copyright becomes effective from the date the Article has been accepted for publication in SAJEV.
This is an open access journal, and the authors and journal should be properly acknowledged, when works are cited.
Author's may use the publishers version for teaching purposes, in books, theses, dissertations, conferences and conference papers.
A copy of the authors' publishers version may also be hosted on the following websites:
Non-commercial personal webpage or blog.
Institutional webpage.
Authors Institutional Repository.
The following notice should accompany such a posting on the website: This is an electronic version of an article published in SAJEV, Volume XXX, number XXX, pages XXX - XXX, DOI. Authors should also supply a hyperlink to the original paper or indicate where the original paper (www.journals.ac.za/index.php/sajev/) may be found.
Authors publishers version, affiliated with the Stellenbosch University will be automatically deposited in the University's Institutional Repository SUNScholar.
Articles as a whole, may not be re-published with another journal.
The following license applies:
Attribution CC BY-NC-ND 4.0