Potential of Entomopathogenic Nematodes for the Control of Plangia graminea (Orthoptera: Tettigoniidae) under Laboratory Conditions
Abstract
Plangia graminea, locally known as a katydids or "krompokkels", is a minor pest of vineyards in the Western Cape province of South Africa. Is feed on leaves, and sporadically on the skin of grapevine berries. Under natural conditions, katydids are not of much agricultural importance, but pest outbreaks during favourable conditions can result in significant foliar damage. Observations indicate an increase in katydid abundance and damage intensity in recent years. Currently, no agrochemicals are registered for the control of this species, and its present natural enemies are unlikely to provide sufficient control without augmentation. In this study, 12 entomopathogenic nematode (EPN) species were evaluated against the nymphs of Plangia graminea in laboratory bioassays, and mortality by infection was investigated.  Seven locally occurring nematode species achieved significant mortality, with H. zealandica, H. indica, S. jeffreyense and S. yirgalemense being found to perform the best (> 90% mortality).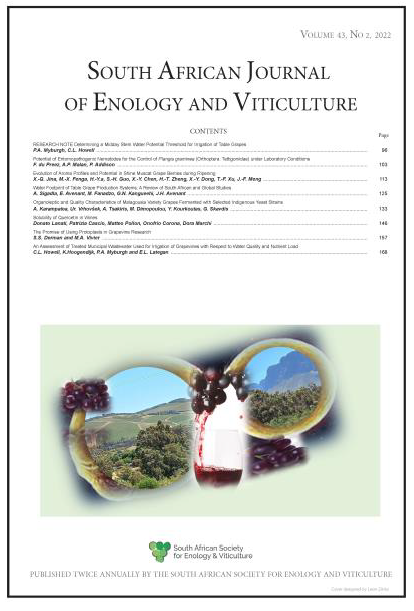 Copyright (c) 2022 South African Journal of Enology and Viticulture
This work is licensed under a Creative Commons Attribution-NonCommercial-NoDerivatives 4.0 International License.
A copyright form will be e-mailed to the corresponding author when the manuscript has been accepted for publication.
In principle, the Author agrees to the following when he/she signes the copyright agreement:
I hereby assign to the SOUTH AFRICAN SOCIETY FOR ENOLOGY AND VITICULTURE (SASEV) the copyright of the text, tables, figures, supplementary material, illustrations and other information (the Material) submitted with the manuscript to be published in SOUTH AFRICAN JOURNAL OF ENOLOGY AND VITICULTURE (SAJEV) (the "Article"). The copyright becomes effective from the date the Article has been accepted for publication in SAJEV.
This is an open access journal, and the authors and journal should be properly acknowledged, when works are cited.
Author's may use the publishers version for teaching purposes, in books, theses, dissertations, conferences and conference papers.
A copy of the authors' publishers version may also be hosted on the following websites:
Non-commercial personal webpage or blog.
Institutional webpage.
Authors Institutional Repository.
The following notice should accompany such a posting on the website: This is an electronic version of an article published in SAJEV, Volume XXX, number XXX, pages XXX - XXX, DOI. Authors should also supply a hyperlink to the original paper or indicate where the original paper (www.journals.ac.za/index.php/sajev/) may be found.
Authors publishers version, affiliated with the Stellenbosch University will be automatically deposited in the University's Institutional Repository SUNScholar.
Articles as a whole, may not be re-published with another journal.
The following license applies:
Attribution CC BY-NC-ND 4.0