Research Note: The Influence of Micro-oxygenation on the Long-term Ageing Ability of Pinot noir Wine
Abstract
In this study, Pinot noir wines were bottle aged for 12 and 18 months after micro-oxygenation (MOX)
applied before or after malolactic fermentation (MLF) at two doses (10.8 and 52.4 mg/L/month). After
ageing, a greater decrease in the total SO2 concentration was found in wines with the higher MOX dosage,
demonstrating a long-term impact of higher oxygen exposure on wines' SO2 requirement. Meanwhile, a
negative impact of MOX on wine colour development occurred over time, resulting in a large loss of colour
measures (i.e., 420 nm for brown hues, 520 nm for red colour, SO2 resistant pigments, and colour intensity),
which was greater with the early oxygen exposure. This was linked to a significantly lower content of large
polymeric pigments in MOX treatments. Tannin concentration was, in the end, not affected by the MOX
treatments. However, regarding tannin composition, considerably higher (-)-epicatechin extension units
but much lower (-)-epicatechin terminal units were found with MOX treatments. In addition, a significant
reduction of tannin trihydroxylation (%Tri-OH) but a higher galloylation (%Galloyl) and mean degree of
tannin polymerisation (mDP) remained in wines with MOX, indicating a long-term negative influence on
astringency intensity.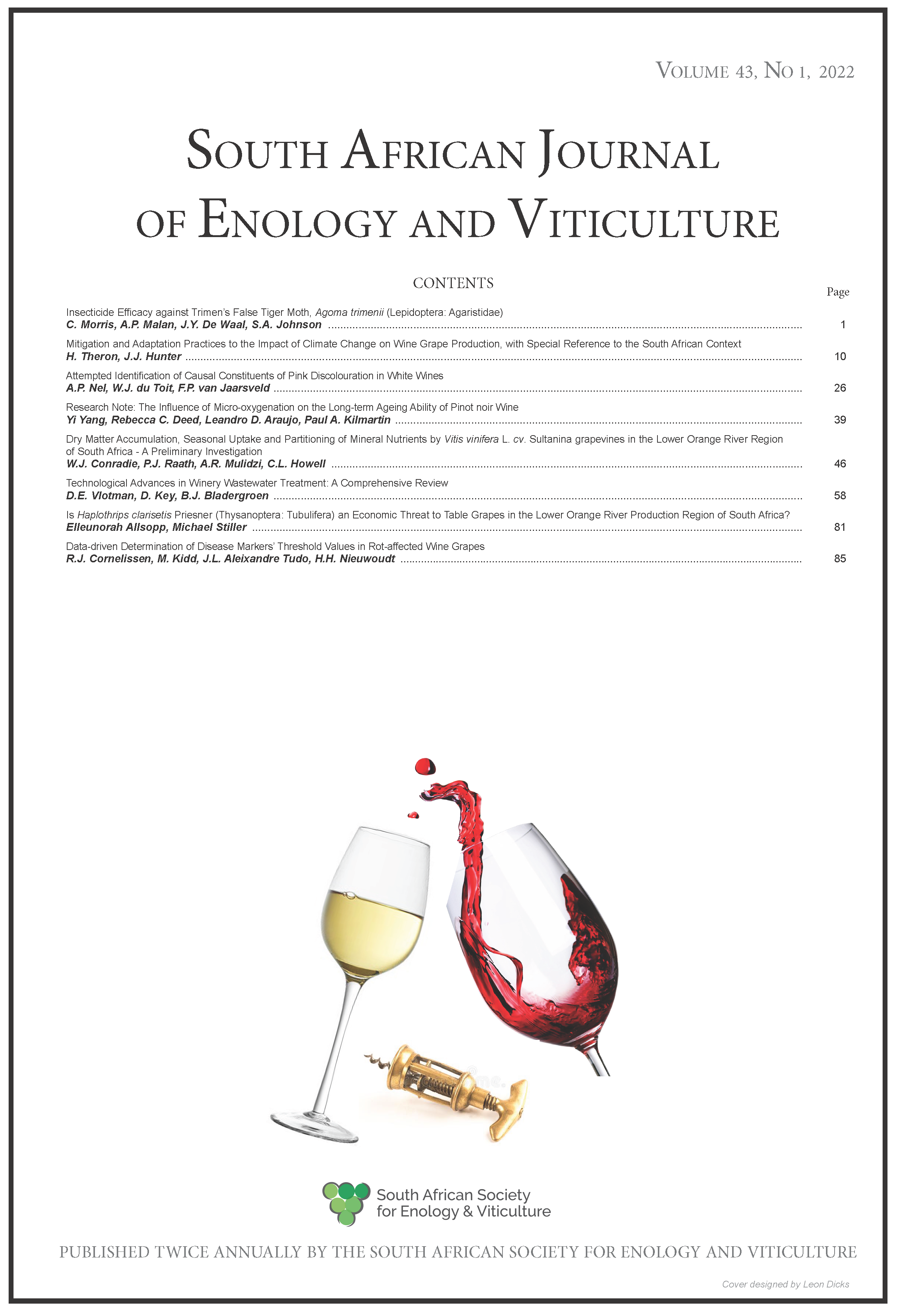 Copyright (c) 2022 South African Journal of Enology and Viticulture
This work is licensed under a Creative Commons Attribution-NonCommercial-NoDerivatives 4.0 International License.
A copyright form will be e-mailed to the corresponding author when the manuscript has been accepted for publication.
In principle, the Author agrees to the following when he/she signes the copyright agreement:
I hereby assign to the SOUTH AFRICAN SOCIETY FOR ENOLOGY AND VITICULTURE (SASEV) the copyright of the text, tables, figures, supplementary material, illustrations and other information (the Material) submitted with the manuscript to be published in SOUTH AFRICAN JOURNAL OF ENOLOGY AND VITICULTURE (SAJEV) (the "Article"). The copyright becomes effective from the date the Article has been accepted for publication in SAJEV.
This is an open access journal, and the authors and journal should be properly acknowledged, when works are cited.
Author's may use the publishers version for teaching purposes, in books, theses, dissertations, conferences and conference papers.
A copy of the authors' publishers version may also be hosted on the following websites:
Non-commercial personal webpage or blog.
Institutional webpage.
Authors Institutional Repository.
The following notice should accompany such a posting on the website: This is an electronic version of an article published in SAJEV, Volume XXX, number XXX, pages XXX - XXX, DOI. Authors should also supply a hyperlink to the original paper or indicate where the original paper (www.journals.ac.za/index.php/sajev/) may be found.
Authors publishers version, affiliated with the Stellenbosch University will be automatically deposited in the University's Institutional Repository SUNScholar.
Articles as a whole, may not be re-published with another journal.
The following license applies:
Attribution CC BY-NC-ND 4.0