UV-B Radiation as a Factor that Deserves Further Research in Bolivian Viticulture: A Review
G. Gutiérrez-Gamboa

Instituto de Ciencias de la Vid y del Vino

p. Pszczólkowski

Escuela de Agronomía, Facultad de Ciencias, Universidad Mayor

P. Cañón

Escuela de Agronomía, Facultad de Ciencias, Universidad Mayor

M. Taquichiri

Physics Department, Faculty of Science and Technology, Universidad Autónoma Juan Misael Saracho, Tarija

J. M. Peñarrieta

School of Chemistry, Faculty of Pure and Natural Sciences, Universidad Mayor de San Andrés (UMSA), La Paz
Abstract
Bolivian viticulture has acquired an incipient notoriety in the international wine market due to the
production of high-altitude wines with a high antioxidant potential. Andes agricultural regions present
an advantage for wine production since UV-B radiation reaching the earth's surface increases with
altitude and varies with latitude, promoting the activation of plant defense mechanisms responsible for
the synthesis of secondary metabolites. UV‐B radiation upregulates the biosynthesis of nitrogen, phenolic
and volatile compounds that contribute to wine flavour. It is thought that the incident UV-B radiation
in the Bolivian valleys makes it possible to obtain wines with high phenolic and aromatic potential, but
the published results are not entirely conclusive. This manuscript addressed the geological and climatic
features that affect Bolivian viticulture, and we reviewed the field studies carried out regarding the effects
of altitude and UV-B radiation on flavour components of grapes and wines from Bolivian viticultural
valleys. A high antioxidant capacity and trans-resveratrol content is found in grapes and wines from highaltitude Bolivian vineyards, including if they are compared to those samples from different wine countries.
However, high UV-B radiation can result in bunch sunburn affecting some physico-chemical parameters of
the produced wines. Scarce number of studies have been developed in this field despite this region present
a valuable potential for research in order to quantify the effects of biologically damaging radiation on the
synthesis of flavour components in grapes and some of them were not well scientifically controlled.
Downloads
Download data is not yet available.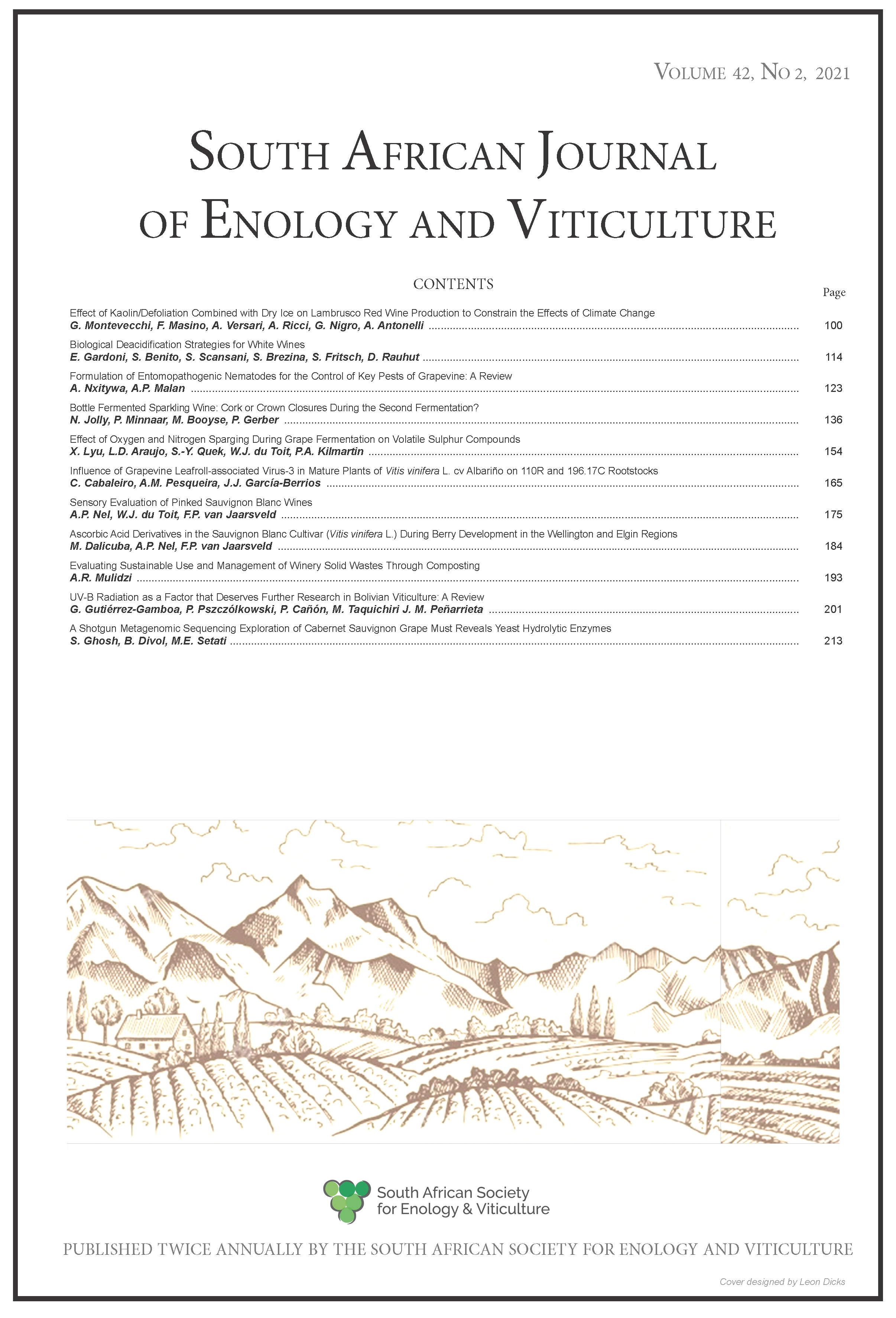 Copyright (c) 2021 South African Journal of Enology and Viticulture
This work is licensed under a Creative Commons Attribution-NonCommercial-NoDerivatives 4.0 International License.
A copyright form will be e-mailed to the corresponding author when the manuscript has been accepted for publication.
In principle, the Author agrees to the following when he/she signes the copyright agreement:
I hereby assign to the SOUTH AFRICAN SOCIETY FOR ENOLOGY AND VITICULTURE (SASEV) the copyright of the text, tables, figures, supplementary material, illustrations and other information (the Material) submitted with the manuscript to be published in SOUTH AFRICAN JOURNAL OF ENOLOGY AND VITICULTURE (SAJEV) (the "Article"). The copyright becomes effective from the date the Article has been accepted for publication in SAJEV.
This is an open access journal, and the authors and journal should be properly acknowledged, when works are cited.
Author's may use the publishers version for teaching purposes, in books, theses, dissertations, conferences and conference papers.
A copy of the authors' publishers version may also be hosted on the following websites:
Non-commercial personal webpage or blog.
Institutional webpage.
Authors Institutional Repository.
The following notice should accompany such a posting on the website: This is an electronic version of an article published in SAJEV, Volume XXX, number XXX, pages XXX - XXX, DOI. Authors should also supply a hyperlink to the original paper or indicate where the original paper (www.journals.ac.za/index.php/sajev/) may be found.
Authors publishers version, affiliated with the Stellenbosch University will be automatically deposited in the University's Institutional Repository SUNScholar.
Articles as a whole, may not be re-published with another journal.
The following license applies:
Attribution CC BY-NC-ND 4.0