Determining a Midday Stem Water Potential Threshold for Irrigation of Table Grapes
Water potential threshold
Philip Myburgh

ARC Infruitec-Nietvoorbij

C. L. Howell

ARC Infruitec-Nietvoorbij
Abstract
Sustainable table grape production depends on efficient water supply. Water potential is a useful indicator of water constraints in grapevines. In this regard, midday stem water potential (ΨS) is considered to be a better indicator of grapevine water status than leaf water potential (ΨL). The objective of the study was to determine a water potential threshold to set soil water refill lines for table grape irrigation. However, in previous studies carried out locally, only ΨL was measured. The relationship between ΨS and ΨL was determined for ten selected table grape cultivars. Since there were no differences between cultivars, a single equation could be used to convert midday ΨL measured in previous studies with table grapes to ΨS. Vegetative growth, berry mass and colour, as well as juice total soluble solids (TSS) data were pooled, and related to midday ΨS. This showed that -0.8 MPa seems to be a ΨS threshold for water constraints in the pre-harvest period that will allow sustainable growth and berry size for anisohydric table grape cultivars. The optimum ΨS for berry colour is between -0.8 MPa and -1.0 MPa. Consequently, a midday ΨS threshold of -0.8 MPa can be used to set refill points for irrigation where soil water content is measured on a regular basis in table grape vineyards.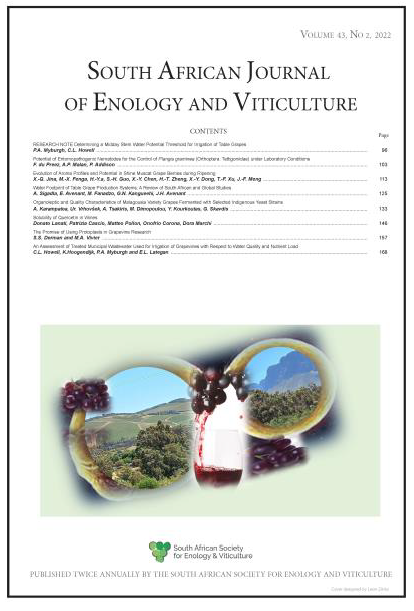 Copyright (c) 2022 South African Journal of Enology and Viticulture
This work is licensed under a Creative Commons Attribution-NonCommercial-NoDerivatives 4.0 International License.
A copyright form will be e-mailed to the corresponding author when the manuscript has been accepted for publication.
In principle, the Author agrees to the following when he/she signes the copyright agreement:
I hereby assign to the SOUTH AFRICAN SOCIETY FOR ENOLOGY AND VITICULTURE (SASEV) the copyright of the text, tables, figures, supplementary material, illustrations and other information (the Material) submitted with the manuscript to be published in SOUTH AFRICAN JOURNAL OF ENOLOGY AND VITICULTURE (SAJEV) (the "Article"). The copyright becomes effective from the date the Article has been accepted for publication in SAJEV.
This is an open access journal, and the authors and journal should be properly acknowledged, when works are cited.
Author's may use the publishers version for teaching purposes, in books, theses, dissertations, conferences and conference papers.
A copy of the authors' publishers version may also be hosted on the following websites:
Non-commercial personal webpage or blog.
Institutional webpage.
Authors Institutional Repository.
The following notice should accompany such a posting on the website: This is an electronic version of an article published in SAJEV, Volume XXX, number XXX, pages XXX - XXX, DOI. Authors should also supply a hyperlink to the original paper or indicate where the original paper (www.journals.ac.za/index.php/sajev/) may be found.
Authors publishers version, affiliated with the Stellenbosch University will be automatically deposited in the University's Institutional Repository SUNScholar.
Articles as a whole, may not be re-published with another journal.
The following license applies:
Attribution CC BY-NC-ND 4.0