Influence of Grapevine Leafroll-associated Virus-3 in Mature Plants of Vitis vinifera L. cv Albariño on 110R and 196.17C Rootstocks
C. Cabaleiro

UNIVERSIDAD DE SANTIAGO de COMPOSTELA

A.M. Pesqueira

J.J. García-Berrios

Universidade de Santiago de Compostela, Escola Politécnica Superior de Enxeñaría, Campus Terra, 27002, Lugo, Spain.
Abstract
The detrimental effects of grapevine leafroll disease (GLD) have been documented mainly in young plants
and little data is available on infected grapevines when they reach maturity. This study examined the
influence of the rootstock on the effect of GLRaV-3 in a 20-year-old Vitis vinifera cv Albariño vineyard in
which the virus has been spread by Planococcus ficus. Plants grafted on Richter 110 or Castell 196.17 with
similar development were analysed for grapevine leafroll-associated viruses. In particular, 25 GLRaV-3-
infected and 25 leafroll-free and asymptomatic vines were selected and monitored during a period of three
years to determine grape yield and must components. Although the virus infection affected plants on both
rootstocks, it caused a greater effect on plants grafted onto 110R, with average accumulated yield losses of
up to 33%, relative to losses of 16% for plants on 196.17C. The sugar content was lower in the must from
infected plants on 110R (-2.1ºBrix) than in the must from plants on 196.17C (-1.5ºBrix). The presence of
the virus was associated with decreased concentrations of primary amino nitrogen (PAN) and ammonium
(NH4+), with the greatest effect for 110R (-35%). As 110R is the most used rootstock in Spain, particular
care must be taken to prevent the transmission of GLRaV-3 to certified virus-free plants on 110R in new
vineyards. In sensitive varieties such as Albariño, particularly in areas with an active spread of the virus
by mealybugs, grafting on 196.17C seems to minimise the effect that GLD has in a medium to long term.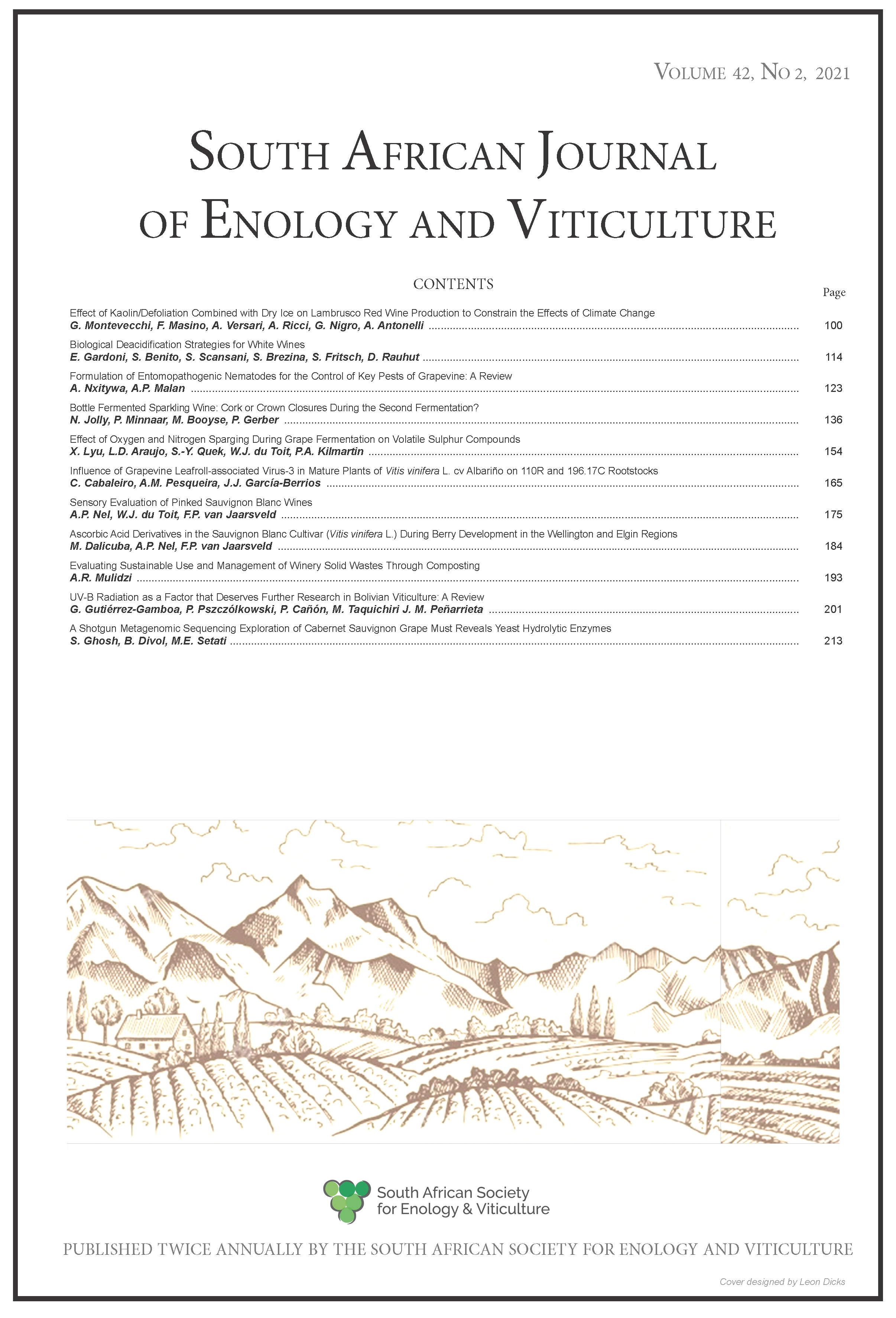 Copyright (c) 2021 South African Journal of Enology and Viticulture
This work is licensed under a Creative Commons Attribution-NonCommercial-NoDerivatives 4.0 International License.
A copyright form will be e-mailed to the corresponding author when the manuscript has been accepted for publication.
In principle, the Author agrees to the following when he/she signes the copyright agreement:
I hereby assign to the SOUTH AFRICAN SOCIETY FOR ENOLOGY AND VITICULTURE (SASEV) the copyright of the text, tables, figures, supplementary material, illustrations and other information (the Material) submitted with the manuscript to be published in SOUTH AFRICAN JOURNAL OF ENOLOGY AND VITICULTURE (SAJEV) (the "Article"). The copyright becomes effective from the date the Article has been accepted for publication in SAJEV.
This is an open access journal, and the authors and journal should be properly acknowledged, when works are cited.
Author's may use the publishers version for teaching purposes, in books, theses, dissertations, conferences and conference papers.
A copy of the authors' publishers version may also be hosted on the following websites:
Non-commercial personal webpage or blog.
Institutional webpage.
Authors Institutional Repository.
The following notice should accompany such a posting on the website: This is an electronic version of an article published in SAJEV, Volume XXX, number XXX, pages XXX - XXX, DOI. Authors should also supply a hyperlink to the original paper or indicate where the original paper (www.journals.ac.za/index.php/sajev/) may be found.
Authors publishers version, affiliated with the Stellenbosch University will be automatically deposited in the University's Institutional Repository SUNScholar.
Articles as a whole, may not be re-published with another journal.
The following license applies:
Attribution CC BY-NC-ND 4.0