Finding a place to be our-selves: Narratives of young black women activists
J. Bradbury

University of the Witwatersrand

T. Mashigo

University of the Witwatersrand
Abstract
This article explores narrative identity constructions of black women student activists in contemporary South Africa.  The apartheid past is evidently alive in the politics of the present and in the embodied experiences of these young women but mutates and is appropriated in new ways.  In some senses, these women now occupy the centre rather than the periphery; many living in middle-class suburbs, studying and occupying leadership positions in increasingly de-racialised spaces.  However, their narratives reveal the precarity of these identities in relation to 1) male student activists; 2) fellow students, both black and white; and 3) the wider civil society of the working class and unemployed poor.  These stories were collected prior to the decolonising political moment of #FeesMustFall but provide prescient insight into the intersectional positionality of young black women student activists in the Higher Education landscape of South Africa today.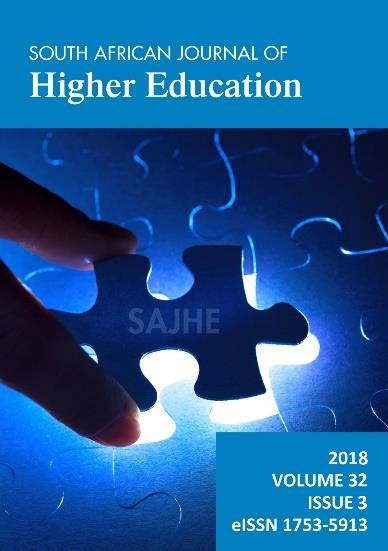 How to Cite
Bradbury, J., and T. Mashigo. 2018. "Finding a Place to Be Our-Selves: Narratives of Young Black Women Activists". South African Journal of Higher Education 32 (3), 30-44. https://doi.org/10.20853/32-3-2495.
Copyright (c) 2018 Jill Bradbury, Thembelihle Mashigo
This work is licensed under a Creative Commons Attribution-NonCommercial-NoDerivatives 4.0 International License.
This journal is an open access journal, and the authors and journal should be properly acknowledged, when works are cited.
Authors, copyright holders, may use the publishers version for teaching purposes, in books, theses, dissertations, conferences and conference papers.Â
A copy of the authors' publishers version may also be hosted on the following websites:
Non-commercial personal homepage or blog.
Institutional webpage.
Authors Institutional Repository.
The following notice should accompany such a posting on the website: This is an electronic version of an article published in SAJHE, Volume XXX, number XXX, pages XXX "XXX", DOI. Authors should also supply a hyperlink to the original paper or indicate where the original paper (http://www.journals.ac.za/index.php/SAJHE) may be found.
Authors publishers version, affiliated with the Stellenbosch University will be automatically deposited in the University Institutional Repository SUNScholar.
Articles as a whole, may not be re-published with another journal.
The following license applies:
Attribution CC BY-NC-ND 4.0