Effect of Vegetation Time and Climatic Conditions on trans- Resveratrol Concentrations in Cabernet Sauvignon and Merlot Wines from Different Regions in Turkey
Ü.R. Yaman

Food Technology Programme, Ege Vocational School, Ege University, Izmir, Turkey

B.Ç. Adıgüzel

Food Technology Programme, Ege Vocational School, Ege University, Izmir, Turkey

U. Yücel

Food Technology Programme, Ege Vocational School, Ege University, Izmir, Turkey

N. Çetinkaya

Department of Plant Protection, Ege University Faculty of Agriculture, Izmir, Turkey
Abstract
In this study, 21 wine samples obtained from wine manufacturers in Turkey and produced from different
grape varieties cultivated in different geographical regions, were analysed to determine their resveratrol
concentrations. The HPLC method was used to analyse the trans-resveratrol concentrations of wines.
Statistical analysis was done using IBM SPSS Statistics Version 20.0.0. Mean values were compared
by using the Tukey test at a confidence level of p = 0.05. The resveratrol concentrations of Cabernet
Sauvignon and Merlot grapes were also determined. Since these two varieties are grown widely in many
regions of Turkey, they were studied in terms of the relationship of the resveratrol concentrations with
parameters such as time of vegetation, total effective temperature, sunshine duration and rainfall. Positive
correlations were observed between resveratrol levels and grape varieties, geographical regions and total
effective temperature. The results of the statistical analysis showed that resveratrol concentrations also
varied depending on vegetation time, sunshine duration and amount of rainfall in the vineyards. This
study aimed to identify the relationships between (1) resveratrol concentrations of wines, (2) vegetation
time of the grapes and (3) climatic conditions of the respective regions. Moreover, the effects of grape
types on resveratrol concentrations were investigated. This study contributes to the body of knowledge
by providing results on the utilisation of grapes that have high resveratrol levels for producing wines that
have functional properties that are increasingly in demand by consumers.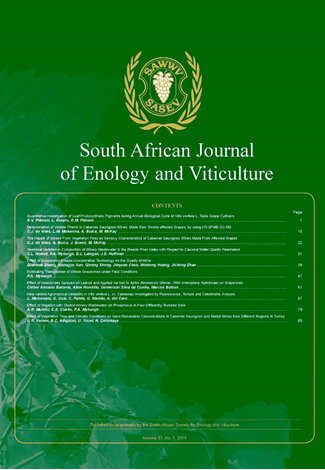 A copyright form will be e-mailed to the corresponding author when the manuscript has been accepted for publication.
In principle, the Author agrees to the following when he/she signes the copyright agreement:
I hereby assign to the SOUTH AFRICAN SOCIETY FOR ENOLOGY AND VITICULTURE (SASEV) the copyright of the text, tables, figures, supplementary material, illustrations and other information (the Material) submitted with the manuscript to be published in SOUTH AFRICAN JOURNAL OF ENOLOGY AND VITICULTURE (SAJEV) (the "Article"). The copyright becomes effective from the date the Article has been accepted for publication in SAJEV.
This is an open access journal, and the authors and journal should be properly acknowledged, when works are cited.
Author's may use the publishers version for teaching purposes, in books, theses, dissertations, conferences and conference papers.
A copy of the authors' publishers version may also be hosted on the following websites:
Non-commercial personal webpage or blog.
Institutional webpage.
Authors Institutional Repository.
The following notice should accompany such a posting on the website: This is an electronic version of an article published in SAJEV, Volume XXX, number XXX, pages XXX - XXX, DOI. Authors should also supply a hyperlink to the original paper or indicate where the original paper (www.journals.ac.za/index.php/sajev/) may be found.
Authors publishers version, affiliated with the Stellenbosch University will be automatically deposited in the University's Institutional Repository SUNScholar.
Articles as a whole, may not be re-published with another journal.
The following license applies:
Attribution CC BY-NC-ND 4.0