Effect of Insecticides Sprayed on Leaves and Applied via Soil to Aphis illinoisensis Shimer, 1866 (Hemiptera: Aphididae) on Grapevines
C.A. Baronio

Departamento de Fitossanidade - Universidade Federal de Pelotas, Pelotas, Rio Grande do Sul, Brazil

A. Nondillo

Laboratório de Entomologia, Embrapa Uva e Vinho, Rio Grande do Sul, Brazil

U. Silva da Cunha

Departamento de Fitossanidade - Universidade Federal de Pelotas, Pelotas, Rio Grande do Sul, Brazil

M. Botton

Laboratório de Entomologia, Embrapa Uva e Vinho, Rio Grande do Sul, Brazil
Abstract
High infestations by the grapevine aphid Aphis illinoisensis (Hemiptera: Aphididae) have been observed
in vineyards in southern Brazil, retarding plant growth and causing premature berry drop. This study
evaluated the effect of insecticides on the control of the species in two experiments carried out in a
greenhouse. The first control experiment for A. illinoisensis was conducted with seedlings of Vitis vinifera
var. 'Cabernet Franc' to assess the effect of azadirachtin (Azamax®) at dosages of 2.4 and 3.6 mL a.i.
(active ingredient)/100 L of water, with reapplication seven days after the first application (DAFA). To
compare its effect, the neonicotinoids imidacloprid (Provado 200 SC®) and thiamethoxam (Actara 250
WG®) were sprayed at dosages of 8 mL or g a.i./100 L of water in foliar application without reapplication.
The second experiment compared the effect on A. illinoisensis by spraying these neonicotinoids at dosages
of 8 mL or g a.i./100 L in foliar applications and of 0.05 mL or g a.i./100 L applied in the soil. Evaluations
were performed at 0, 1, 5, 7, 10 and 14 DAFA. Imidacloprid and thiamethoxam effectively controlled A.
illinoisensis in both forms of application [soil and foliar], while azadirachtin at the dosage of 3.6 ml a.i./100
L reapplied seven days after the first application provided 55.7% control. In conclusion, A. illinoisensis can
be controlled effectively by employing neonicotinoids in the soil, while azadirachtin can be an alternative
to reduce infestation pressure.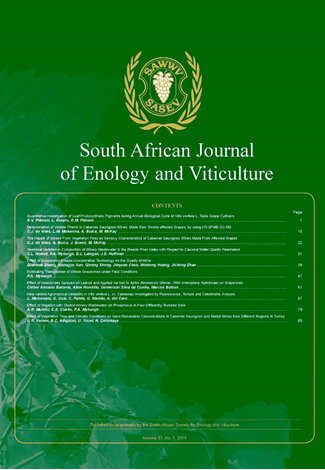 A copyright form will be e-mailed to the corresponding author when the manuscript has been accepted for publication.
In principle, the Author agrees to the following when he/she signes the copyright agreement:
I hereby assign to the SOUTH AFRICAN SOCIETY FOR ENOLOGY AND VITICULTURE (SASEV) the copyright of the text, tables, figures, supplementary material, illustrations and other information (the Material) submitted with the manuscript to be published in SOUTH AFRICAN JOURNAL OF ENOLOGY AND VITICULTURE (SAJEV) (the "Article"). The copyright becomes effective from the date the Article has been accepted for publication in SAJEV.
This is an open access journal, and the authors and journal should be properly acknowledged, when works are cited.
Author's may use the publishers version for teaching purposes, in books, theses, dissertations, conferences and conference papers.
A copy of the authors' publishers version may also be hosted on the following websites:
Non-commercial personal webpage or blog.
Institutional webpage.
Authors Institutional Repository.
The following notice should accompany such a posting on the website: This is an electronic version of an article published in SAJEV, Volume XXX, number XXX, pages XXX - XXX, DOI. Authors should also supply a hyperlink to the original paper or indicate where the original paper (www.journals.ac.za/index.php/sajev/) may be found.
Authors publishers version, affiliated with the Stellenbosch University will be automatically deposited in the University's Institutional Repository SUNScholar.
Articles as a whole, may not be re-published with another journal.
The following license applies:
Attribution CC BY-NC-ND 4.0