Is Haplothrips clarisetis Priesner (Thysanoptera: Tubulifera) an Economic Threat to Table Grapes in the Lower Orange River Production Region of South Africa?
Elleunorah Allsopp

Agricultural Research Council Infruitec-Nietvoorbij

https://orcid.org/0000-0003-1975-4999

Michael Stiller

Agricultural Research Council Plant Health and Protection: Biosystematics
Abstract
Table grape producers and consultants in the Lower Orange River region, Northern Cape province,
have been reporting conspicuous, fairly large, black thrips on new growth and inflorescences early in
the growing season in recent years. These thrips were identified as Haplothrips clarisetis Priesner and
H. nigricornis Bagnall, both indigenous species widely distributed in South Africa and Africa. The aim
of this investigation was to determine if H. clarisetis causes any damage to table grapes and if it poses
an economic threat to the industry in the Northern Cape province. Inspections were conducted over
two seasons during flowering and fruit set, prior to and after harvest in four vineyards near Augrabies
(28.7630 S, 20.5668 E) and four in the Blouputs Valley (28.4631 S, 20.0789 E) where Haplothrips had
previously been reported. Developing inflorescences, bunches, leaves and shoot tips were inspected for the
presence of Haplothrips and for any signs of feeding damage. Very few thrips were found and no signs of
feeding were observed. Adult H. clarisetis were collected from flowering grape bunches and from flowers
of Osteospermum microcarpum (Asteraceae) and Mesembryanthemum crystallinum (Aizoaceae) growing
wild adjacent to the vineyards and confined on grapevine flowering bunches, leaves and a single shoot tip.
Daily inspections showed no signs of feeding damage on the shoot tip, leaves or inflorescences and thrips
did not survive for more than three days on average. We therefore conclude that H. clarisetis does not pose
an economic threat to table grapes in the Lower Orange River region.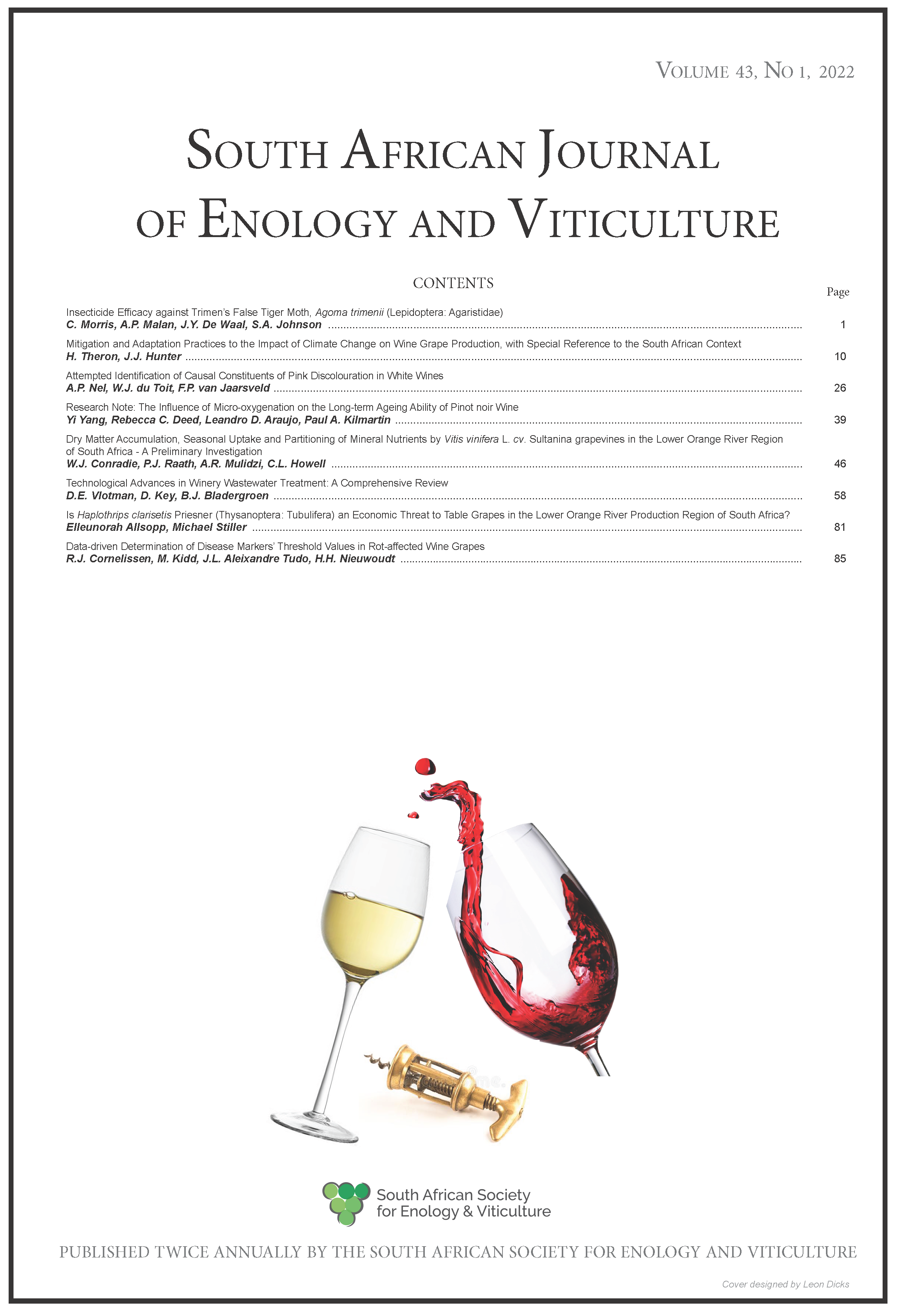 Copyright (c) 2022 South African Journal of Enology and Viticulture
This work is licensed under a Creative Commons Attribution-NonCommercial-NoDerivatives 4.0 International License.
A copyright form will be e-mailed to the corresponding author when the manuscript has been accepted for publication.
In principle, the Author agrees to the following when he/she signes the copyright agreement:
I hereby assign to the SOUTH AFRICAN SOCIETY FOR ENOLOGY AND VITICULTURE (SASEV) the copyright of the text, tables, figures, supplementary material, illustrations and other information (the Material) submitted with the manuscript to be published in SOUTH AFRICAN JOURNAL OF ENOLOGY AND VITICULTURE (SAJEV) (the "Article"). The copyright becomes effective from the date the Article has been accepted for publication in SAJEV.
This is an open access journal, and the authors and journal should be properly acknowledged, when works are cited.
Author's may use the publishers version for teaching purposes, in books, theses, dissertations, conferences and conference papers.
A copy of the authors' publishers version may also be hosted on the following websites:
Non-commercial personal webpage or blog.
Institutional webpage.
Authors Institutional Repository.
The following notice should accompany such a posting on the website: This is an electronic version of an article published in SAJEV, Volume XXX, number XXX, pages XXX - XXX, DOI. Authors should also supply a hyperlink to the original paper or indicate where the original paper (www.journals.ac.za/index.php/sajev/) may be found.
Authors publishers version, affiliated with the Stellenbosch University will be automatically deposited in the University's Institutional Repository SUNScholar.
Articles as a whole, may not be re-published with another journal.
The following license applies:
Attribution CC BY-NC-ND 4.0