Data-driven Determination of Disease Markers' Threshold Values in Rot-affected Wine Grapes
R.J. Cornelissen

South African Grape and Wine Research Institute and Namaqua Wines

M. Kidd

Stellenbosch University

J.L. Aleixandre-Tudo

Stellenbosch University and Namaqua Wines

H.H. Nieuwoudt

South African Grape and Wine Research Institute and Stellenbosch University
Abstract
Grapevine bunch rot is detrimental to grape and wine quality. Traditionally, detecting and quantifying
the severity of rot infection is executed visually. This study aimed at defining local, area-specific threshold
values of rot-associated disease markers. This is a first step towards making informed decisions about
the quality of grapes delivered at winery intake. Viticulturists visually assessed on-vine rot infection in
nine white wine grape cultivars. Results showed that severity ratings were consistent between assessors.
Chemical analyses of the grape must from these assessed samples were done. Multiple factor analysis (MFA)
showed that rot severity was positively correlated with glycerol, alcohol, gluconic acid and acetic acid
concentrations. As severity increased, gluconic acid, glycerol, alcohol, Brix, acetic acid and total titratable
acidity (TA) concentrations also increased. Following the probability chosen for sensitivity and specificity,
grape rot indicators' threshold values in white grape must are as follow: Alcohol ≥ 0.10 %v/v; acetic acid
≥ 0.17 g/L; glycerol ≥ 0.79 g/L; gluconic acid ≥ 0.99 g/L; TA ≥ 8.86 g/L. Statistical determined threshold
values differentiating between rot-affected and healthy grape must, would eliminate the subjectivity and
bias associated with visual assessments.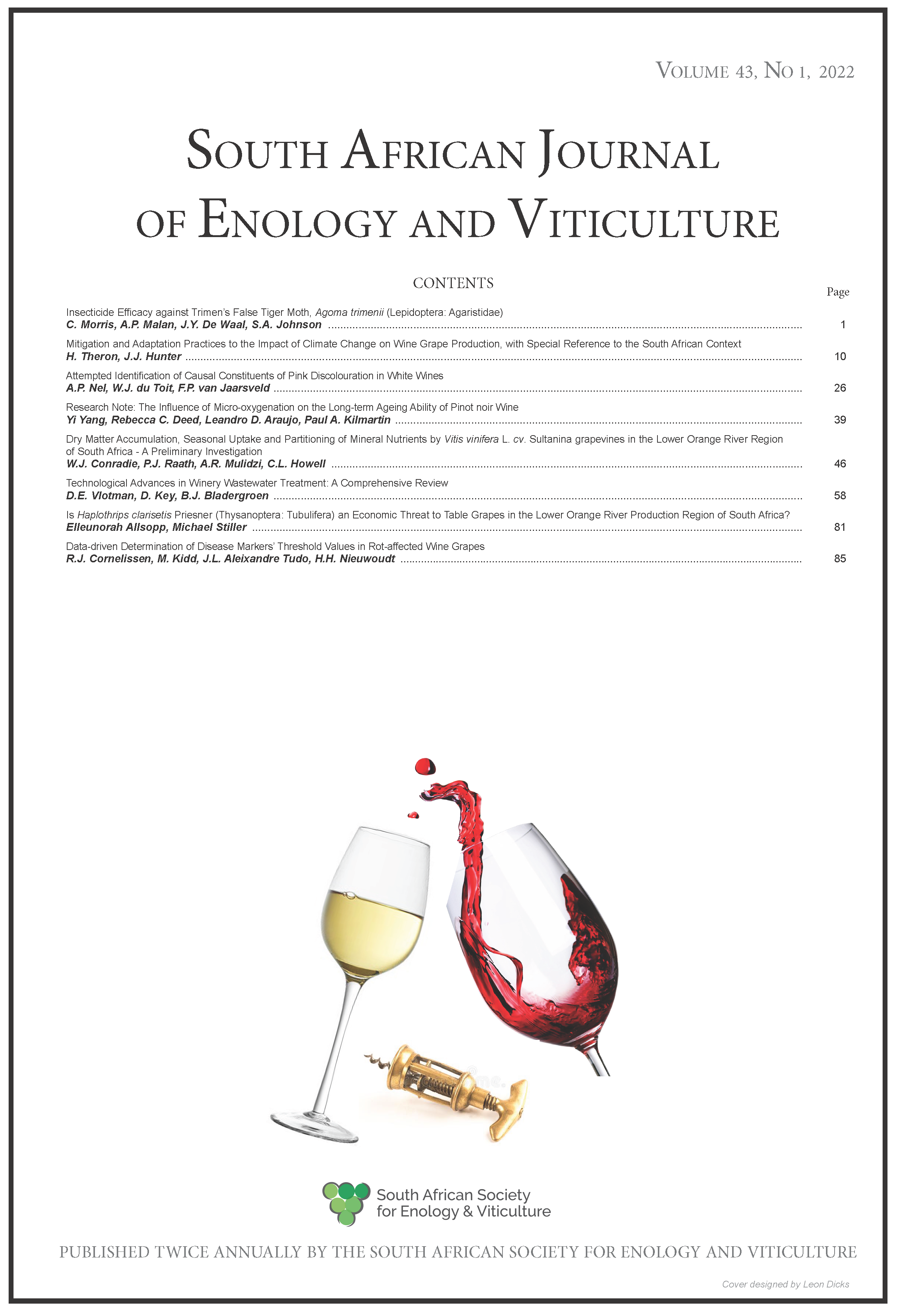 Copyright (c) 2022 South African Journal of Enology and Viticulture
This work is licensed under a Creative Commons Attribution-NonCommercial-NoDerivatives 4.0 International License.
A copyright form will be e-mailed to the corresponding author when the manuscript has been accepted for publication.
In principle, the Author agrees to the following when he/she signes the copyright agreement:
I hereby assign to the SOUTH AFRICAN SOCIETY FOR ENOLOGY AND VITICULTURE (SASEV) the copyright of the text, tables, figures, supplementary material, illustrations and other information (the Material) submitted with the manuscript to be published in SOUTH AFRICAN JOURNAL OF ENOLOGY AND VITICULTURE (SAJEV) (the "Article"). The copyright becomes effective from the date the Article has been accepted for publication in SAJEV.
This is an open access journal, and the authors and journal should be properly acknowledged, when works are cited.
Author's may use the publishers version for teaching purposes, in books, theses, dissertations, conferences and conference papers.
A copy of the authors' publishers version may also be hosted on the following websites:
Non-commercial personal webpage or blog.
Institutional webpage.
Authors Institutional Repository.
The following notice should accompany such a posting on the website: This is an electronic version of an article published in SAJEV, Volume XXX, number XXX, pages XXX - XXX, DOI. Authors should also supply a hyperlink to the original paper or indicate where the original paper (www.journals.ac.za/index.php/sajev/) may be found.
Authors publishers version, affiliated with the Stellenbosch University will be automatically deposited in the University's Institutional Repository SUNScholar.
Articles as a whole, may not be re-published with another journal.
The following license applies:
Attribution CC BY-NC-ND 4.0