Investigating the Concept of South African Old Vine Chenin Blanc
M. Mafata

South African Grape and Wine Research Institute, Stellenbosch University, Private Bag X1, Matieland, 7602

J. Brand

South African Grape and Wine Research Institute, Stellenbosch University, Private Bag X1, Matieland, 7602

V. Panzeri

South African Grape and Wine Research Institute, Stellenbosch University, Private Bag X1, Matieland, 7602

A. Buica

South African Grape and Wine Research Institute, Stellenbosch University, Private Bag X1, Matieland, 7602

https://orcid.org/0000-0003-4775-8399
Abstract
Although South African vineyards are still young by European standards, there is a belief in the industry that vines aged 35 or more years produce grapes and wines with specific characteristics ("old vine winesâ€).  The aim of this study was to investigate the existence of the concept of old vine Chenin blanc wines using a typicality rating and sorting tasks. Chenin blanc wines were made from grapes harvested from vines aged five to 45 years old. Winemaking was standardised, with no wood contact. Typicality rating and sorting tasks were performed on young (first-stage) and two-year bottle-aged (second-stage) wines. Principal component analysis (PCA) on rating data demonstrated judge consensus, but no correlation was foundbetween vine age and typicality rating. Sorting results were submitted to agglomerative hierarchical clustering (AHC) performed on the correspondence analysis (CA) and multidimensional scaling (MDS)results for grouping and attributes resulting from the sorting task. The clusters were different for the young wines and two-year bottle-aged wines. The verbal aspect of the sorting demonstrated the judges'agreement on the concept of old vine Chenin blanc, shown by the annotation of the old vine group as 'complex', 'balance', 'rich' and 'good mouthfeel'. However, because the judges did not sort the winesaccording to vine age, the perceptual aspect of the concept could not be confirmed, its features could not be tested further, and the sensory space could not be built.
References
Abdi, H., 2007. RV Coefficient and Congruence Coefficient. In: Encycl. Meas. Stat. 1–10.
Ballester, J., Dacremont, C., Le Fur, Y. & Etievant, P., 2005. The role of olfaction in the elaboration and use of the Chardonnay wine concept. Food Qual. Prefer. 16 351–359.
Ballester, J., Patris, B., Symoneaux, R. & Valentin, D., 2008. Conceptual vs. perceptual wine spaces: Does expertise matter? Food Qual. Prefer. 19(3), 267–276.
Ballester, J., Mihnea, M., Peyron, D. & Valentin, D., 2013. Exploring minerality of Burgundy Chardonnay wines: A sensory approach with wine experts and trained panellists. Aust. J. Grape Wine Res. 19(2), 140–152.
Brochet, F. & Dubourdieu, D., 2001. Wine Descriptive Language Supports Cognitive Specificity of Chemical Senses. Brain Lang. 77 187–196.
Casabianca, F., Sylvander, B., Noël, Y., Béranger, C., Coulon, J.-B., Giraud, G., Flutet, G., Roncin, F. & Vincent, E., 2006. Terroir et Typicité : proposition de définitions pour deux notions essentielles à l'appréhention des Indications Géographiques et du développement durable. In: VIth Int. Terroir Congr. Vol. 1 544–551.
Chrea, C., Valentin, D., Sulmont-Rossé, C., Nguyen, D.H. & Abdi, H., 2005. Semantic, typicality and odor representation: A cross-cultural study. Chem. Senses 30(1), 37–49.
Coulon-Leroy, C., Poulzagues, N., Cayla, L., Symoneaux, R. & Masson, G., 2018. Is the typicality of "provence Rosé wines†only a matter of color? Oeno One 52(4), 1–15.
Crous, R., 2016. The sensory characterisation of old-vine Chenin blanc wine: an exploratory study of the dimensions of quality. MSc Thesis, Stellenbosch University, South Africa.
Granato, D. & Ares, G., 2014. Mathematical and Statistical Methods in Food Science and Technology. John Wiley & Sons, Ltd, Chichester, United Kingdom.
Lindsay, P.H. & Norman, D.A., 1977. Human information processing : an introduction to psychology. Academic Press, Cambridge, Massachusetts, USA.
Maitre, I., Symoneaux, R., Jourjon, F. & Mehinagic, E., 2010. Sensory typicality of wines : How scientists have recently dealt with this subject. Food Qual. Prefer. 21(7), 726–731.
Niimi, J., Danner, L. & Bastian, S.E., 2019. Wine leads us by our heart not our head: emotions and the wine consumer. Curr. Opin. Food Sci. 27 23–28.
Old Vine Project Certification process- n.d. Available at http://oldvineproject.co.za/old-vine-project-certification-process/. Last accessed 29 April 2020.
Parr, W. V, Ballester, J., Peyron, D., Grose, C. & Valentin, D., 2015. Perceived minerality in Sauvignon wines: Influence of culture and perception mode. Food Qual. Prefer. 41 121–132.
Perrin, L. & Pagès, J., 2009. A methodology for the analysis of sensory typicality judgments. J. Sens. Stud. 24(5), 749–773.
Salkind, N. (ed.), 2012. Encyclopedia of Measurement and Statistics. Thousand Oaks, Sage.
SAWIS, 2016.
Schouteten, J.J., De Steur, H., De Pelsmaeker, S., Lagast, S., De Bourdeaudhuij, I. & Gellynck, X., 2015. An integrated method for the emotional conceptualization and sensory characterization of food products: The EmoSensory®Wheel. Food Res. Int. 78 96–107.
Stevenson, T., 2005. The New Sothebys Wine Encyclopedia. (Fourth ed.). Dorling Kindersley Limited, London, UK.
Valentin, D., Chollet, S., Lelievre, M. & Abdi, H., 2012. Quick and dirty but still pretty good: A review of new descriptive methods in food science. Int. J. Food Sci. Technol. 47(8), 1563–1578.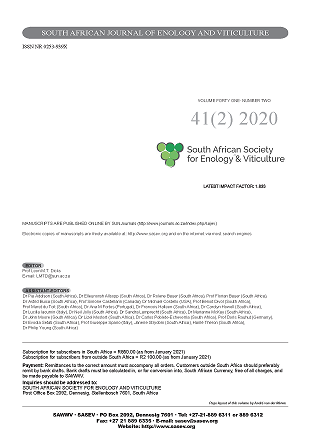 Copyright (c) 2020 South African Society for Enology and Viticulture
This work is licensed under a Creative Commons Attribution-NonCommercial-NoDerivatives 4.0 International License.
A copyright form will be e-mailed to the corresponding author when the manuscript has been accepted for publication.
In principle, the Author agrees to the following when he/she signes the copyright agreement:
I hereby assign to the SOUTH AFRICAN SOCIETY FOR ENOLOGY AND VITICULTURE (SASEV) the copyright of the text, tables, figures, supplementary material, illustrations and other information (the Material) submitted with the manuscript to be published in SOUTH AFRICAN JOURNAL OF ENOLOGY AND VITICULTURE (SAJEV) (the "Article"). The copyright becomes effective from the date the Article has been accepted for publication in SAJEV.
This is an open access journal, and the authors and journal should be properly acknowledged, when works are cited.
Author's may use the publishers version for teaching purposes, in books, theses, dissertations, conferences and conference papers.
A copy of the authors' publishers version may also be hosted on the following websites:
Non-commercial personal webpage or blog.
Institutional webpage.
Authors Institutional Repository.
The following notice should accompany such a posting on the website: This is an electronic version of an article published in SAJEV, Volume XXX, number XXX, pages XXX - XXX, DOI. Authors should also supply a hyperlink to the original paper or indicate where the original paper (www.journals.ac.za/index.php/sajev/) may be found.
Authors publishers version, affiliated with the Stellenbosch University will be automatically deposited in the University's Institutional Repository SUNScholar.
Articles as a whole, may not be re-published with another journal.
The following license applies:
Attribution CC BY-NC-ND 4.0