The Use of SO2 to Bind Acetaldehyde in Wine: Sensory Implications
C. Coetzee

Department of Viticulture and Oenology, Stellenbosch University, Private Bag X1, Matieland 7602

A. Buica

Department of Viticulture and Oenology, Stellenbosch University, Private Bag X1, Matieland 7602

W.J. du Toit

Department of Viticulture and Oenology, Stellenbosch University, Private Bag X1, Matieland 7602
Abstract
It is thought that the formation of hydroxysulphonate when sulphur dioxide is added to wine containing free acetaldehyde negates the sensory impact of the latter compound, but little research has been done on this. Descriptive analyses were employed using a trained sensory panel to assess the sensory effect of sulphur dioxide and acetaldehyde as single compounds and in combination in model wine. The addition of acetaldehyde or sulphur dioxide as singular compounds led to large increase in especially the green apple or sulphur descriptors respectively. When these two compounds were added in equimolar concentrations, the green apple description decreased drastically; however, a prominent sulphur description was still noted. It thus seems that hydroxysulphonate also has a sulphur-like aroma. The hydroxysulphonate did not influence the perception of a prominent ester, isoamyl acetate, in model wine. A low pH influences the perception of sulphur when sulphur dioxide is present on its own, but this is not the case with hydroxysulphonate. The implications of these results for wine production are discussed further.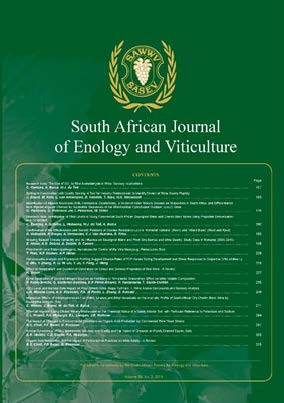 Copyright (c) 2018 South African Society for Enology and Viticulture
This work is licensed under a Creative Commons Attribution-NonCommercial-NoDerivatives 4.0 International License.
A copyright form will be e-mailed to the corresponding author when the manuscript has been accepted for publication.
In principle, the Author agrees to the following when he/she signes the copyright agreement:
I hereby assign to the SOUTH AFRICAN SOCIETY FOR ENOLOGY AND VITICULTURE (SASEV) the copyright of the text, tables, figures, supplementary material, illustrations and other information (the Material) submitted with the manuscript to be published in SOUTH AFRICAN JOURNAL OF ENOLOGY AND VITICULTURE (SAJEV) (the "Article"). The copyright becomes effective from the date the Article has been accepted for publication in SAJEV.
This is an open access journal, and the authors and journal should be properly acknowledged, when works are cited.
Author's may use the publishers version for teaching purposes, in books, theses, dissertations, conferences and conference papers.
A copy of the authors' publishers version may also be hosted on the following websites:
Non-commercial personal webpage or blog.
Institutional webpage.
Authors Institutional Repository.
The following notice should accompany such a posting on the website: This is an electronic version of an article published in SAJEV, Volume XXX, number XXX, pages XXX - XXX, DOI. Authors should also supply a hyperlink to the original paper or indicate where the original paper (www.journals.ac.za/index.php/sajev/) may be found.
Authors publishers version, affiliated with the Stellenbosch University will be automatically deposited in the University's Institutional Repository SUNScholar.
Articles as a whole, may not be re-published with another journal.
The following license applies:
Attribution CC BY-NC-ND 4.0