Interventional cardiology during the COVID-19 epidemic
Hellmuth Weich

Division of Cardiology Department of Medicine Stellenbosch University and Tygerberg Hospital

Jens Hitzeroth

Division of Cardiology Department of Medicine Faculty of Health Sciences University of Cape Town and Groote Schuur Hospital

Sajidah Khan

Busamed Gateway Hospital

David Kettles

St Dominics Private Hospital and Frere Hospital

Ahmed Vachiat

Milpark Hospital Wits Donald Gordon Medical Centre

Mpiko Ntsekhe

Division of Cardiology Department of Medicine Faculty of Health Sciences University of Cape Town and Groote Schuur Hospital
Abstract
The impact of the COVID-19 pandemic on our lives is unprecedented and major adjustments to our practices as physicians are required. Although our comments are applicable at the time of writing, the situation changes daily and the content of this article should be adjusted accordingly.Cath lab: An unambiguous cath lab protocol should be drawn up for each facility, appropriate to local circumstances. This should include standard procedures in preparation for arrival at the lab, in the performance of procedures, and, importantly, in maintaining due diligence when removing protective gear. All team members should be well trained in these procedures.Acute coronary syndromes: Standard timing for the invasive management of patients should not change during the pandemic. Due to delays often unavoidable during the pandemic, alternative strategies such as thrombolysis may be more readily available and therefore more appropriate.Drugs: The sick COVID-19 patient often represents a pro-thrombotic state and operators should ensure adequate anti-thrombotic therapy. Knowledge of interactions between cardiac drugs and investigational antiviral treatments is important.Elective procedures: Patients with chronic cardiac conditions are at high risk and may require non-urgent procedures to avert major complications. Selecting these cases requires consideration of multiple risks and benefits.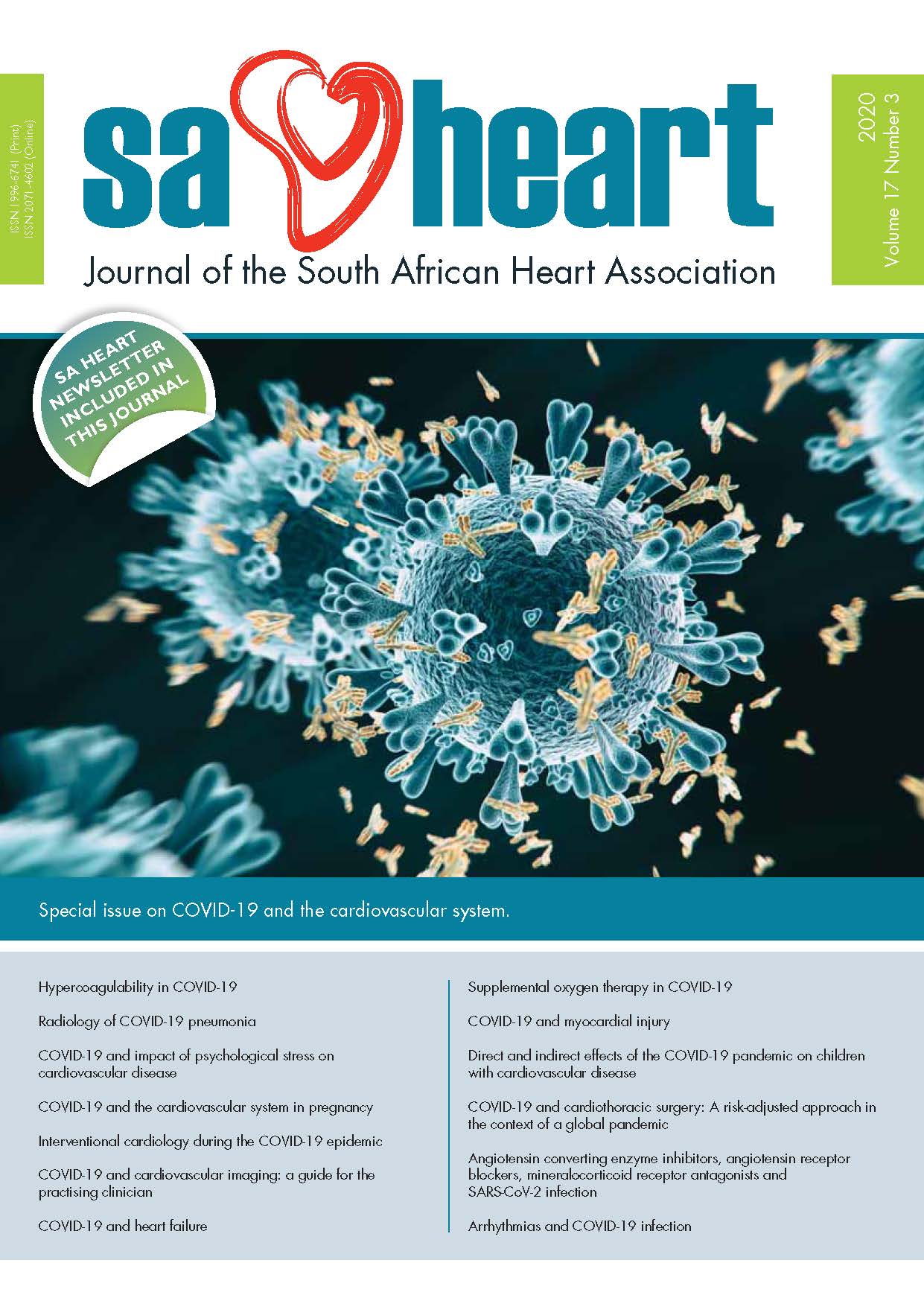 Copyright (c) 2020 SA Heart Journal
This work is licensed under a Creative Commons Attribution-NonCommercial-NoDerivatives 4.0 International License.
This journal is an open access journal, and the authors and journal should be properly acknowledged, when works are cited.
Authors may use the publishers version for teaching purposes, in books, theses, dissertations, conferences and conference papers.Â
A copy of the authors' publishers version may also be hosted on the following websites:
Non-commercial personal homepage or blog.
Institutional webpage.
Authors Institutional Repository.Â
The following notice should accompany such a posting on the website: "This is an electronic version of an article published in SAHJ, Volume XXX, number XXX, pages XXX–XXX", DOI. Authors should also supply a hyperlink to the original paper or indicate where the original paper (http://www.journals.ac.za/index.php/SAHJ) may be found.Â
Authors publishers version, affiliated with the Stellenbosch University will be automatically deposited in the University's' Institutional Repository SUNScholar.
Articles as a whole, may not be re-published with another journal.
Copyright Holder: SA Heart Journal
The following license applies:
Attribution CC BY-NC-ND 4.0