Emergency care practitioners' views on the use of ultrasound in pre-hospital acute care settings
Abstract
Background: Ultrasound may assist in the detection of life-threatening conditions and evolving pathologies. South African emergency care practitioners (ECPs) working in pre-hospital contexts have historically not used ultrasound to diagnose and treat patients. However, recently published clinical practice guidelines from the Health Professions Council of South Africa (HPCSA) suggest that ultrasound be considered as an adjunct in the provision of pre-hospital emergency care. Our study investigated ECPs' views and perceptions of introducing ultrasound to their scope of practice.
Method: A qualitative prospective approach was followed, using semi-structured interviews with a purposefully selected sample of practising ECPs to investigate and describe their views and perceptions of the use of ultrasound in local pre-hospital emergency care contexts. The interviews were audio recorded and transcribed. Transcripts were critically read before being manually coded to identify core themes and categories.
Results: ECPs recognise the potential value of ultrasound for a subset of patients within specific pre-hospital contexts. Concerns around the introduction of ultrasound as a diagnostic adjunct included the potential to create delays in treatment and transportation. Implementation challenges included cost implications and the need for additional education and training.
Conclusion: ECPs practising in South African pre-hospital acute care contexts support the use of ultrasound, provided they are adequately trained, and its use does not lead to delays in treatment and arrival at receiving facilities. Additional training on the use of ultrasound may be necessary for ECPs. Further research is required to explore the benefits of ultrasound concerning patient-specific outcomes and the associated costs in resource-constrained pre-hospital emergency care settings.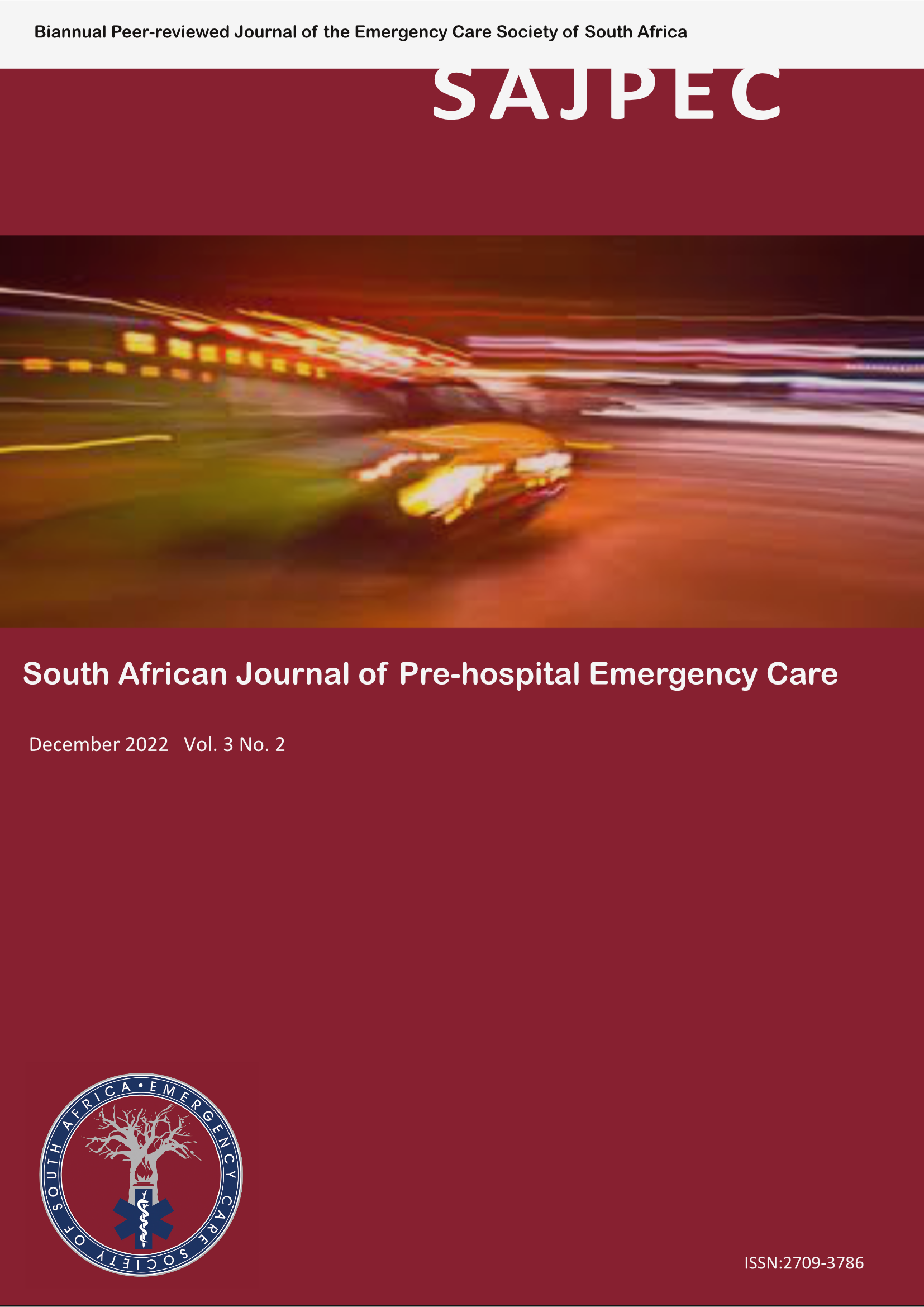 Section
Original Research
Copyright (c) 2022 South African Journal of Pre-Hospital Emergency Care
This work is licensed under a Creative Commons Attribution-NonCommercial-NoDerivatives 4.0 International License.
Authors grant the Emergency Care Society of South Africa the exclusive right to publish, display, reproduce and/or distribute the work in print and electronic format and in any medium known or hereafter developed, including for commercial use. Authors also agree that the Emergency Care Society of South Africa may retain in print or electronic format more than one copy of the work for the purpose of preservation, security and back-up.