Pre-hospital emergency care providers' knowledge and use of peak flow meters in the management of acute asthma in Johannesburg, South Africa
Abstract
Background: Peak flow meters (PFMs) measure the speed of airflow from the lungs during a forced exhalation. Current clinical practice guidelines advocate the use of PFMs in the management of acute asthma. No literature could be found describing local prehospital emergency care providers' use of PFMs. We aimed to investigate and describe a sample of prehospital emergency care providers' knowledge and use of PFMs in the management of acute asthma in Johannesburg, South Africa.Method: Fifty respondents (22 basic, 16 intermediate and 12 advanced life support providers) completed a pre-piloted questionnaire consisting of closed questions with pre-set response options focusing on exploring respondents' knowledge, understanding and use of PFMs.Results: Responses highlighted a general lack of knowledge and understanding of PFMs. None of the basic life support providers, and only 19% of intermediate life support providers, indicated they had received training on the device. PFMs do not appear to be readily available in ambulances, with only 8% of the respondents indicating they had ever used a PFM on a real patient.Conclusion: A lack of training on the device and its apparent unavailability are concerning since the peak expiratory flow rate (PEFR) measurement for asthma cases is considered best practice, and literature shows that emergency medical service (EMS) providers are commonly dispatched to asthmatic cases. Additional training and further research on the value and use of PFMs in local prehospital emergency care contexts is therefore recommended.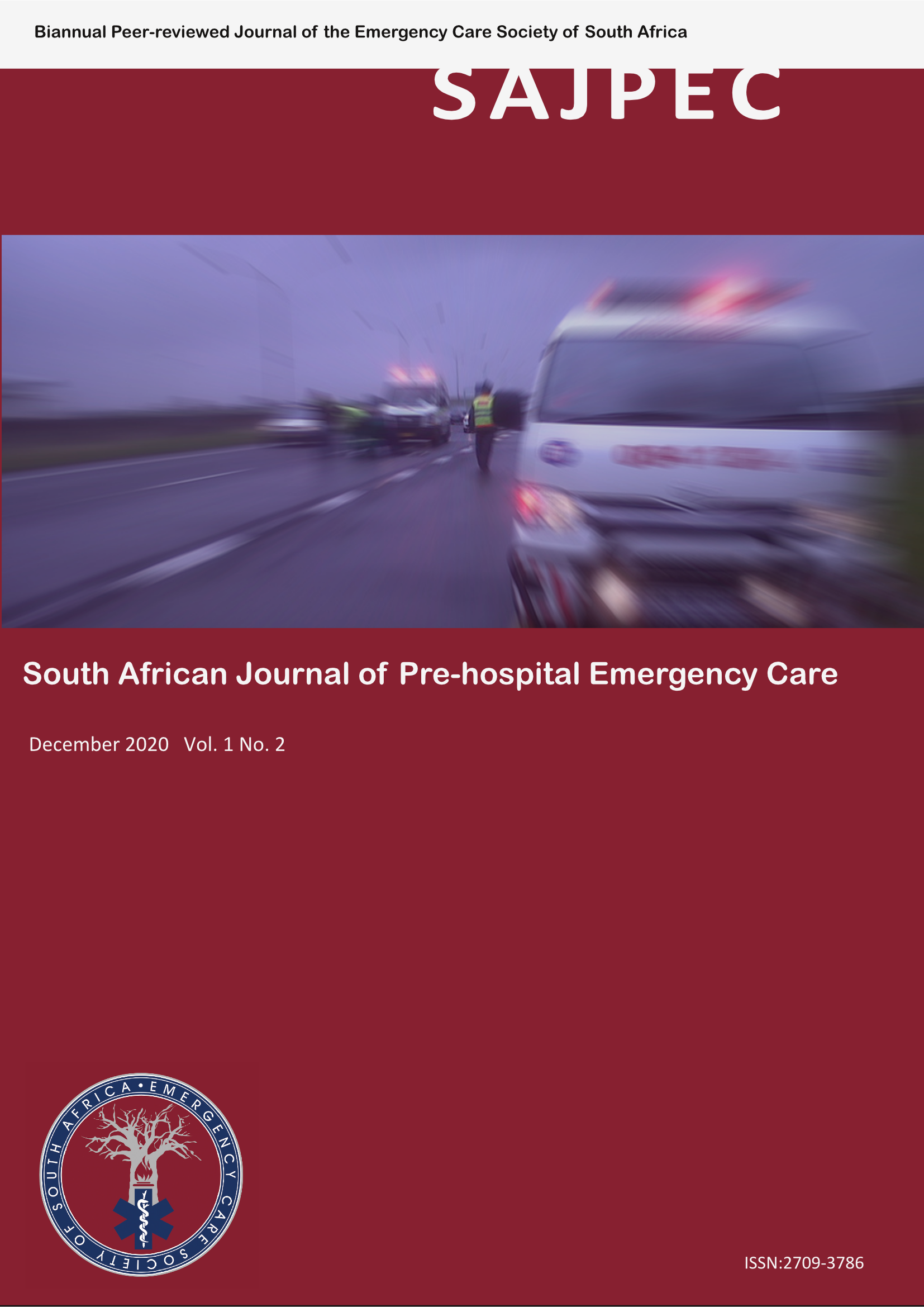 Copyright (c) 2020 South African Journal of Pre-Hospital Emergency Care
This work is licensed under a Creative Commons Attribution-NonCommercial-NoDerivatives 4.0 International License.
Authors grant the Emergency Care Society of South Africa the exclusive right to publish, display, reproduce and/or distribute the work in print and electronic format and in any medium known or hereafter developed, including for commercial use. Authors also agree that the Emergency Care Society of South Africa may retain in print or electronic format more than one copy of the work for the purpose of preservation, security and back-up.