Estimating Transpiration of Whole Grapevines under Field Conditions
P.A Myburgh

ARC Infruitec-Nietvoorbij, Stellenbosch, South Africa
Abstract
yield, growth and quality. Diurnal whole-plant transpiration, to be used in combination with a soil
evaporation model to estimate vineyard evapotranspiration, was quantified by measuring sap flow in
grapevines. Sap flow was measured in grapevine trunks by means of the heat pulse velocity technique.
Diurnal sap flow ranged from almost zero to c. 5 L/d per grapevine under various atmospheric, viticultural
and soil conditions. Sap flow showed good linear correlation with leaf area per grapevine and reference
evapotranspiration (ETo). Grapevines with similar leaf area trained onto horizontally orientated
trellis systems transpired more than those on vertical trellises under the same atmospheric conditions.
Approximately 90% of the variation in daily transpiration could be explained by means of multiple linear
regression, with leaf area and daily ETo as the independent variables. However, grapevines with horizontal
and vertical canopies required slightly different models.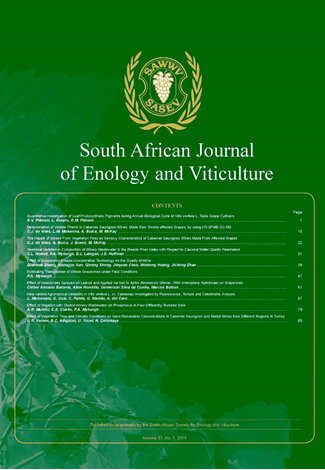 A copyright form will be e-mailed to the corresponding author when the manuscript has been accepted for publication.
In principle, the Author agrees to the following when he/she signes the copyright agreement:
I hereby assign to the SOUTH AFRICAN SOCIETY FOR ENOLOGY AND VITICULTURE (SASEV) the copyright of the text, tables, figures, supplementary material, illustrations and other information (the Material) submitted with the manuscript to be published in SOUTH AFRICAN JOURNAL OF ENOLOGY AND VITICULTURE (SAJEV) (the "Article"). The copyright becomes effective from the date the Article has been accepted for publication in SAJEV.
This is an open access journal, and the authors and journal should be properly acknowledged, when works are cited.
Author's may use the publishers version for teaching purposes, in books, theses, dissertations, conferences and conference papers.
A copy of the authors' publishers version may also be hosted on the following websites:
Non-commercial personal webpage or blog.
Institutional webpage.
Authors Institutional Repository.
The following notice should accompany such a posting on the website: This is an electronic version of an article published in SAJEV, Volume XXX, number XXX, pages XXX - XXX, DOI. Authors should also supply a hyperlink to the original paper or indicate where the original paper (www.journals.ac.za/index.php/sajev/) may be found.
Authors publishers version, affiliated with the Stellenbosch University will be automatically deposited in the University's Institutional Repository SUNScholar.
Articles as a whole, may not be re-published with another journal.
The following license applies:
Attribution CC BY-NC-ND 4.0