Determination of Volatile Phenol in Cabernet Sauvignon Wines, Made from Smoke-affected Grapes, by using HS-SPME GC-MS
C.J. de Vries

Department of Viticulture and Oenology, Stellenbosch University

L.M. Mokwena

Central Analytical Facility (CAF), Stellenbosch University

A. Buica

Department of Viticulture and Oenology, Stellenbosch University

M. McKay

Department of Viticulture and Oenology, Stellenbosch University
Abstract
The increased incidence of vegetation fires near vineyards in the Western Cape, South Africa has led to
growing concern over the appearance of smoke taint in the affected grapes. This study focused on the
effect of smoke exposure on the volatile phenol (VP) composition of wines made from affected grapes
over two vintages (2012 and 2013). Cabernet Sauvignon grapes were exposed, 10 days post-véraison,
to a single, hour-long treatment with smoke derived from burning a mixture of vegetation (including
fynbos) under controlled conditions in enclosures. Enclosures were sealed for 24 h after exposure, and
then removed. Grapes were allowed to ripen and wines were then produced. Wines were analysed by
headspace gas chromatography mass spectrometry (HS-SPME GC-MS) for selected volatiles. The results
of the investigation show that the exposure of grapes to smoke during ripening leads to the accumulation of
VPs that were detected in wines. The detected VPs were guaiacol, phenol and the cresols. Smoke exposure
of grapes during ripening may have a negative impact on wine quality due to the accumulation of these
compounds.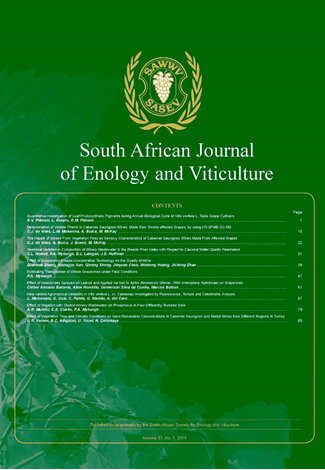 A copyright form will be e-mailed to the corresponding author when the manuscript has been accepted for publication.
In principle, the Author agrees to the following when he/she signes the copyright agreement:
I hereby assign to the SOUTH AFRICAN SOCIETY FOR ENOLOGY AND VITICULTURE (SASEV) the copyright of the text, tables, figures, supplementary material, illustrations and other information (the Material) submitted with the manuscript to be published in SOUTH AFRICAN JOURNAL OF ENOLOGY AND VITICULTURE (SAJEV) (the "Article"). The copyright becomes effective from the date the Article has been accepted for publication in SAJEV.
This is an open access journal, and the authors and journal should be properly acknowledged, when works are cited.
Author's may use the publishers version for teaching purposes, in books, theses, dissertations, conferences and conference papers.
A copy of the authors' publishers version may also be hosted on the following websites:
Non-commercial personal webpage or blog.
Institutional webpage.
Authors Institutional Repository.
The following notice should accompany such a posting on the website: This is an electronic version of an article published in SAJEV, Volume XXX, number XXX, pages XXX - XXX, DOI. Authors should also supply a hyperlink to the original paper or indicate where the original paper (www.journals.ac.za/index.php/sajev/) may be found.
Authors publishers version, affiliated with the Stellenbosch University will be automatically deposited in the University's Institutional Repository SUNScholar.
Articles as a whole, may not be re-published with another journal.
The following license applies:
Attribution CC BY-NC-ND 4.0