Clinical profile of heart failure in Beta-Thalassaemia Major (ß-TM): Case studies with current consideration and future perspectives
Prakash Sanzgiri

Mohan Agarwal

Charan Reddy

Priytanka Potdar
Abstract
Background: Cardiac involvement is a major cause of mortality in Beta-Thalassaemia Major (ß-TM) patients. Despite many advances in therapeutic management of ß-TM, cardiac involvement remains the primary cause of mortality in ~70% of the cases. Chronic iron overloading results in thalassaemic cardiomyopathy, leading to diastolic dysfunction and overt heart failure (HF). Serial electrocardiography (ECG), 2D-echocardiography (2DECHO) and cardiovascular magnetic resonance (CMR) help in early detection and risk stratification of ß-TM patients, to prevent complications, such as arrhythmias and sudden cardiac death. An established network of care between thalassaemia centres and local health providers is essential for optimal management.
Case presentation: We report 2 cases of HF in ß-TM of varied etiology, and different approaches undertaken for its early diagnosis and treatment.
Conclusion: It is important to differentiate various phenotypes of cardiomyopathy in ß-TM. Since, the management of each varies accordingly. ß-TM patients require a multi-disciplinary approach that includes HF specialists, haematologist, hepatologist, endocrinologist, psychologist, transfusion experts and nursing personnel to maximise benefits from the application of the modern HF therapeutic strategies in evaluation, monitoring and treatment.
SAHeart 2022;19:14-18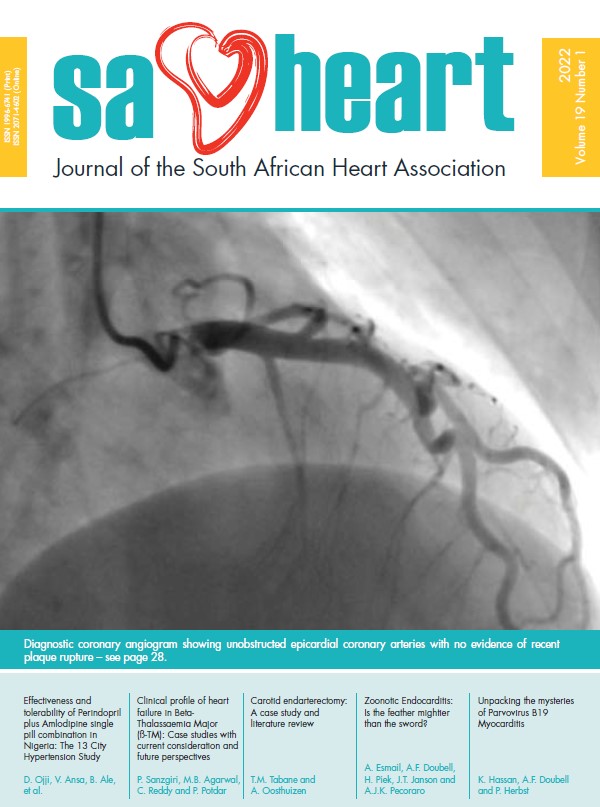 Copyright (c) 2022 SA Heart Journal
This work is licensed under a Creative Commons Attribution-NonCommercial-NoDerivatives 4.0 International License.
This journal is an open access journal, and the authors and journal should be properly acknowledged, when works are cited.
Authors may use the publishers version for teaching purposes, in books, theses, dissertations, conferences and conference papers.Â
A copy of the authors' publishers version may also be hosted on the following websites:
Non-commercial personal homepage or blog.
Institutional webpage.
Authors Institutional Repository.Â
The following notice should accompany such a posting on the website: "This is an electronic version of an article published in SAHJ, Volume XXX, number XXX, pages XXX–XXX", DOI. Authors should also supply a hyperlink to the original paper or indicate where the original paper (http://www.journals.ac.za/index.php/SAHJ) may be found.Â
Authors publishers version, affiliated with the Stellenbosch University will be automatically deposited in the University's' Institutional Repository SUNScholar.
Articles as a whole, may not be re-published with another journal.
Copyright Holder: SA Heart Journal
The following license applies:
Attribution CC BY-NC-ND 4.0