Effectiveness and tolerability of Perindopril plus Amlodipine single pill combination in Nigeria: The 13 City Hypertension Study
Dike Ojji

Victor Ansa

Boni Ale

Mahmoud Sani

Austine Obasahan

Sola Alagbe

Rotimi Williams

Tony Aknitomide

Innocent Okoye

Ejiroghene Umuerri

Eze Nwafor

Amam Mbakwem

Casmir Amadi

Lamkur Shedu

Ranti Familoni

Taiwo Olunuga

Francisca Inofomoh

Ukachukwu Osuji

Godwin Omejua

Benjamin Azubuike

Esther Ohihoin

Raphael Anakwe
Abstract
Background: There is no large-scale study that has shown the efficacy of single pill combination (SPC) antihypertensive medications in black African population. We therefore evaluated the blood pressure (BP) lowering efficacy and the tolerability of Perindopril plus Amlodipine SPC in black African patients.
Methods: It was a multi-centre, prospective, observational programme among hypertensive patients using different doses of Perindopril and Amlodipine. Primary endpoint was assessed as the change in mean sitting systolic and diastolic BPs from baseline to 3 months.
Results: 937 patients (55.7% female) were analysed, and the mean age was 56.4 ± 12.7 years. Systolic and diastolic BPs were significantly reduced by 17.3/ 9.4mmHg, 21.1/10.8mmHg mmHg and 24.6/12.7mmHg at 4, 8 and 12 weeks respectively compared to baseline value (p<0.0001). Dry cough was seen in 0.64% and angioedema 0.1% of the patients. Conclusions: Perindopril plus Amlodipine SPC provided clinically meaningful BP reductions and is well tolerated in a black African population.
SAHeart 2022;19:6-12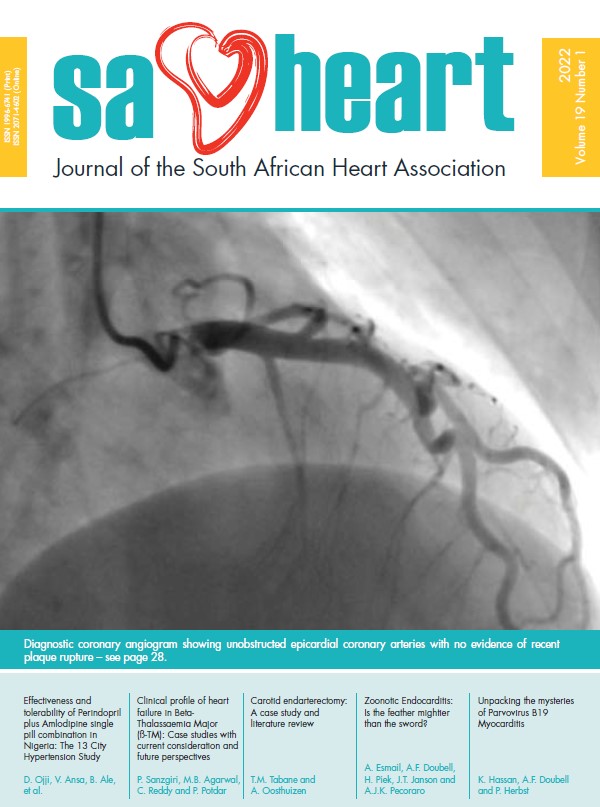 Copyright (c) 2022 SA Heart Journal
This work is licensed under a Creative Commons Attribution-NonCommercial-NoDerivatives 4.0 International License.
This journal is an open access journal, and the authors and journal should be properly acknowledged, when works are cited.
Authors may use the publishers version for teaching purposes, in books, theses, dissertations, conferences and conference papers.Â
A copy of the authors' publishers version may also be hosted on the following websites:
Non-commercial personal homepage or blog.
Institutional webpage.
Authors Institutional Repository.Â
The following notice should accompany such a posting on the website: "This is an electronic version of an article published in SAHJ, Volume XXX, number XXX, pages XXX–XXX", DOI. Authors should also supply a hyperlink to the original paper or indicate where the original paper (http://www.journals.ac.za/index.php/SAHJ) may be found.Â
Authors publishers version, affiliated with the Stellenbosch University will be automatically deposited in the University's' Institutional Repository SUNScholar.
Articles as a whole, may not be re-published with another journal.
Copyright Holder: SA Heart Journal
The following license applies:
Attribution CC BY-NC-ND 4.0