Use of single pill anti-hypertensive combination medications in Cardiology Clinic of a Tertiary Health Institution in Nigeria
Dike Ojji

Ojonojima Ajanya

Bolaji Abdullahi

Nwankwo Nwankwo

Anita Nnamonu

Henry Oshaju

Moses Durotoluwa

Taiwo Adedokun

Folasade Taiwo

Ginika Oguagha

Ijir Aondoyima

Alexander Etubi

Peter Bassi
Abstract
Background: Majority of patients with hypertension require 2 or more medications to provide adequate blood pressure (BP) control. In addition, contemporary guidelines on the management of hypertension favor the use of single-pill combinations (SPCs) as they simplify the treatment regimen and decrease the daily pill burden for patients, both of which are associated with improved adherence. In spite of this, there is a lack of data in sub-Saharan Africa on the frequency of use of SPC anti-hypertensive medications.
Method: We prospectively collected detailed clinical data from 373 patients with primary diagnosis of hypertension attending the cardiology clinic of University of Abuja Teaching Hospital between 2016 and 2017.
Results: Three hundred and seventy three patients with mean age of 50.6 ± 12.3 years and mean body mass index of 31.2 ± 6.5kg/m2 on anti-hypertensive treatment were evaluated. Baseline mean systolic and diastolic BPs were 161.1 ± 3.1mmHg and 95.4 ± 15.6mmHg respectively, while the mean pulse pressure was 56.6 ± 18.1mmHg. 212 (56.8%) where on SPCs, with 32.5% on angiotensin receptor blockers (ARBs) plus hydrochlorothiazide (HCTZ), 18.9% on angiotensin converting enzyme inhibitors (ACEIs) plus HCTZ, 9.9% on amlodipine (AML) plus ARB, 3.3% on AML plus ACEI, 3.8% on thiazide-like diuretic plus atenolol, 29.2% on HCTZ plus amiloride, and 2.4% on triple combination of AML+ARB+HCTZ.
Conclusion: Our study has shown that over 50% of our patients were on SPC anti-hypertensive medications, with the most prescribed single pill combination being angiotensin receptor blocker plus thiazide diuretic.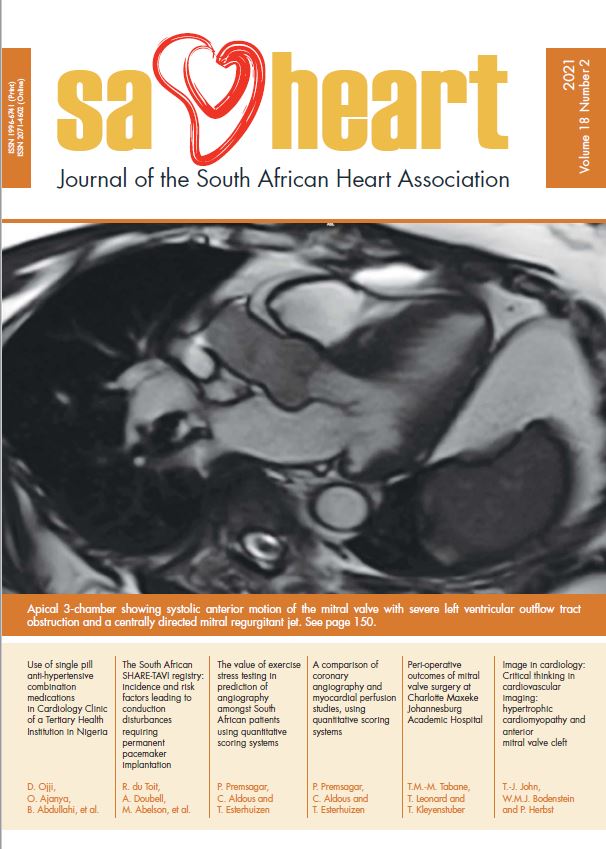 Copyright (c) 2021 SA Heart Journal
This work is licensed under a Creative Commons Attribution-NonCommercial-NoDerivatives 4.0 International License.
This journal is an open access journal, and the authors and journal should be properly acknowledged, when works are cited.
Authors may use the publishers version for teaching purposes, in books, theses, dissertations, conferences and conference papers.Â
A copy of the authors' publishers version may also be hosted on the following websites:
Non-commercial personal homepage or blog.
Institutional webpage.
Authors Institutional Repository.Â
The following notice should accompany such a posting on the website: "This is an electronic version of an article published in SAHJ, Volume XXX, number XXX, pages XXX–XXX", DOI. Authors should also supply a hyperlink to the original paper or indicate where the original paper (http://www.journals.ac.za/index.php/SAHJ) may be found.Â
Authors publishers version, affiliated with the Stellenbosch University will be automatically deposited in the University's' Institutional Repository SUNScholar.
Articles as a whole, may not be re-published with another journal.
Copyright Holder: SA Heart Journal
The following license applies:
Attribution CC BY-NC-ND 4.0