A descriptive study of inpatient admissions for cerebrovascular disease at a tertiary hospital in KwaZulu-Natal, South Africa
Y. Moodley

Durban University of Technology

J.K. Adam

Durban University of Technology
Abstract
Background: We sought to provide a descriptive report of inpatient admissions for cerebrovascular disease (CVD) at a tertiary hospital in KwaZulu-Natal, South Africa. Methods: We conducted a retrospective, descriptive study involving 1 017 patients admitted to the Inkosi Albert Luthuli Central Hospital for treatment of CVD during 2005 - 2015. Patients were identified using the hospital's electronic administrative system. Demographics, inpatient length of stay, surgical procedures, and survival status at discharge were also obtained for each patient. Descriptive statistics were used to analyse the data. Results: The median age of CVD patients was 50.0 years, and 50.4% were male. The median inpatient length of stay was 13.0 days. Surgery was performed in 38.8% of patients. The mortality rate was 22.5%. Conclusion: The resource burden that CVD places on tertiary healthcare services and the high mortality in afflicted patients highlights the need for effective primary and secondary prevention interventions in our setting.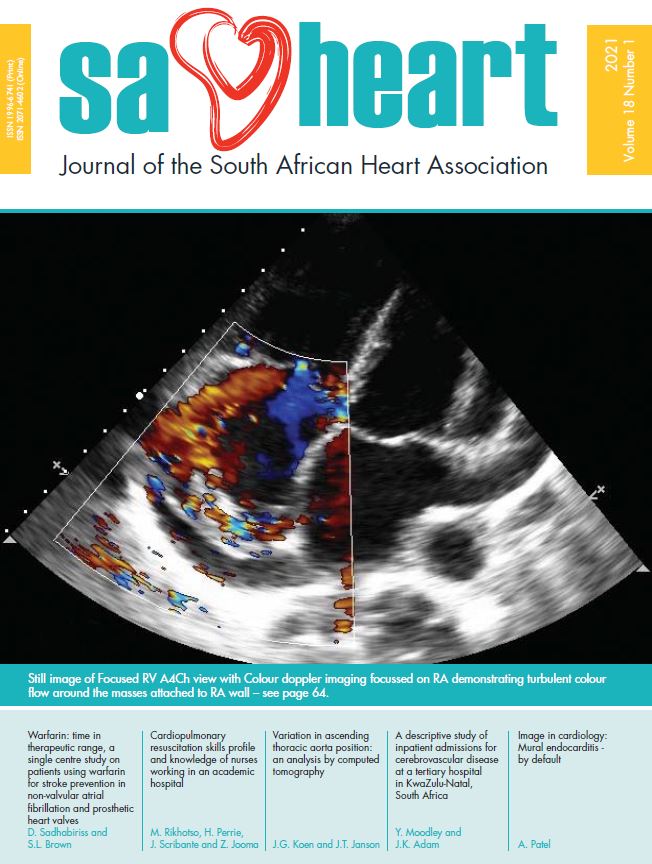 Copyright (c) 2021 SA Heart Journal
This work is licensed under a Creative Commons Attribution-NonCommercial-NoDerivatives 4.0 International License.
This journal is an open access journal, and the authors and journal should be properly acknowledged, when works are cited.
Authors may use the publishers version for teaching purposes, in books, theses, dissertations, conferences and conference papers.Â
A copy of the authors' publishers version may also be hosted on the following websites:
Non-commercial personal homepage or blog.
Institutional webpage.
Authors Institutional Repository.Â
The following notice should accompany such a posting on the website: "This is an electronic version of an article published in SAHJ, Volume XXX, number XXX, pages XXX–XXX", DOI. Authors should also supply a hyperlink to the original paper or indicate where the original paper (http://www.journals.ac.za/index.php/SAHJ) may be found.Â
Authors publishers version, affiliated with the Stellenbosch University will be automatically deposited in the University's' Institutional Repository SUNScholar.
Articles as a whole, may not be re-published with another journal.
Copyright Holder: SA Heart Journal
The following license applies:
Attribution CC BY-NC-ND 4.0