Warfarin: time in therapeutic range, a single centre study on patients using warfarin for stroke prevention in non-valvular atrial fibrillation and prosthetic heart valves
D. Sadhabariss

University of KwaZulu-Natal

S.L. Brown

University of KwaZulu-Natal
Abstract
Background: Two common indications for oral anticoagulants are patients with non-valvular atrial fibrillation (AF) or prosthetic heart valves (PHV). The degree of anticoagulation is monitored by evaluating the international normalised ratio (INR); however, the quality of anticoagulation, determined by the time in therapeutic range (TTR), is less often evaluated. TTR has significant clinical implications in patient outcomes. Objectives: We sought to identify the indications for anticoagulation and determine its quality via the TTR at a single centre, community-based and district level hospital in the setting of usual care. We documented the prevalence of thrombo-embolic and haemorrhagic adverse events and we also collected data on factors that may contribute to a poor TTR or increased risk of adverse events. Methods: We conducted a retrospective, descriptive and observational study with chart audits evaluating the anticoagulation indication and control for the preceding 1 year for each patient. Descriptive statistics included mean and standard deviation for quantitative data and frequencies for categorical data. Chi-square tests were used to analyse comparisons of categorical data and the student's t-test for continuous variables. Two-tailed p-values less than 0.05 were considered significant. Results: TTR was poor for patients with AF and PHV (44.5% and 13.7% respectively). We identified older age, less frequent testing and high target ranges as significant factors associated with poorer outcomes. We demonstrated a high prevalence of adverse events (25.4%). Conclusion: Patients in this setting demonstrated poor quality of anticoagulation and had a high prevalence of adverse events.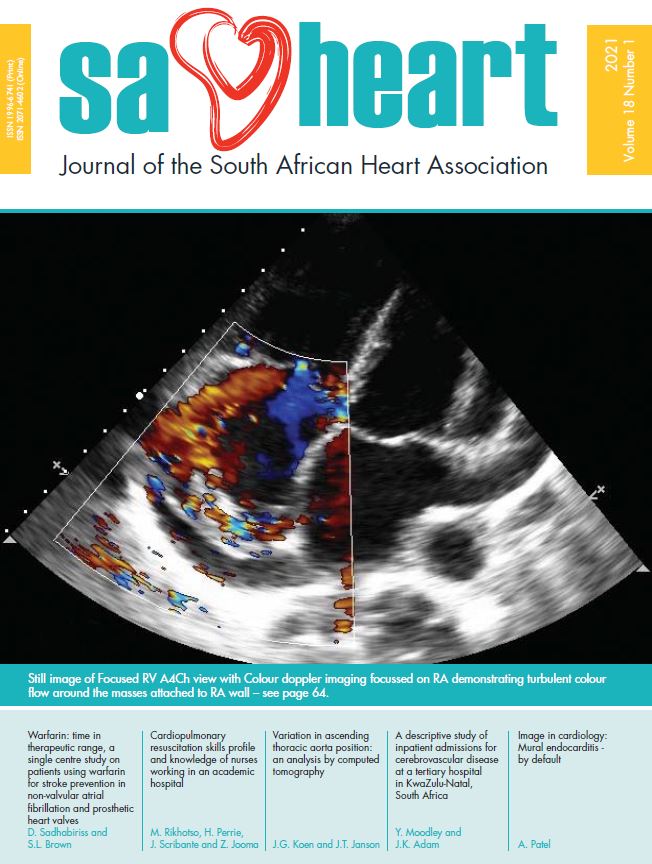 Copyright (c) 2021 SA Heart Journal
This work is licensed under a Creative Commons Attribution-NonCommercial-NoDerivatives 4.0 International License.
This journal is an open access journal, and the authors and journal should be properly acknowledged, when works are cited.
Authors may use the publishers version for teaching purposes, in books, theses, dissertations, conferences and conference papers.Â
A copy of the authors' publishers version may also be hosted on the following websites:
Non-commercial personal homepage or blog.
Institutional webpage.
Authors Institutional Repository.Â
The following notice should accompany such a posting on the website: "This is an electronic version of an article published in SAHJ, Volume XXX, number XXX, pages XXX–XXX", DOI. Authors should also supply a hyperlink to the original paper or indicate where the original paper (http://www.journals.ac.za/index.php/SAHJ) may be found.Â
Authors publishers version, affiliated with the Stellenbosch University will be automatically deposited in the University's' Institutional Repository SUNScholar.
Articles as a whole, may not be re-published with another journal.
Copyright Holder: SA Heart Journal
The following license applies:
Attribution CC BY-NC-ND 4.0