Decline in acute coronary syndrome hospitalisation rates during COVID-19 lockdown in private hospitals in South Africa
R Delport

Department of Family Medicine School of Medicine Faculty of Health Sciences University of Pretoria STEMI-SA: The SA Heart® Early Reperfusion Project

A Vachiat

Milpark Hospital Wits Donald Gordon Medical Centre STEMI-SA: The SA Heart® Early Reperfusion Project

A Snyders

Wilgers Hospital STEMI-SA: The SA Heart® Early Reperfusion Project

D Kettles

Life St Dominic's Hospital STEMI-SA: The SA Heart® Early Reperfusion Project

H Weich

Division of Cardiology Department of Medicine Stellenbosch University and Tygerberg Hospital STEMI-SA: The SA Heart® Early Reperfusion Project
Abstract
We conducted a study of admission rates of acute coronary syndrome (ACS) in all Mediclinic hospitals in South Africa. The aim of the study was to quantify the extent of change in admission rates of ACS subtypes and to establish the degree of change in subtype proportions in the private sector assumed to be related to COVID-19 and/or lockdown implementation. Time intervals were demarcated by lockdown measures (March: pre-lockdown versus April: post-lockdown implementation), and comparisons were performed with equitable time periods (2019 versus 2020). For the comparison of proportions, data for April and May were summated.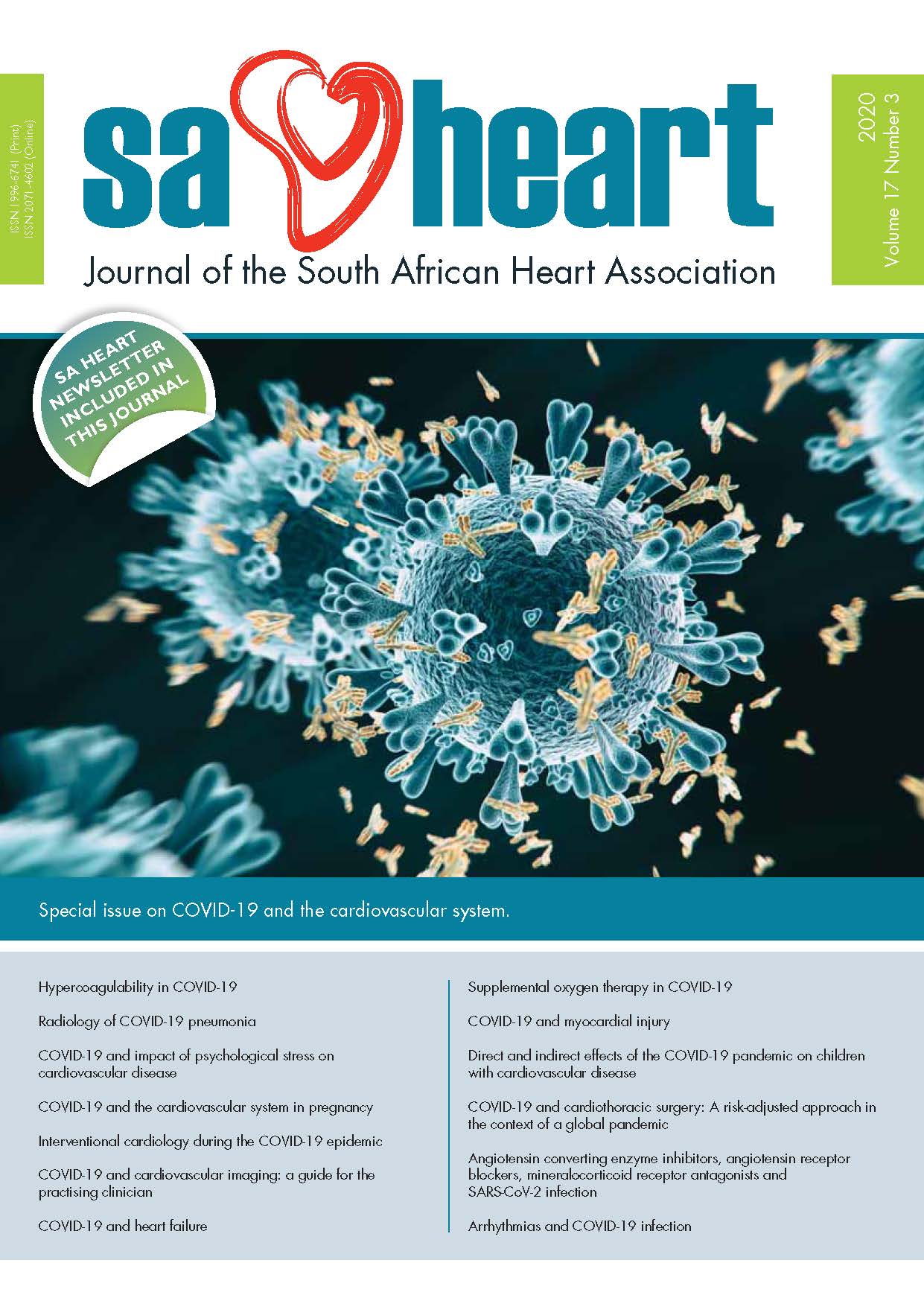 Copyright (c) 2020 SA Heart Journal
This work is licensed under a Creative Commons Attribution-NonCommercial-NoDerivatives 4.0 International License.
This journal is an open access journal, and the authors and journal should be properly acknowledged, when works are cited.
Authors may use the publishers version for teaching purposes, in books, theses, dissertations, conferences and conference papers.Â
A copy of the authors' publishers version may also be hosted on the following websites:
Non-commercial personal homepage or blog.
Institutional webpage.
Authors Institutional Repository.Â
The following notice should accompany such a posting on the website: "This is an electronic version of an article published in SAHJ, Volume XXX, number XXX, pages XXX–XXX", DOI. Authors should also supply a hyperlink to the original paper or indicate where the original paper (http://www.journals.ac.za/index.php/SAHJ) may be found.Â
Authors publishers version, affiliated with the Stellenbosch University will be automatically deposited in the University's' Institutional Repository SUNScholar.
Articles as a whole, may not be re-published with another journal.
Copyright Holder: SA Heart Journal
The following license applies:
Attribution CC BY-NC-ND 4.0